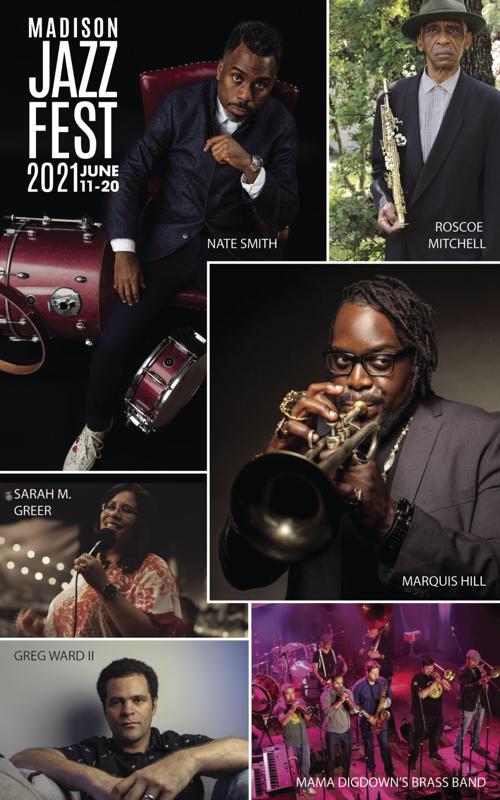 Canceled last year for the first time in its 33-year history, the annual festival is back in a big way — with 10 consecutive days of jazz events from Friday, June 11, through Sunday, June 20. Many shows are outdoors — including headlining concerts Sunday, June 13, and Saturday, June 19. The June 13 show at Breese Stevens Field features one of today's most influential and popular drummers: Nate Smith + KinFolk, with an opening performance by Greg Ward's Rogue Parade. On June 19, renowned trumpeter Marquis Hill will perform at the Memorial Union Terrace with the Donna Woodall Group opening.
Things kick off on June 11 with "Strollin' Capitol East" — a neighborhood jazz crawl showcasing local talent at four different venues along East Washington Avenue and East Main Street. The rest of the festival features some of today's finest jazz artists including Roscoe Mitchell, Sarah M. Greer, Arun Luthra and Isaiah Collier, along with local favorites the Acoplados Latin Project, Mama Digdown's Brass Band and many others. Special events include a public virtual master class by bassist Peter Dominguez and a livestreamed presentation on the Camaguey Jazz project.
Formerly the Isthmus Jazz Festival, the event is now hosted by Arts + Literature Laboratory and the Wisconsin Union Theater with support of the Cap Times, the John and Carolyn Peterson Charitable Foundation, Dane Arts, Madison Arts Commission, Madison Music Collective, Madison Jazz Society, Carlson Black O'Callaghan & Battenberg LLP, Strang, Inc., Graduate Hotel, Gebhardt Development, the UW-Madison Division of the Arts, WORT FM, Union Cab, Farley's House of Pianos, Wisconsin Arts Board, and the National Endowment for the Arts, with additional funds from the Endres Manufacturing Company Foundation, the Evjue Foundation (the charitable arm of The Capital Times), the W. Jerome Frautschi Foundation and the Pleasant T. Rowland Foundation.
Arts + Literature Laboratory co-director Jolynne Roorda took a moment recently to discuss the Madison Jazz Festival and what it means to the local community.
Obviously the past year has been difficult for everyone, but especially so for musicians.
Musicians have lost a full year of gig income. One festival goal is to create more fair-paying opportunities for musicians. Everyone can help now by coming out to shows, buying tickets, buying CDs. I'm optimistic because I think people are hungry to hear live music again.
Is the festival just for jazz fans?
No, not at all. One thing we've tried to do is engage with all music lovers and give them a chance to have a new experience. The festival features a wide range of jazz styles — vocal jazz, Latin jazz, artists who incorporate hip-hop and R&B, avant-jazz, and more. If you haven't heard a lot of jazz, I'd encourage checking out Mama Digdown's at Penn Park (June 16). We've also got a fun evening at Warner Park (June 14) with performers from Madison Circus Space improvising to live jazz by the John Christensen Trio. And of course, Jazz Fest evenings at Breese Stevens Field and the Memorial Union Terrace will be enjoyable for everyone.
What else is the festival doing to attract a younger audience?
We very much want to engage with young people and cultivate lifelong interest in jazz. This year we've included the virtual master class with Peter Dominguez, and musicians of all ages can sit in with him at the Madison Jazz Jam (June 15) or with guest artist Arun Luthra and The New Breed later that night.