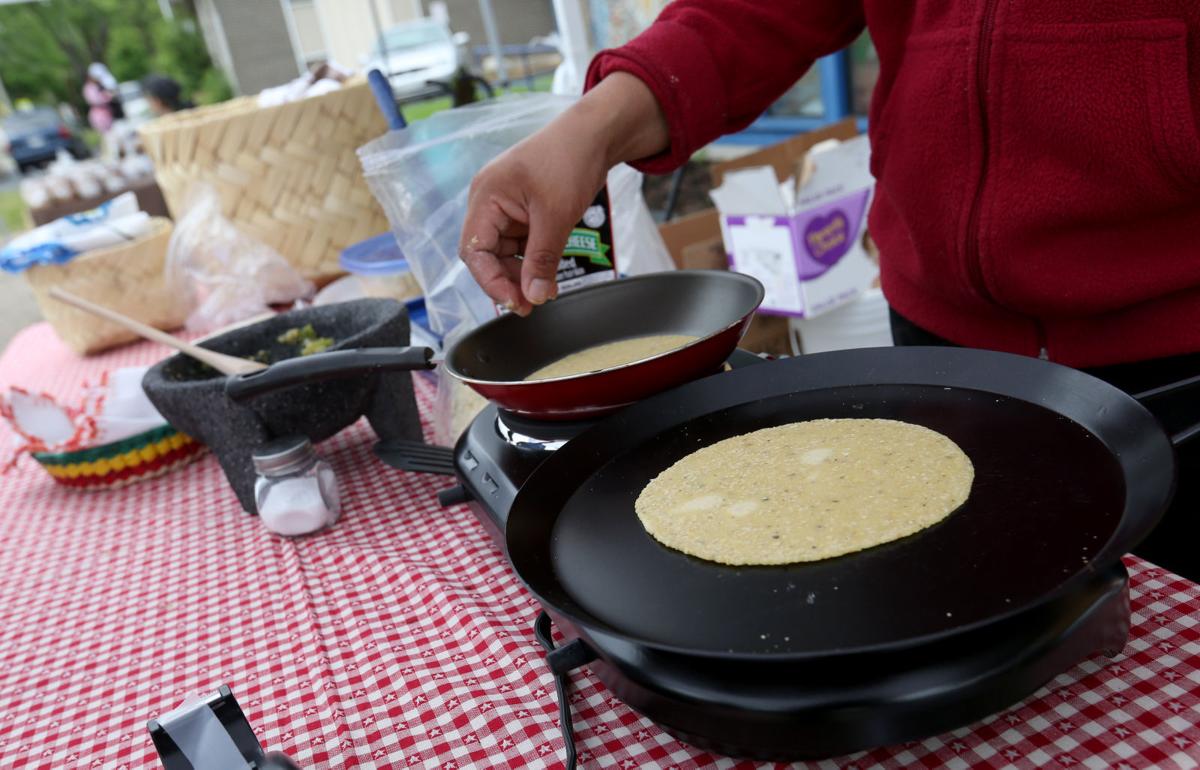 For the third year, Centro Hispano is hosting a farmer's "mercadito" or "little market."
It's well named, because the first one of the year was pretty petite. With just a handful of vendors, the first market of the season on Sunday afternoon brought a steady trickle of guests into the hot sun and high temperatures.
But the goal of the market isn't about numbers, said Mariela Quesada Centeno, director of adult programs at Centro Hispano. It's about furthering Centro Hispano's health and wellness initiative and creating a culturally safe space for the Latino community.
"If 100 people come, and 100 people share their cultures, and find this a place of safety, and just where they can be, I'm happy with that," Centeno said.
The markets run every Sunday until Sept. 24 from 1 to 4 p.m. at Centro Hispano, located at 810 W. Badger Road.
Two Americorp Vista volunteers with Centro helped organize the markets, and wanted to create a place where people of different cultures could come to learn about each other.
"It would be amazing to have people from all backgrounds, whether wealthy or not wealthy, whatever race, come and just talk to each other and talk about the issues of Madison," Joey Graffagnino, one of the volunteers, said before the first market.
Small crowds on Sunday provided the perfect opportunity for leisurely chats with vendors like Angel Flores, who hails from Mexico and is more than willing to teach customers about his products and their Aztec origins.
Flores made organic corn tortillas and also sells tlacoyos, a word that he said comes from the Aztec language, along with tostadas, chips and sopes. He noted that the sopes' raised edges allow for an easy addition of refried beans and chicken, with a little sour cream and queso fresca piled on "like a pizza."
He pulled up an email from a customer, praising the sopes and sharing her own Wisconsin recipe twist: instead of chicken, brat pieces on top.
At another stand, Aida Inuca, a member of the Kichwa indigenous group in Ecuador, sold a slew of goods, including ocarinas, a traditional flute, along with jewelry and embroidered clothing. There aren't many Kichwa people in Madison (about a dozen, she guessed, who get together and celebrate traditional Kichwa holidays like Inti Raymi, a sun festival), but her family back in Ecuador helps her out with the business, sending her handmade jewelry with stones from the Andes mountains.
"We help each other," she said.
Reyna Consales sold food from her restaurant El Sabor de Pueblo. She was happy to talk about her favorite dishes, some of which are family recipes from Mexico, as she flipped quesadillas, sending an enticing fried, cheesy smell through the market.
Other farmers talked about their gratefulness for the Farley Center for Peace and Justice, a nonprofit that helps minority farms get a kick start on their business by offering them land, technical assistance and the use of equipment. Centeno used to work at Farley, making for easy connections between local Latino farmers and the nonprofit.
"It's a very natural, sanctuary place," Panpilo Orea Gonzalez said of Farley through a translator. Gonzalez was selling cilantro, onions and spinach, and will sell tomatoes and strawberries later in the summer.
Although it makes for a busy Sunday, vendor Terri Belz of Sugar River Farms starts at the market on Monroe Street (her "bread and butter market") in the morning and makes the trek to Centro in the afternoon. She liked that the market is intentionally trying to educate about the cultural richness of Madison.
Some of that education comes from the weekly healthy cooking demonstrations. Visitors could duck in the shade to catch a lesson on how to make flour tortillas, led by one of Centro's public health workers. She passed around a ball of dough to let the audience feel the desired consistency of the dough.
Kids could take part in more active cultural education by participating in capoeira, Brazilian martial art, by Omulu Capoeira, an Afro-Brazilian martial arts company.
It's hard to start small markets like this, Belz said, because vendors can't be sure they're going to make enough money. But to her, it's worth it. She sells grass-fed meat and cuts the prices of her ground beef, selling it for $2 a pound less than she does at other markets.
"I want to bring food to food desert areas," she said.
Centeno appreciated vendors like Belz, who she said are taking a risk on a market like this, as well as the volunteers who made it a reality.
It's hard to get outsiders to explore a south side market and to encourage south siders to come out for events, Centeno said, especially since there are markets on Monroe Street and in Monona on Sundays.
But the market is about community, and she said she can see it growing already. She pointed to positive effects like farmers like Flores who utilize Farley and are empowered to start their own ventures, the chance for the community health workers to share their culinary traditions and non-Latino vendors like Belz coming just to support the effort.
That's all makes it worth it to her, and Centeno said Centro will keep marketing the market and inviting the community to participate.
"We're going to keep fighting for it," she said.
Share your opinion on this topic by sending a letter to the editor to tctvoice@madison.com. Include your full name, hometown and phone number. Your name and town will be published. The phone number is for verification purposes only. Please keep your letter to 250 words or less.