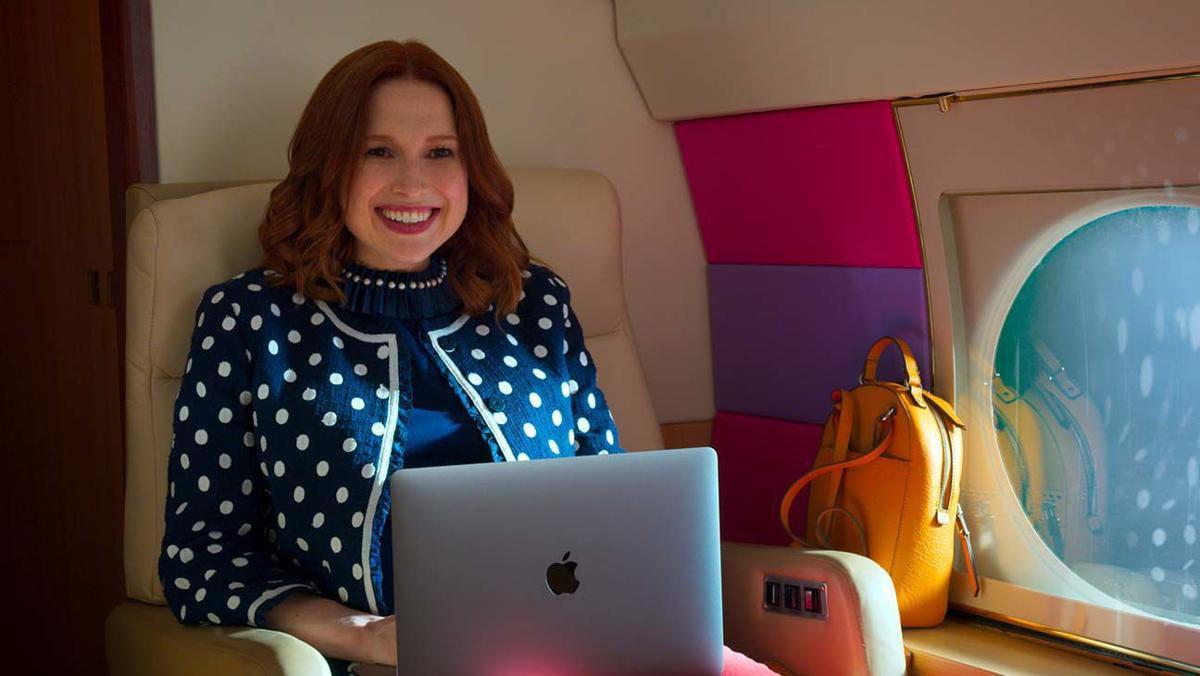 Kimmy Schmidt must be unbreakable. I know, because I broke her several times while watching/playing the "interactive" episode of "The Unbreakable Kimmy Schmidt" that dropped on Tuesday. And she always bounced back.
By making the wrong choice, I crashed Kimmy's plane, left her to starve to death in the woods, and unleashed a robot apocalypse. But every time, I just backtracked to the last decision tree, and Kimmy (Ellie Kemper) was back, as chipper as ever.
The relentlessly funny and sweet Netflix series officially ended its run after four seasons in January 2019, but is back with this special bonus series finale, "Kimmy Vs. The Reverend."
If you've ever read a "Choose Your Own Adventure" book (called "Pick Your Own Journey" on the show), or played the Netflix interactive episode of "Black Mirror," you know the drill. At certain points in the episode, you're given the option of choosing one narrative path or the other by clicking with your mouse or smart TV remote. In the first scene, for example, you get to choose whether Kimmy wears a "fancy dress" or a "fun dress" to her wedding to Frederick, Kimmy's fiancée and a bonafide prince.
Most times (like in a "Choose Your Own Adventure" book), you find out right away that the path you chose was the wrong one (like that robopocalypse) and are sent back to the last decision point to try again. Other times, though, you might send one of the characters down an entirely different path, and not realize it until the end of the episode. My first time through, I was given an "A-" for my efforts because I didn't make the best choices for Jacqueline (Jane Krakowski). Oh well, it's fun to watch her suffer.
Some fans will want to keep going back and trying different options to get that perfect score, or to see all the different storylines and jokes that writers Tina Fey and Robert Carlock have packed into the episode. Honestly, it's worth choosing the option to send Titus to the gym just to watch Titus Burgess' magnificent treadmill slapstick.
But "Kimmy Vs. The Reverend" works because it's just a good episode of a great show, no matter what path you choose. It ties up two big storylines — the wedding, of course, but the episode also gives Kimmy some closure with the Reverend Richard Wayne Gary Wayne (Jon Hamm), who imprisoned her in an underground bunker in Indiana for 15 years.
Kimmy discovers that the now-imprisoned Reverend has another bunker full of women somewhere in West Virginia, and heads out to rescue them. Kemper, as always, is note-perfect in the role, Kimmy's daffy cheerfulness being not only funny but kind of inspiring, especially in these dark times. Her absence leaves a sparkly hole in our streaming lives.
Also on streaming: Britbox premiered the first episodes of the dark but compelling crime drama "A Confession" on Tuesday as well. Martin Freeman ("Sherlock") takes a surprisingly serious turn as a detective trying to track down a kidnapped teenage girl. Imelda Staunton ("Vera Drake") is also terrific as a local woman, agonizing over her own daughter's drug addiction, whose connection to the case isn't immediately clear.
The show is based on a true story, and trades detective-show thrills for authenticity and emotion as the investigation slowly unfolds. Freeman really reveals a new side as the detective who, against all evidence to the contrary, keeps hoping that the girl will be found alive. "I have to hope, don't I?" he tells his wife. "I don't do this to find dead girls."
If you liked the palace skullduggery of "The Favourite," check out Hulu's new series "The Great," premiering on Friday. Elle Fanning plays Catherine the Great, the Russian empress, and Nicholas Hoult is her cruel idiot husband. The show was created by "Favourite" screenwriter Tony McNamara and has the same gift for black comedy, as royals try to outmaneuver each other with no regard for their subjects.
Stay tuned in
Get the latest information on hit TV shows and more with our weekly newsletter!