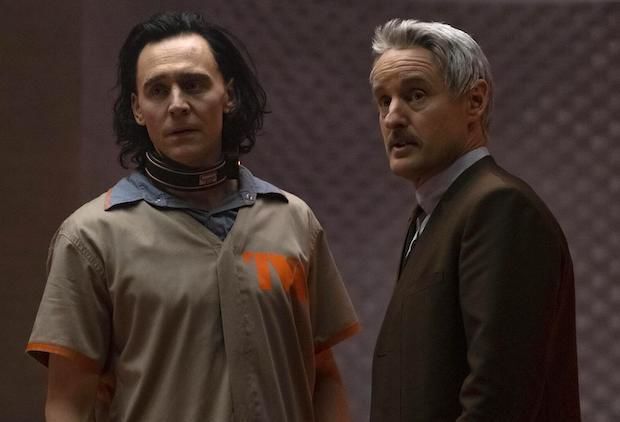 The Marvel movies have taken audiences from the fictional African nation of Wakanda to the remote intergalactic outpost Knowhere to the dizzying depths of the multiverse itself.
But the new Disney+ show "Loki" takes audiences to where they truly have never gone before in the Marvel Cinematic Universe — a Renaissance Faire in Oshkosh, Wisconsin, in 1985. (For those who point out that the big Wisconsin Ren Faire is actually in Kenosha, may I remind you that the Marvel universe also includes a man who shrinks down to the size of an ant. His name is Ant-Man. Real-world accuracy is not Job #1 here.)
I won't spoil exactly how the sight of Oshkonians in medieval garb plays into the show. But that location should be a clue that viewers are in for a weirder and wittier ride with "Loki"— which premieres the first of its six-episode run on Wednesday — than they might expect.
Tom Hiddleston has played Loki, the most memorable villain of the Marvel movies, for a decade now. While Loki was kind of a cookie-cutter, rule-the-universe supervillain in his early appearances, Hiddleston has had the chance to make the character funnier and even a little poignant in later films like "Thor: Ragnarok." Hey, if your brother was Thor, you might act out a little, too.
We last saw Loki cheating death in "Avengers: Endgame," using a magical cube called the Tesseract to alter the timeline and escape the Avengers. But "Loki" opens with him being captured by an organization called the Time Variance Authority, which polices the "sacred timeline" of the universe and makes sure nobody like Loki messes with it.
A great running joke of the show is that while the TVA may be all-powerful, their headquarters appear to be modeled after a DMV in 1983, all retro furniture and paper filing cabinets. It's funny to see Loki's seething frustration at being a would-be god, forced to navigate a lumbering interstellar bureaucracy.
Normally, breaking the timeline is a death sentence, but Loki is rescued from this fate by an affable TVA agent, Mobius M. Mobius (Owen Wilson sporting a bristly cop mustache). Mobius in on the hunt for a "variant" who has been hopping across time and space killing his agents, and thinks Loki will be able to help catch him.
So basically "Loki" is like "Silence of the Lambs" or "Lucifer," where a cop uses a bad guy to catch another bad guy, only with time travel and superpowers thrown in. Hiddleston and Wilson have great buddy cop energy together, with Loki's imperious swagger often deflated by Mobius' wry observations. (Watching video of Loki's past exploits, Mobius quips, "For someone born to rule, you sure do lose a lot.") Some of my favorite moments of the first two episodes were just Loki and Mobius shooting the breeze about fate and other cosmic matters in the TVA cafeteria.
The stacked supporting cast includes Gugu Mbatha-Raw ("Belle") as Mobius' boss, Sasha Lane ("American Honey") as a missing TVA agent and comedian Eugene Cordero as a low-level TVA flunkie who Loki enjoys tormenting.
While I enjoyed Marvel's other two Disney+ shows, "WandaVision" and "The Falcon and the Winter Soldier," the highly enjoyable "Loki" feels like the most fully realized of the bunch, creating its own world and its own tone within the MCU. And, with literally all of time and space at its disposal, there are lots of places to go in a second season.
Also on streaming: The new Peacock show "We Are Lady Parts" aims to drown out Muslim stereotypes in a wail of guitar feedback. Created by Nida Manzoor, the British comedy series focuses on the exploits of a punk band made up of all Muslim women.
As a big fan of the Netflix series "Lupin," I was a little miffed that the French caper series about a master thief ended abruptly after only five episodes. But five more episodes drop on Friday, as the thief Lupin (Omar Sy) schemes his revenge against the powerful man who framed his father for stealing a diamond necklace. Looking forward to a heist to rival the "crash a Ferrari into the Louvre" caper of the first season.