This week, by sheer coincidence, audiences will get two chances to see Madison native Sarayu Blue show just how funny she can be.
And in the wildly different ways she can be funny.
On Thursday, Blue will make her third appearance on the CBS comedy "The Unicorn," starring Walton Goggins ("Justified") as a widower cautiously re-entering the dating scene. Blue has a pivotal recurring role as Anna, the first woman Goggins' character has really fallen for since his wife died. It's a grounded and humane performance, and Blue and Goggins have a charming romantic chemistry onscreen.
"It is a really, really sweet storyline between the two of them and Walton is just a pure delight to work with, truly," Blue said in a recent phone interview. "I mean, that whole cast is just so welcoming and wonderful in every way."
Then on Friday, viewers can see Blue on the Netflix's "Medical Police," a deadpan goofy series with the same creative DNA as the movie "Wet Hot American Summer" and the Adult Swim series "Children's Hospital," which shares several characters with "Medical Police."
Blue plays Sloane McIntyre, a Centers for Disease Control super-agent helping doctors (Erinn Hayes and Rob Huebel) track down a global pandemic, and she gets to bark orders like "Wheels up in five!" and punch out terrorists. (For Blue, who took martial arts lessons at Capital City Karate as a girl, "it's a dream come true.")
"Anna is this very fleshed-out, dimensional, fun, free-spirited human, whereas Sloane McIntyre is really written pretty dry and preposterous," Blue said. "She's got a line where she says, 'Press my helicopter pants!' and they're really just pants, right? It's just so preposterous."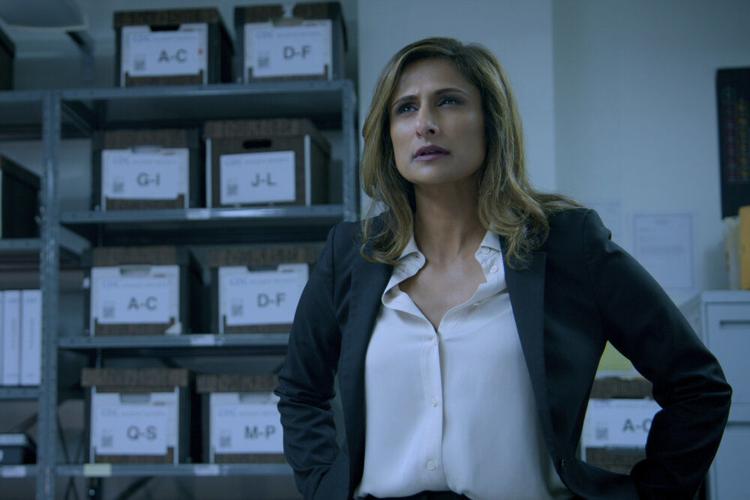 Having two very different roles airing one day apart showcases not only Blue's versatility, but how the Madison West graduate's career has continued to evolve in Hollywood in recent years. She also had a supporting role playing John Cena's wife in the comedy "Blockers," and most significantly, led her own NBC comedy show "I Feel Bad."
While that 2018 show only lasted one season, it was considered a big step forward for South Asian representation on television, and the positive reception has allowed her to be more selective in picking roles. She's also seeing slow but steady progress in the type and quality of roles she's getting as an Indian-American actress in Hollywood.
"I don't know if I would have been able to do those roles before or not," she said. "What I do know is that I've enjoyed doing them. They were really dimensional and interesting and weird and fabulous."
Blue said she grew up with a love of storytelling. Both of her parents worked at the University of Wisconsin-Madison — her father was a professor, while her mother also taught at the university and writes short stories.
But she didn't even think about acting until, at age 15, she auditioned for a production of "Pippin" at West.
"I just remember having the time of my life and thinking, 'Why would I do anything else?' And that feeling stuck with me. I continued to be in love with it, right? Because I think you either love it or you don't, or you love it and it's not possible. And so I was lucky that I got to keep fighting for it. And then it worked out eventually."
Like any actress who just arrives in Los Angeles, Blue took almost any roles she could get — her early credits include bit parts as "Nurse #1," "TV Reporter" and "Assistant Pharmacist." She got her first recurring role in 2010 on the TV series "Sons of Tuscon," and then her first regular series role on the David E. Kelley medical drama "Monday Mornings" in 2013.
The roles steadily got better and larger, but it was "I Feel Bad" that really changed everything. The lead role of the Amy Poehler-produced series, about a woman juggling career and family, was not originally written for a South Asian lead. But the producers liked Blue so much they retooled the show around her.
"It was definitely a pivotal experience in my career," she said. "It was an enormous opportunity to be in a situation where the role wasn't originally written for a South Asian American woman, to just go in a room and audition and have them say, 'Yeah, we're going to go this route with it' was an enormous amount of progress. It was a really exciting shift to get to be a part of."
Blue said she's encouraged to see so many opportunities opening up for women of color, both in front of and behind the camera, although change comes slowly, and movies and television have a long way to go.
"It is exciting to know that there is much more awareness around inclusion, much more awareness around making sure we're getting stories told, and looking for stories to tell," she said. "I think that in itself is an important and exciting thing to see happen."
In order to keep those opportunities coming, for herself and others, Blue is starting to shift into producing and developing work herself.
"It's important to me to keep the momentum going of seeing women of color in dimensional and interesting roles," she said. "So I can't always be selective, but certainly that's a priority to me. I'm interested in uplifting that kind of work. I'm interested in being a part of that kind of work. And I'm interested in, if possible, developing that kind of work."
Stay tuned in
Get the latest information on hit TV shows and more with our weekly newsletter!