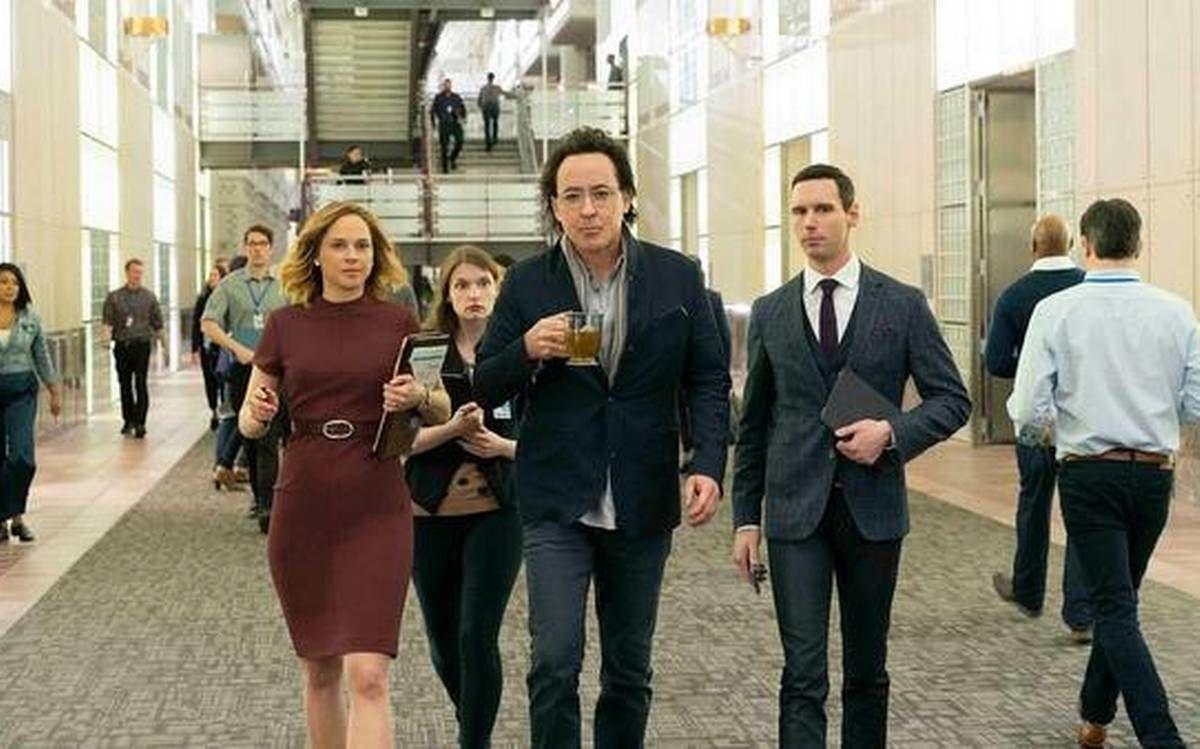 This is my fault, but I'm having trouble keeping track of all the Amazon Prime series that are just one six-letter word beginning with the letter "U". I loved "Undone," haven't seen "Upload," and now comes "Utopia," which premiered Friday. I'm currently working on a pitch for a situation comedy set on a Wisconsin dairy farm called, of course, "Udders."
"Utopia" is also a lot like a few other Amazon shows — most notably "The Boys" and "Hunters" — in that it's a violent, self-consciously stylish show that seems ripped from the pages of a comic book. What distinguishes "Utopia" is that it's a remake of a British show created by "Gone Girl" novelist Gillian Flynn, who also wrote my favorite movie of 2018, "Widows."
"Utopia" is literally about a comic book. A decade ago, a mysterious one-issue comic called "Dystopia" was released and was an instant cult hit. The dark "Alice in Wonderland" fable featured a protagonist called Jessica Hyde trying to evade the clutches of the villainous Mr. Rabbit. But what really drew the devout was that the baroque illustrations hid clues that supposedly predicted the pandemics of the last decade like Ebola and Zika.
Now, a copy of a sequel called "Utopia" has surfaced, and everyone is trying to get their hands on it to see if it will predict the next pandemic. Both good guys (a team of young fanboys) and bad guys (a pair of nerdy assassins) are after the prized copy. Connected to all this is a tech genius played by John Cusack, who has introduced a lab-grown meat called SimPro that he believes will cure world hunger.
No question, there is something profoundly icky about watching a show about pandemics in the midst of living through one (even though "Utopia" was produced before COVID-19 hit). But that's just a matter of bad timing.
What turned me off "Utopia" was the violence, which is just . . . mean. It introduces colorful supporting characters and then kills them off almost off-handedly. There's a gruesome interrogation scene where the interlocutor sets out three instruments of torture in front of his victim, and then we watch as he uses them, one by one. "Utopia" has not learned the lesson that the suggestion of violence is often more compelling than the actual thing.
I liked the locations used in Flynn's native Chicago (the gargoyles at the Harold Washington Library figure in as a plot point), and the plot is certainly fast-moving. But the show's flashy nihilism becomes quickly exhausting, and I'm not sure I need an exhausting TV show right now. Maybe the show picks up in its later episodes, but right now, they'll have to remain (to use another six-letter "U" word) unseen.
Also on streaming: Millie Bobbie Bobby Brown seems to be having a lot more fun playing "Enola Holmes" than she ever has as Eleven on "Stranger Things." The British actress (who gets to use her own accent for once) plays the younger sister to Sherlock (Henry Cavill) and Mycroft (Sam Claflin) Holmes in the Netflix movie, which premiered Wednesday. It looks like a lot of fun, although not for Holmes purists.
HBO Max's fun new reality competition series "Haute Dog" is like "Nailed It!" for dog shows, as three dog groomers compete in a series of challenges to win the approval of the judges. The dogs are adorable, although I'm not letting those groomers anywhere near my puppies.
Stay tuned in
Get the latest information on hit TV shows and more with our weekly newsletter!