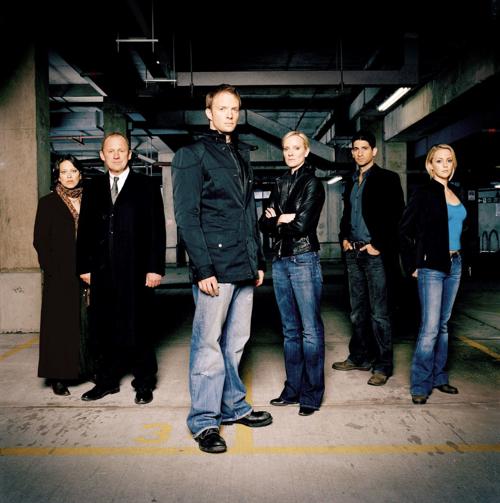 I put the call out on social media and in the Morning Update newsletter for people to pass along their ideas for shows to watch. Please keep them coming (I hear Netflix's "Tiger King" is bananas) and I'll keep sharing them.
One reader shared a pair of British shows available on Britbox. The first was "MI:5" (also known as "Spooks"), a smart '00s thriller series following a British intelligent unit in the years after 9/11: "First episodes were filmed in 2003 so some of the elements seem rather amateurish now (big cellphones with antennas) but the suspense is good, as is the acting."
The other was the British version of "Antiques Roadshow" on Britbox. Turns out living in a country that's over 1,000 years old makes for some better stuff to appraise. "Their antiques are really, really old. And much more interesting than the junk that's dug up over here."
Another reader recommended PBS Passport, PBS's digital on-demand library of over 1,500 episodes, an added benefit for public television members. "Couldn't make it without PBS. Not just regular programming but Passport has some great bingeworthy offerings. New 'Beecham House,' 'Vienna Blood,' 'Call the Midwife,' the list goes on, and of course musical offerings."
Another reader has been catching up on the British comedy "Peep Show" on Hulu. The long-running show about two underachieving roommates — one employed but socially awkward, the other confident but unemployed — scratches that cringe-comedy itch.
"These two lads are poster children for what low self esteem and social ineptitude can create in modern society. The show is both hilarious and sobering at times. Of course, one of the guilty pleasures of this show is that you can honestly say to yourself, 'I'm messed up.  But thank God, I'm not THAT messed up.'"
A couple of people on my Facebook feed recommended "The Five," which had me worried that they were talking about the Fox News show where four conservatives gang up on Juan Williams. But, no, they were talking about another British show, this one a mystery series about a group of friends investigating a murder linked to a young boy's disappearance 20 years earlier.
Another Facebook friend recommended "Good Omens," the Amazon Prime series starring Michael Sheen and David Tennant as an angel and a devil, respectively, working together to stop their bosses from triggering the apocalypse. I like that one, too.
Also on streaming: The slew of films rushing to video-on-demand now that theaters are shut down continues. On Tuesday, you could own Guy Ritchie's "The Gentlemen" (it's good!) or the Vin Diesel superhero movie "Bloodshot" (it's bad!) for $20 through iTunes, Amazon Prime or Vudu.
Hulu premiered its big spring miniseries "Little Fires Everywhere" with three episodes last Friday, and the next one is coming this Friday. Reese Witherspoon and Kerry Washington star in the adaptation of Celeste Ng's page turner about two mothers in an affluent Ohio suburb whose charged friendship sets off sparks. (Literally — one of their houses burns down in the opening scene.)
"Project Runway" fans have been waiting a long time for a reality show reuniting Tim Gunn and Heidi Klum, and they finally get it in Amazon Prime's "Making the Cut," premiering Friday. A dozen designers compete for a million-dollar prize and the chance to design a line for Amazon Fashion, which is a thing that exists, apparently.
Netflix premieres the third season of "Ozark" on Friday, with Laura Linney and Jason Bateman playing a couple who seem addicted to making bad decisions, like laundering money for a Mexican drug cartel. They seem to have some measure of success in Season 3 with the launch of their own riverboat casino, but, of course, good news never lasts for long in the world of "Ozark."
gnflsjdNGlk/XN CFV/lk nzXDVlj/
Concerned about COVID-19?
Sign up now to get the most recent coronavirus headlines and other important local and national news sent to your email inbox daily.