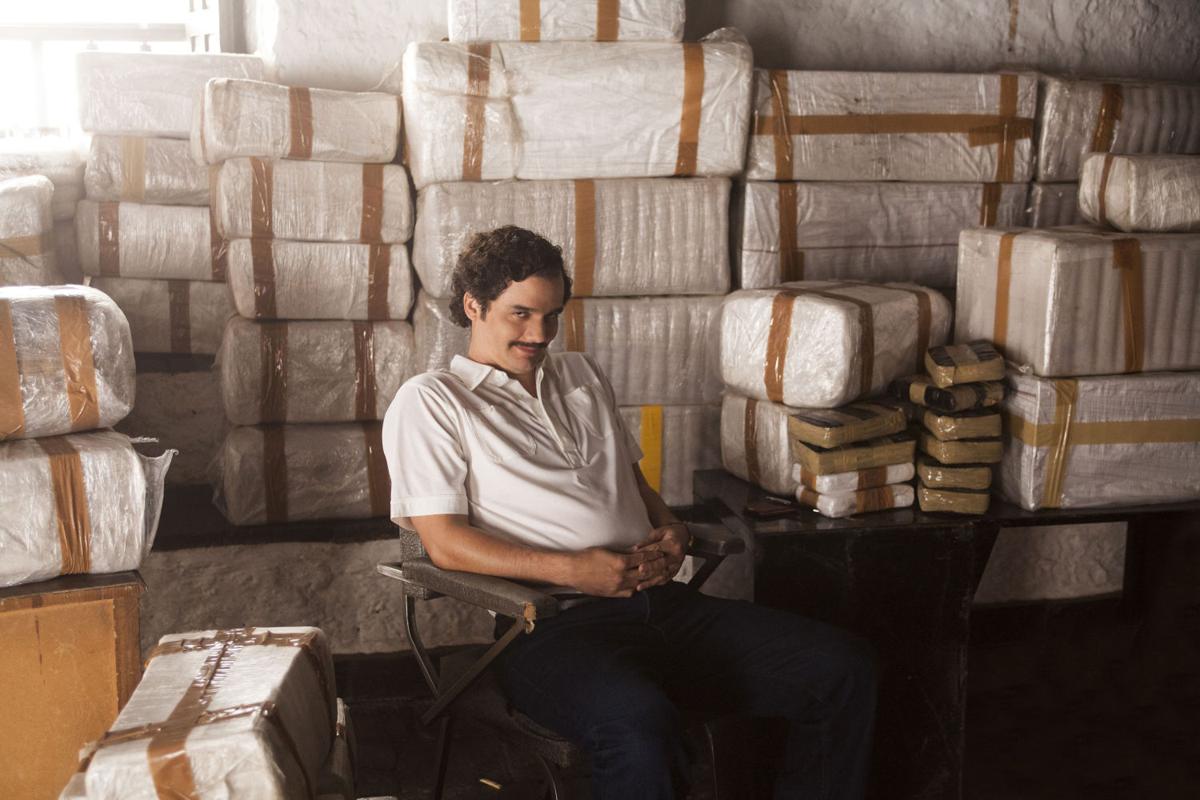 It seemed inevitable that famed drug trafficker Pablo Escobar would get his own TV show eventually. After successful shows about murderous politicians ("House of Cards"), mobsters ("The Sopranos") and serial killers ("Hannibal"), Escobar's exploits come to seem almost normal.
Netflix's "Narcos" follows the rise and fall of Escobar, whose Medellin cartel at one point controlled the bulk of the global cocaine trade in the 1980s. Netflix released the first 10-episode series last weekend, and it proves to be a fast-moving, dense and familiar ride.
The series' executive producer is Jose Padilha, who has shown throughout his career the ability to mix genre excitement with a sociopolitical mindset. His documentary "Bus 174" took a tense "Dog Day Afternoon"-style hostage standoff aboard a city bus in Rio de Janeiro and used it to explore inequality and corruption in Brazil. His two "Elite Squad" films are gung-ho action movies that are uncomfortably honest about law enforcement corruption, as crooked cops and drug lords battle for control of the city.
Padilha's foray into Hollywood moviemaking, the "RoboCop" reboot, wasn't so successful, although he did manage to make a few points about the dangers of privatizing law enforcement amid the robotic gunplay. He seems much more at home in the sweeping "Narcos," and not just because the series is filmed in Colombia.
Wagner Moura (the star of the "Elite Squad" movies) plays Escobar, who in the first episode is a resourceful local drug trafficker who seems destined for bigger things. He knows just how much carrot and just how much stick to use to get things done. In an early scene, trucks full of his contraband are stopped by border guards. Smiling, Escobar offers bribes to each of the soldiers – but also makes a point of mentioning each of the soldiers' families by name, so they know he knows where they live. Why limit yourself to preying on fear or greed to get what you want, when you can use both hand in hand?
When a large quality of Peruvian cocaine falls in his hands, Escobar realizes it's time to go international. This puts him in the sights of DEA agent Steve Murphy (Boyd Holbrook), whose cat-and-mouse game with Escobar drives much of the momentum of the series.
Murphy's character also provides copious amounts of narration explaining exactly how the complex dealings of the Medellin cartel operate, who's who and what they're doing. The narration is a clear ode to Ray Liotta's voiceover in "Goodfellas," and at times can be a bit overwhelming. But it's also essential, because putting all that information in the voiceover strips away any awkward exposition from the dialogue, allowing the scenes to have a fluidity and an energy.
Shooting in Colombia gives "Narcos" a feeling of we-are-there authenticity, moving us from the amber-lit streets of Bogota to the beautiful green countryside. Much of the dialogue is also in Spanish, which is likely an attempt for Netflix to reach a global audience, but also a refreshing sign that English-speaking audiences are no longer subtitles-adverse.
In the end, "Narcos" never strays too far from the drug-war tropes of movies like "Traffic" or "Scarface." But it uses those tropes well, making for an exciting and involving show. Padilha has said that he plans to use future seasons of "Narcos" to explore different chapters in the Latin American drug wars, leading up to the present day. Unfortunately, he has plenty of material to work with.
Also on streaming: Amazon Prime will release the first season of "Hand of God" on Friday. The dark drama stars Ron Perlman ("Sons of Anarchy") as a judge who becomes a vigilante, believing that God has tapped him to be an avenging angel.
Share your opinion on this topic by sending a letter to the editor to tctvoice@madison.com. Include your full name, hometown and phone number. Your name and town will be published. The phone number is for verification purposes only. Please keep your letter to 250 words or less.
Stay tuned in
Get the latest information on hit TV shows and more with our weekly newsletter!