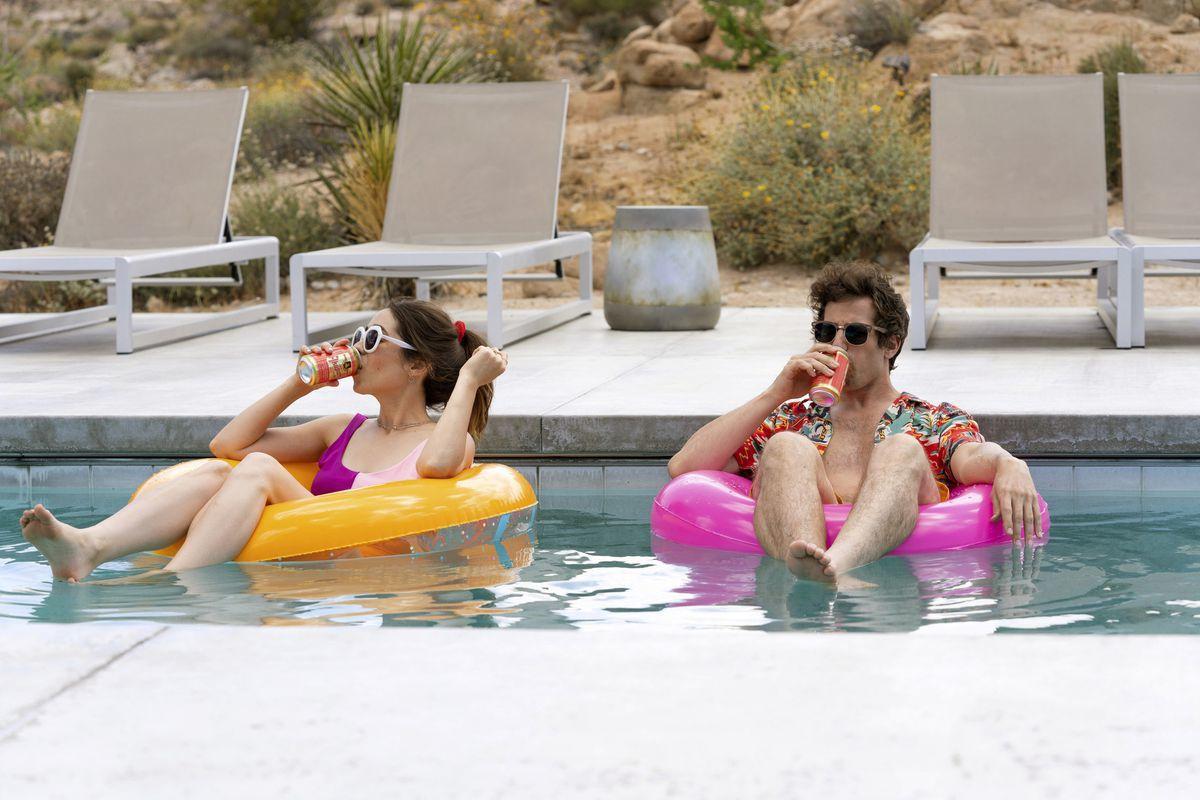 For a movie that has mysterious glowing portals, time loops and frickin' dinosaurs, the most unbelievable part of "Palm Springs" is that it takes place in a universe where the movie "Groundhog Day" doesn't exist.
Because there's no other reason why somebody in "Palm Springs," which premieres Friday on Hulu, doesn't bring up the 1993 Bill Murray comedy at some point. That's just what happens when you get caught in an infinite time loop. But even if it feels like you're reliving "Groundhog Day" while watching "Palm Springs," the rom-com finds its own sunny spin on the material.
Nyles (Andy Samberg) has come to the titular desert resort town because his feckless girlfriend Misty (Meredith Hagner) is a bridesmaid in the wedding of her best friend Tala (Camila Mendes). Nyles doesn't know anybody other than Misty, but on the wedding day has a pretty good time lounging in the pool, delivering a surprise toast and enjoying the open bar.
He starts hitting on the bride's sister, Sarah (Cristin Milioti), who is having a thoroughly miserable time. The couple staggers drunkenly out into the desert to hook up, and Sarah follows Nyles into a mysterious cave with a glowing red light. The next morning, she wakes up in her hotel room — only it's once again her sister's wedding day.
It turns out Nyles had stumbled into this cave a long time ago, and has already lived through the wedding day hundreds if not thousands of times. It's why he seems so loose — it's like he's played the same level of a video game over and over until he mastered it. It's very funny to see Milioti's bewilderment and terror at her new situation (the phrase "WTF" is frequently employed), played off against Nyles' blasé acceptance of his endless fate.
Eventually, Sarah starts to warm up the situation, seeing the possibilities of living every day without responsibility or consequence, knowing that you can hit reset and start over tomorrow. Samberg and Milioti have terrific chemistry together. Samberg, of course, has only grown more appealing as a performer over time, and makes Nyles a picture of literal arrested adolescence. Milioti, terrific in supporting roles on "Fargo" and "Black Mirror," is a foul-mouthed delight as the caustic Sarah.
Produced by Samberg and his fellow Lonely Island collaborators, "Palm Springs" is relatively more grounded than something like "Popstar" (another Samberg film). But it still has the knack for keeping the jokes coming from all directions as Sarah and Nyles find different ways to enjoy their out-of-time freedom. And to be fair, the film takes the premise in a different direction than "Groundhog Day"; at one point, Nyles and Sarah wonder if they need to live a perfectly selfless day to break the cycle, like Murray's Phil Connors does. But it doesn't work, so they go back to their shenanigans.
There is something about living the same day over and over, stuck in the same place, that feels strangely relevant in 2020. If only most of us had the good sense to be quarantined at a never-ending party in Palm Springs.
Also on streaming: Apple TV+ should get a flood of new subscriptions from the nation's dads this week, as the new Tom Hanks movie "Greyhound" is premiering there on Friday after having its theatrical plans scuttled by the coronavirus. Hanks also wrote the screenplay, about the captain of an American destroyer squaring off against German U-boats in the Atlantic Ocean during World War II.
If you watched television at all in the 1990s, at some point you came across Walter Mercado, the world-famous Puerto Rican astrologer whose call-in show was one of the most popular on Univision. The new Netflix documentary "Mucho Mucho Amor" looks at Mercado's unlikely rise to fame, as well as what happened after he mysteriously went off the air a decade ago.