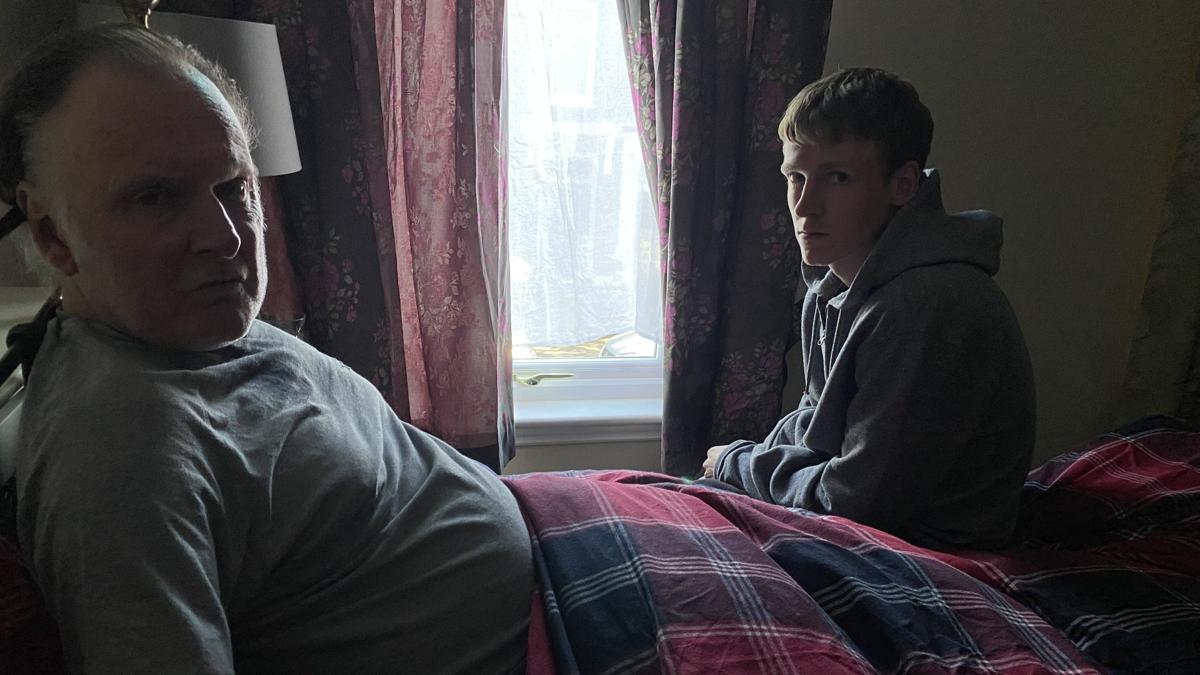 One thing that the coronavirus lockdown has made clear — artists gotta make art.
Whether it's musicians livestreaming concerts from their living rooms, poets doing live readings from their bedrooms, or even filmmakers making short films via Zoom, being stuck at home has not kept DIY artists from flexing their creative muscles.
Now comes what I think has to be the first TV show made during quarantine. "Isolation Stories," an anthology series of 15-minute episodes made while under quarantine, premieres Tuesday on Britbox, the streaming site owned by the BBC and ITV.
The British actors involved, including Eddie Marsan ("Atomic Blonde"), filmed their parts while at home under lockdown, enlisting family members to operate cameras, lighting and sound equipment. Directors and crew members were connected online via teleconferencing to "direct" the scenes, seeing the footage as it was being shot.
The result is a series that's more visually interesting than some other lockdown productions. "Isolation Stories" has a lot of laptop drama, of course, because that's how a lot of us are connecting with each other these days.
But other scenes get more inventive. In my favorite episode of the four, a disgruntled husband (Marsan) interacts with his free-spirited father-in-law (David Threlfall), safely distanced outdoors, six feet away on the other side of a picture window. The husband's wife left him for another man just before the lockdown, and is refusing to let his wife see their two sons (played by Marsan's real-life sons). Marsan plays the jilted husband's heartbreak and anger, magnified by being stuck in quarantine, to perfection.
In another episode, father and son actors Robert and Tom Glenister play a COVID-19 patient with Alzheimer's who is being taken care of by his son. It's a sweet and surprisingly funny episode, culminating in a clever appropriation of a group of (real-life) neighbors standing outside their front doors, applauding first responders.
The entire series was filmed in 30 days, and some of the four episodes are better than others, particularly in finding a satisfying ending. But it's an interesting exercise in creativity and versatility, of using limitations rather than being thwarted by them. Plus, each of the four episodes is only 15 minutes long. What else have you got to do right now?
Also on streaming: After the relatively grounded "Downhill," Will Ferrell gets back to "Blades of Glory"-level silliness with his new Netflix film, "Eurovision Song Contest: The Story of Fire Saga." Ferrell and Rachel McAdams play an Icelandic duo hoping to ride their Norse-inspired synth-pop to worldwide fame and fortune. It premieres on Friday.
Jordan Peele's reboot of "The Twilight Zone" returns to CBS All Access on Wednesday. The second season of the anthology series includes Billy Porter, Morena Baccarin, Tony Hale and more, and judging by the trailer, a couple of the episodes at least hint at classic episodes not only from the original Rod Serling series, but the underrated 1980s reboot.
Usually it's the search party that rescues others, but this time it's HBO MAX that rescued "Search Party." The beloved TBS comedy-mystery series jumps to HBO's new streaming service for its third season, premiering on Tuesday.
Stay tuned in
Get the latest information on hit TV shows and more with our weekly newsletter!