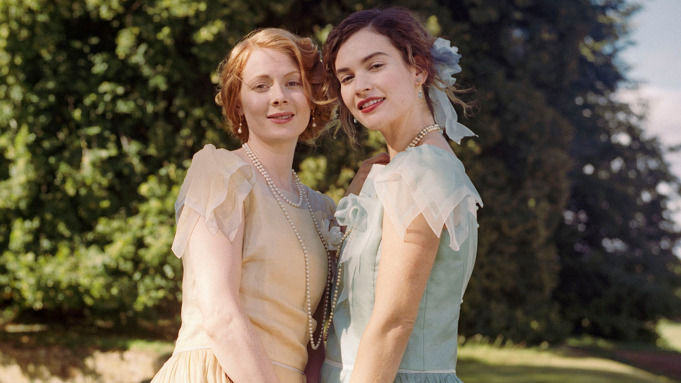 Amazon Prime's "The Pursuit of Love" opens with a woman sunbathing nude with her dog on the roof of her London apartment during the Blitz of World War II. Suddenly, the apartment is hit by a German bomb, and the woman and the dog fall through a hole in the floor, only to later emerge from the rubble of her building unscathed.
Of course, that's ridiculous. There's no sunshine in London!
It's clear that this adaptation of Nancy Mitford's beloved 1945 novel is not going to err on the side of gritty period realism. Writer-director Emily Mortimer (one of my favorite actresses from "Lovely and Amazing" and "Lars and the Real Girl") has crafted a witty and stylish drama. But if "The Pursuit of Love" is sometimes gleefully anachronistic, those forward-looking flourishes serve to underscore how backwards the prejudices against women were at the time.
That woman on the roof is Linda (Lily James of "Baby Driver"), a hopeless romantic who has spent her life in the titular pursuit of love. "She lived in a world of superlatives," her cousin and best friend Fanny (Emily Beecham) says in the show's voiceover. But such romanticism can be a dangerous thing in 1930s Britain, where women often have to marry for money or security rather than love.
The three-episode series spans 14 years, from 1927 to 1941, following the ups and downs of Fanny and Linda's friendship. Linda grows up with five sisters under the thumb of an imperious, bellowing father (Dominic West) who thinks educating women is a waste of time. Deprived of the chance to pursue education or a career, Linda fervently believes her happiness depends on whether she finds her Prince Charming. "Love isn't silly," she says. "It's my religion."
Fanny, meanwhile, is more fatalistic about love, perhaps because her mother (played by Mortimer) has run off with so many different and unsuitable men in her life that she's garnered the nickname The Bolter. Fanny is often standing to the side, narrating and observing as Linda throws herself headlong into romance and ends up suffering the cost. The first episode ends with Linda on her wedding day, which should be the happiest day of her life. Instead, we see the light go out of Linda's eyes as her fantasy becomes reality, and she realizes she barely knows the man she's married.
Mortimer sugarcoats these hard truths with some playful touches, especially the use of anachronistic music cues and visuals. When Andrew Scott of "Sherlock" shows up as the free-thinking, outrageous Lord Merlin, he's dressed like a glam-rock icon and cavorting around to the strains of T. Rex's "Dandy in the Underworld." It's a telling detail, as the freedom that Merlin enjoys is so far removed from Linda and Fanny's cloistered world that he might as well be from another era.
"The Pursuit of Love" lasts just three hour-long episodes, so it's an easy binge. Best of all, the book is the first in a trilogy, which gives Mortimer more material to draw from in future seasons.
Also on streaming: The powerful documentary "Pray Away" premiered Tuesday on Netflix, profiling people who once evangelized so-called "gay conversion therapy" and now see the harm that such therapy wreaked, especially on gay teenagers. Many have come to embrace their own gay identities as well.
If you missed the touching documentary "Val" when it premiered in theaters a couple of weeks ago, it'll be available to Amazon Prime subscribers starting on Friday. The film is a personal documentary about actor Val Kilmer, drawing from Kilmer's home movies in telling the story of how he went from theater nerd to leading man. Especially moving is footage of Kilmer today, who after a two-year battle with throat cancer has to speak through a hole in his neck.