Over a thousand adults and children alike swarmed the exhibition hall at the Monona Terrace on Saturday and Sunday for the championships, which pitted players of both the handheld video game and the trading card in one-on-one clashes. The prizes at stake: Cash winnings from $250 to $5,000, plus the chance to earn a ticket to the world championship stage in Washington, D.C., this August.
Crowds milled about the hall from morning to the late afternoon on Saturday. Many wore branded swag, like hats with Pikachu ears or backpacks with toy Charizard plushies peeking out. Vendors lined the outskirts of the room, selling packs of the collectible cards, clothes, gaming equipment and Pokémon comics and novels. In one corner, matches were given the sports broadcast treatment, with headset-wearing professionals providing commentary on games live-streamed on the website Twitch.
In the middle of the room, players hunched at row after row of long mess hall-style tables, ruminating over what cards to play from their hand, or in the case of the video game competitors, staring at the screen of Nintendo 3DS while scribbling notes on legal pads. The goal for both the card game and video game are the same: to use the mythical beasts known as Pokémon to fight each other, with the goal of knocking out six of your opponent's creatures before you lose six of your own.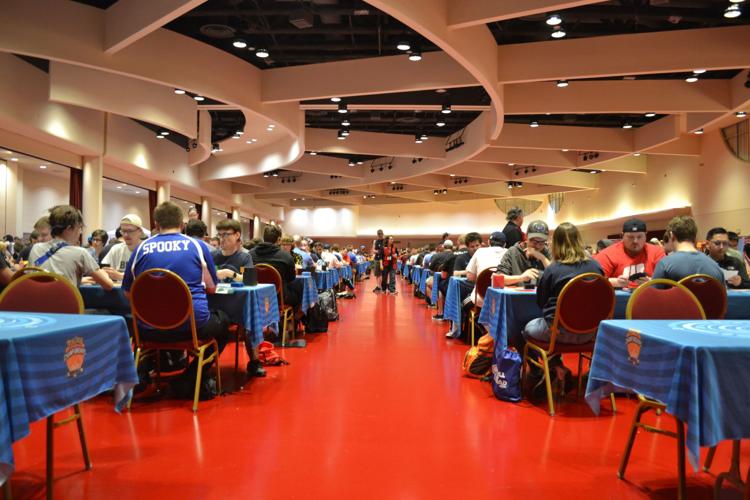 About 800 players — mostly high-schoolers and adults — were on hand to participate in what seemed to be the event's biggest attraction, the card game. A few hundred others were registered for the video game tournament.
Others were there to spectate or have fun at side events. In the case of A.J. Schara and Brandon Schara-Wilke, they were there for their honeymoon.
"We're loud and proud nerds," said Schara-Wilke, who showed off the Charizard belt he just bought.
The newlyweds from the Twin Cities — who got married on Star Wars Day, May 4th — said that while they opted to not enter the actual competition, they have played in other Pokémon tournaments in Minnesota.
"It started more as a guilty pleasure. And now I tell people, 'Yeah, I play Pokémon competitively.' And they're like, 'No you don't.' And I'm like, 'Yeah I do!'" said Schara.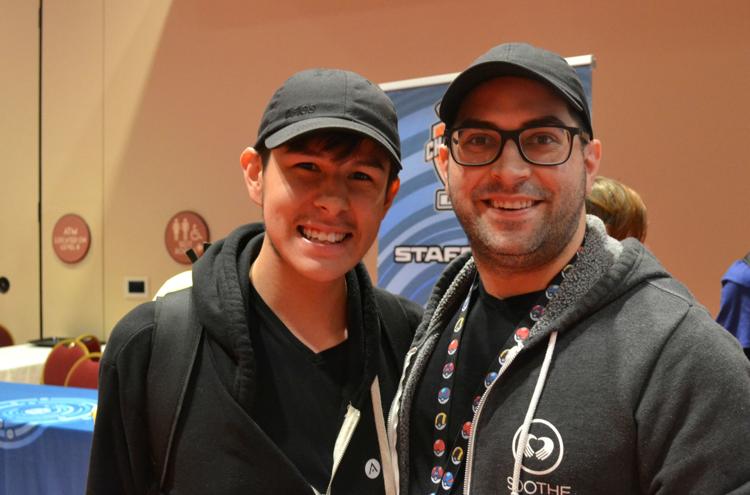 Despite the franchise's cute veneer and kid-friendly culture, many brought a highly competitive and strategic mindset to the championships.
"You're probably used to seeing your kids' Pokémon cards lying all over the floor," said the card tournament's head judge, Rick Mitchell, who flew in from Nashville to officiate. "But there's a very complex game going along with it."
By mid-afternoon on Saturday, Waukesha trading card game player Cody England said he had won three of the five matches he had played. He was happy with the results, and said he had a decent chance to qualify for the second round of tournament play on Sunday.
England said it's a game that takes a lot of effort to rank up to a competitive level. It's a question of collecting the best cards to put in a deck, and then practicing for hours on end.
"You have to put in the time, and the money," he said.
Video gamer Peyton Fearing had flown in from Braselton, Georgia, to compete in the bracket for younger competitors. The 13-year-old said that she also has put in hours of practice to work out strategy, and to get her Pokémon stronger. Currently, she said her strongest team of six creatures she uses is one spearheaded by her favorite, the rainbow-antlered deer Xerneas.
Peyton said that this year alone, she's attended over a dozen tournaments. Recently, she even flew to Australia for a competition.
"They say 'brekkie' for breakfast over there," she said. "Brekkie!"
Many of the attendees and officials interviewed said that they were also there to have a good time with family, or see old friends.
"It's a family-oriented game. I know people from all over the world now. I consider Pokémon my second family," said Mitchell.