When Mike Garson performs in Madison on Thursday, Feb. 21, it will be the first time he's played a show in town in 45 years.
The first time, he was playing with a close friend. This time, he'll play in honor of him.
The friend was David Bowie, who performed in Madison at the Dane County Veterans Memorial Coliseum on Oct. 11, 1974. Garson, a pianist and composer, was part of the backing band, having toured with Bowie for the previous 18 months.
Bowie and Garson remained close friends and collaborators through the next few decades. Garson played on 19 Bowie albums, ranging from "Aladdin Sane" to "Outside," and joined him on nine world tours.
Bowie died on Jan. 11, 2016, and now the 72-year-old Garson is on another world tour, this time with a crack group of musicians, most of whom performed with Bowie at various points over the years. "A Bowie Celebration: The David Bowie Alumni Tour" comes to the Orpheum Theater on Thursday.
"When David was alive, I never wanted to play his music except with him," Garson said in a phone interview from a tour stop in California. "With him not being here, the next best thing I do would be to assemble an alumni band to the best of my abilities."
Garson sounded a little frustrated that "A Bowie Celebration" gets lumped in with "tribute" tours featuring soundalike musicians recreating famous bands, such as the "Fab Four" that played last week at the Barrymore Theatre.
Like Garson, every one on stage at "A Bowie Celebration" played with Bowie on record or on tour. The lineup includes Earl Slick, who played guitar on some iconic Bowie songs like "Young Americans," and Carmine Rojas, who contributed the unforgettable bass line to "Let's Dance."
Also in the band for the Orpheum show are a couple of musicians known for their own work. Charlie Sexton is an acclaimed Texas guitarist who backed Bob Dylan on several recent tours, and also has a second career as a character actor, most recently playing Texas singer-songwriter Townes Van Zandt in Ethan Hawke's "Blaze."
And one of the tour's three lead singers is Corey Glover of the pop-funk band Living Colour ("Cult of Personality"). Glover will share vocal duties with Bernard Fowler, who has sang backup vocals with the Rolling Stones for decades, and Latin Grammy-winning Guatemalan singer-songwriter Gaby Moreno.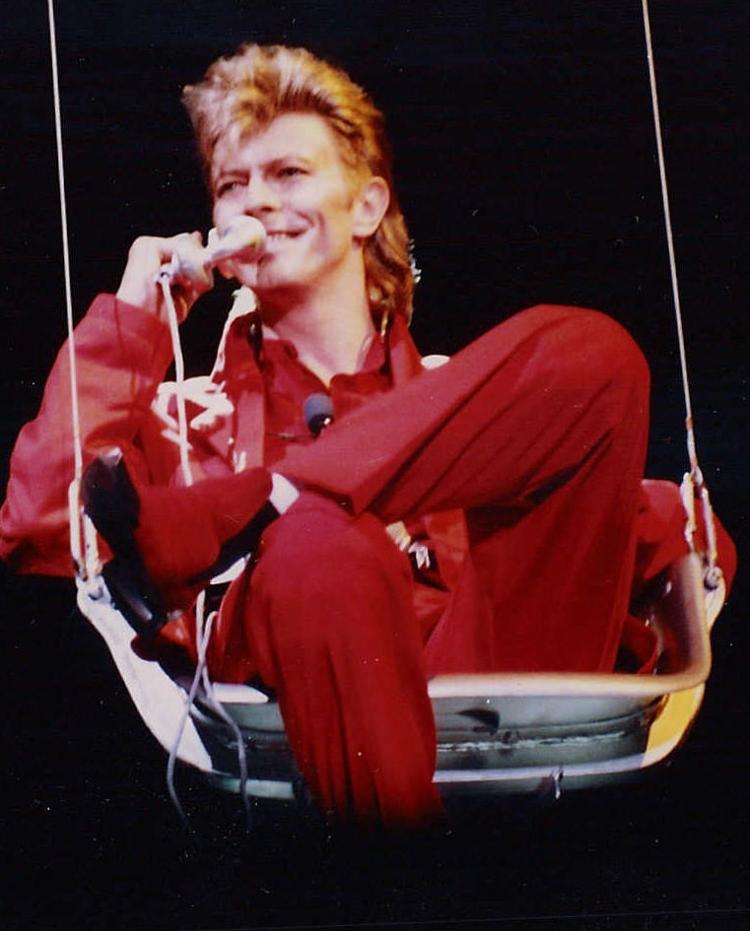 Garson said he's taken several bands with ever-changing lineups on the road to try and do justice to Bowie's wide-ranging music.
"I've had several bands, and this is the best one I've had to date," Garson said. "I always try to follow David Bowie's lead of not wanting to stay in the comfort zone too long. I change the songs every night. At soundcheck, we don't just check the sound. We rehearse."
Garson said the set list includes classic Bowie songs that fans want to hear along with some lesser-known tunes, album tracks and the like, to do justice to Bowie's ever-changing, ever-searching artistic spirit.
"David wasn't a rock singer, although of course he could sing rock," Garson said. "He was a visionary, he was a philosopher. The guy himself was bigger than life. He just raised the standards of how to be a songwriter and composer and performer, and I get the benefits of touring with his music."
In 1972, Garson was originally hired for an eight-week stint with Bowie on the "Ziggy Stardust" tour. He was a classically trained pianist steeped in the jazz world, but Bowie didn't seem like the usual rock act, and the money was good.
Garson and Bowie clicked, and Garson's training in improvisation was a boon when it came to keeping up with Bowie's changing styles. By the time the tour made it to Madison, Bowie had jettisoned that sound and look and was going for a more straightforward R&B sound.
"It was an amazing tour," Garson recalled. "In the first two years he fired five bands. I was the only one he kept because I was able to change styles with him. Everything that I learned, David figured out a place for it in one of his songs. That was his genius, like a casting director."
Garson and Slick used to tour as part of the "Celebrating David Bowie" tour with guitarist Angelo Bundini, but splintered off last year into the competing "alumni" tour.
For the first couple of years after Bowie died, Garson felt there was an empty space on stage while performing Bowie's music without him.
"Now it's separated by three years and it takes a village," he said. "Now I have three singers to do the work of one David Bowie. With their individual voices, and their love of the music, I'm not feeling the vacuum anymore."