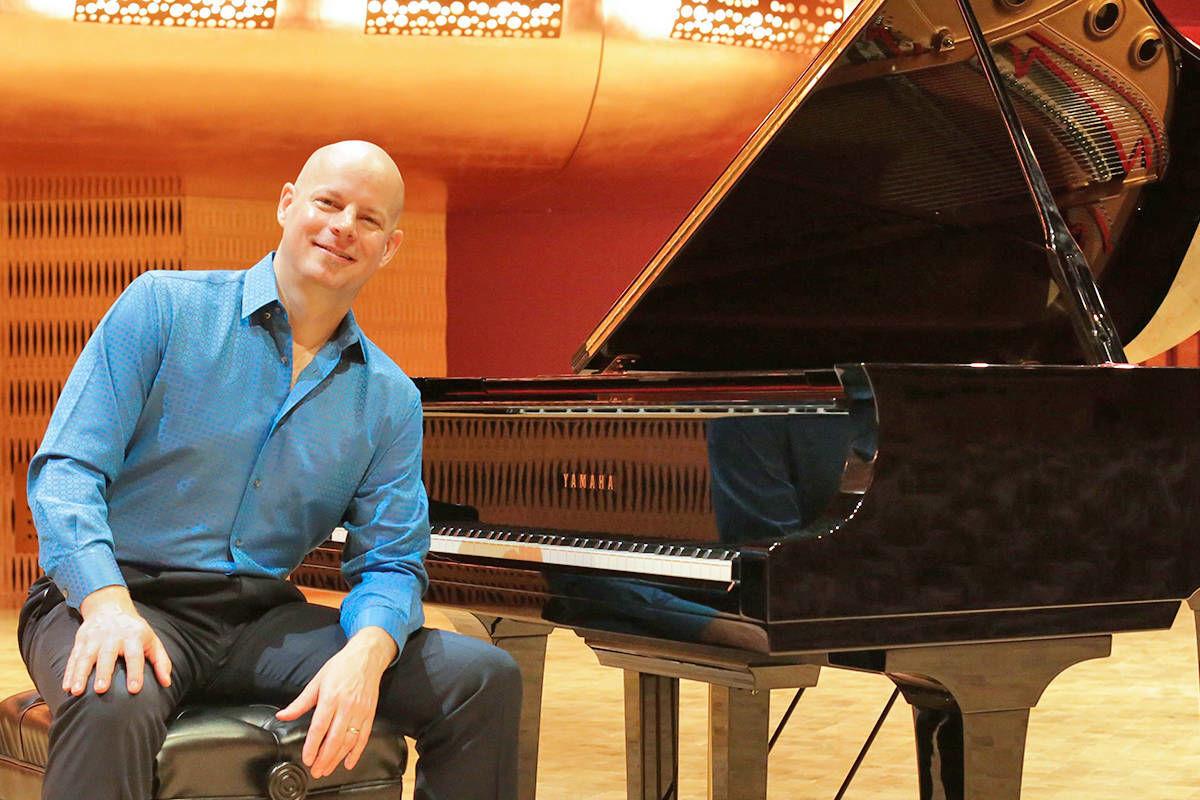 Johannes Wallmann got the recording of his new jazz album "Elegy For An Undiscovered Species" in just under the wire.
The director of jazz studies at the University of Wisconsin-Madison brought 14 musicians, including a string section, together in the Hamel Music Center for a week in late February 2020 to record the tracks for the album. Two weeks later, the COVID-19 pandemic shut down everything.
In addition to teaching online, practicing piano and spending time with his family, Wallmann spent the last year working on mixing the album. Now, as everyday life resumes, the album is out on Shifting Paradigm Records. Wallmann has played a couple of live shows around town, and will play with his new band, Precarious Towers, on Aug. 7 at Sessions at McPike Park.
Over iced coffee at Cargo Coffee on East Washington Avenue, Wallmann talked about finding jazz when he was young, the challenge of using music to address climate change, and why strings in jazz usually gets a bad rap.
How was the last year for you? Your album took quite a detour on the way to getting released.
I mean, in the big picture, I'm about as fortunate as it gets. I got to spend the epidemic with my family. I had my main job teaching at the university and that gave me a lot of human contact, although most of it was online.
I also had the opportunity to do a lot of creative work. Through the hard work and generosity of all the people involved with the Wisconsin Union Theater and Cafe Coda, I always had something on the horizon in terms of creative work or performing coming up. That's what's really hard about music. We do a lot of solitary work — the time on your instrument, the practice time, the composing time. You do all this solitary work in preparation for collaboration. And there was so little collaboration recently. But with some performance opportunities, that were largely online but they involved other people, there was always something to look forward to.
What prompted you to embark on this project? Do you think strings have a bad rap in jazz?
Oftentimes, when people did a jazz with strings album, it was sort of at the peak of their career when they finally had access to those kinds of resources, where a major label would invest the kind of funds to someone like Wes Montgomery. Charlie Parker, I think rightfully, considered his strings album one of his best albums. I think at the time a lot of purists said that it didn't have that interaction with the rhythm section.
I think where the strings get a bad rap, and this is the part I really wanted to avoid, is when they're used as what the recording industry calls "sweeteners." Basically just long notes. It's something that can be replicated pretty easily with string samples on a computer. And it gets a bad rap because it's no fun for the string section. They're not really part of the band.
I knew that's not what I wanted to do. This might be the only time I get to do this, and I didn't want it to be a drag for the string players. I wanted them to have a good experience, and be equal partners in what essentially was going to be a jazz album. I have a lot of classical background in terms of my studies, but I'm not a classical composer. I didn't want to create a hybrid.
The strength of the strings is that — besides the people I worked with being technically amazing — is that they can take a melody and just find the absolute beauty in it, and bring that melody to life.
How does the climate change theme of the title piece connect to instrumental music? Because a lot of people might not pick up on that.
And that's totally fine. I don't want to tell people, "You have to hear it this way." It was an inspiration for me, and something that guided me in the music. But if somebody else sees something else in that, that's totally okay.
But the piece, "Elegy For An Undiscovered Species," came about from reading more about this incredible rate of species extinction that we're going through. We're wiping up dozens of species every day. And most of the time we don't even know that we're doing it, we don't even know they're there.
In certain ways, it's a protest. I'm not a scientist, I'm not a politician, I'm not an industrialist. My choices have almost no impact on this. I'm a composer. One thing that I can do is compose music. And what I can do is write a song for one of these species, as if to say, "Hey, I don't know, I never discovered you, we never discovered you. But the least I can do is write a song for you. Because nobody else did anything."
The very first time I played it was a couple of years ago when I was workshopping the piece. I was at the Sauk City Arts Center. I wasn't sure about the title. It was sort of a bummer. Then during the intermission, somebody came up and said, "I'm a biologist. I just came back from the Amazon. This is exactly what we do and what we're dealing with. I'm so grateful you wrote that." So then I knew the title had to stay.
Tell me about your background. How did you get into jazz?
I was born in Germany, and my parents divorced and my mom remarried to a Canadian man. That's how we ended up moving when I was 12 years old to Vancouver Island, about an hour north of Nanaimo. Munster, the town I grew up in Germany, is sort of the Madison of Germany, so to move from there to a very rural part of British Columbia was a culture shock. But the people were wonderful and welcomed me with open arms. Vancouver Island very much still feels like home.
My mom started me on a preschool music program and piano lessons started at age 7. I liked playing piano but I didn't really like practicing all that much. My parents had to bribe me a little bit. "After you practice for half an hour, then you can go play soccer."
So I had a foundation when I discovered jazz. My school on Vancouver Island had a great jazz program. I would just go to the piano and spend two to three hours trying to figure stuff out. How did this work? How did that work? And I didn't realize that this was also called practicing.