Even two records wasn't enough to encapsulate all the dimensions of the Madison group Mr. Chair.
So the Madison band's debut album, "Nebulebula," is a triple-vinyl effort that tries to capture all the different genres, influences, and collaborators that go into the eclectic group.
"There's no way to capture us with a single classification," said drummer Mike Koszewski over lunch with his bandmates at Coopers Tavern recently. "Classical? Yeah, but there's also the rock thing. And jazz. We've had this long-term struggle to classify ourselves. But maybe that's a good problem to have."
Mr. Chair will bring as much of that diversity on stage as they can when they play an album release party on Thursday, Sept. 4, 8 p.m., at the Majestic Theatre, 115 King St. The plan is for "Nebulebula" to be released digitally the moment the band takes the stage, and will also be available for purchase (in both vinyl and 2-CD formats) at the show.
All four members – Koszewski, bassist Ben Ferris, trombonist Mark Hetzler, and pianist Jason Kutz – have classical music education in their background. For example, Hetzler spent 16 years playing with the internationally-touring Empire Brass Quintet, and now teaches trombone at the University of Wisconsin-Madison.
But the resumes also include forays into other genres and styles of music – as an undergrad, Kutz remembers moving from prog rock to Prokofiev. The strength of the quartet, the members say, is that all those influences are welcome when they get together to record.
"One of us will bring a piece they've written into a rehearsal," Hetzler said. "And all four of us will think about 'How can I add to this? How can I make this part my own voice?' Then the ideas start bouncing from that. The piece might end up looking very similar to the composer's intent, or it might grow and develop and turn into something entirely new."
"Nothing is out of bounds for us," Koszewski added. "Style, form, harmony, structure. Anything is fair game."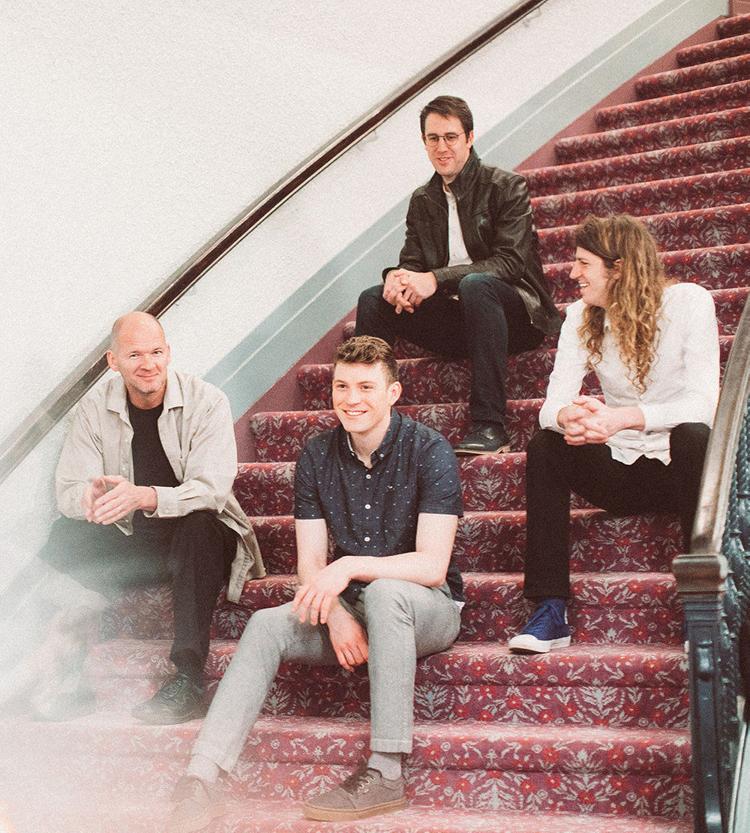 On "Nebulebula," that translates into 14 tracks of music running nearly two hours. "Waves," featuring Charles Lazarus on flugel horn, is an expansive nine-minute jazz track that has the ebb and flow of its title, while "Blue" is built around a spoken-word poem by Buzz Kemper about the shifting meanings of its titular color.
Mr. Chair's eagerness to innovative and experiment extends beyond the four members of the band, and nearly every track features collaborators, from Lazarus and Kemper to the Mount Zion Baptist Choir. The band hopes to get as many of those collaborators with them on stage at the Majestic.
Some of those collaborations even go beyond music itself – the band has worked with dancers and on-stage illustrators, and has partnered with Giant Jones Brewery to create a special hybrid called an American Black Ale for the release party.
But the most lasting, and unexpected collaboration, was with the world of science. Dr. Stephen Meyers, a geoscience professor at UW-Madison, got turned on to Mr. Chair's music after his son saw them perform at Crescendo Music Café.
"He said, 'When I heard you, I heard science,'" Hetzler said. "I heard the feeling I get when I learn science."
Meyers invited the combo to perform in the classroom before students, integrating their music into lectures to help explain scientific principles. The experience really opened the musicians' minds to the possibilities of what they were doing (and the grant money provided about half the funding for the making of "Nebulebula."
As for the name of the band, "Mr. Chair" comes from a viral video of Sen. Elizabeth Warren grilling Wells Fargo CEO John Stumpf in a Senate committee about the bank opening millions of unauthorized accounts.
While Mr. Chair doesn't think of themselves as a politically-minded band, they are fans of Warren, and would love to play the entrance music if she holds a rally in Wisconsin.
"We want to collaborate with people who are putting good things into the world," Kutz said.
After regular gigs at Crescendo and North Street Cabaret, the members of Mr. Chair are excited to see how their genre-crossing kind of music plays at the Majestic, a venue that rarely books jazz or classical acts.
"The way that we'll present ourselves is really unique against the standard fare of the Majestic," Koszewski said. "I have no idea if there will be a hubbub coming from the crowd or dead silence and everybody just locked in. I can't wait to see what kind of energy we create. We don't know yet.
"We're going to get up there and do our thing, that's for sure."