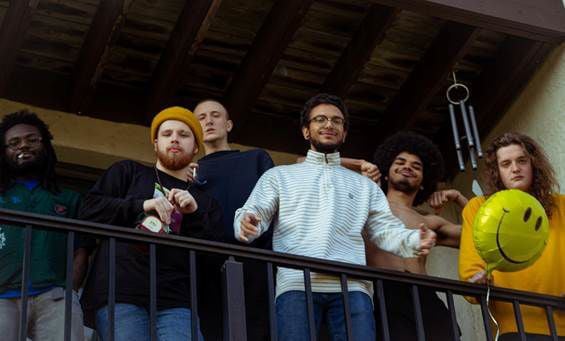 After a couple of years helping other hip-hop artists by running open mic events at community centers in Madison and hosting a weekly radio show, the scrappy, six-member rap crew known as Supa Friends figured it was time to drop their own album.
"Up to this point, we'd been local music activists (who were) out here supporting the hip-hop community [and] doing what we can for the art," explained Soup the Fifth, one of the group's five emcees. "But we hadn't even put out our own tape yet."
So, earlier this year, they began making plans to do just that.
Over the past few months, they started pulling together an EP's worth of their best posse cuts to highlight the group's fun, funky, party vibe.
By spring, Supa Friends were putting the final touches on seven tracks of upbeat, fast-paced and largely abstract lyricism. As it evolved, the EP grew to embody the crew's throwback sound of beats and rhymes from the late-'80s and early-'90s when emcees rapped for the love of it and the highest honor was rocking a crowd. Geeked to share it, their debut album would soon be ready for release to hip-hop fans in Madison and beyond. Or so they thought.
"The original plan was to release it around (early May)," said Hardface the Pilot, the crew's main producer and beat architect. "And to have some big show with a community cookout," added Soup.
But those dreams were quickly derailed when the coronavirus pandemic struck and the state issued the stay-at-home order. And then, "everyone was locked inside," Soup said.
Still, the team of six guys in their early 20s, who came together ("like Voltron," said Soup) through a hip-hop club at the public library, are moving forward to push out their EP.
"Things are looking different now, really different — we need to recraft the release to be only digital" explains Hardface. The new release date will be this Saturday, June 20, the first day of summer.
Since it's nearly finished, Supa Friends gave The Cap Times a sneak peek at the album, which they titled "Super? No, Supa." The EP title is an explanation of sorts for their group name, which they admit was lifted — and slightly modified — from the DC Comics cartoon from the mid-'70s and early-'80s.
The EP begins with a track called "Strung Out," which features four of the five Supa emcees — Tyrel the Well Treated, SooDoNiM, Al D and Soup the Fifth — spitting over a looped soul sample and deep bass drum kick, with each emcee taking a few bars to break down their addiction to making fresh raps. Though it runs only three-and-a-half minutes, this is one of the longest songs on the album.
The track "Look Out" takes the listener back to the early days of hip-hop, when the genre was ruled by groups composed of very vocally-different individuals who would bounce off and rap over each other — as opposed to today's abundance of mainstream, monotone solo acts.
Another standout song, "Halfway Crooks," borrows the hook from Mobb Deep's 1995 classic "Shook Ones, Pt. II" and features Maruchan Chef, Al D and Tyrel trading darts while proclaiming their lyrical superiority.
Other hot tracks include the braggadocious "We Da Best" and the album's lead single "Heart of Gold," a head-nod heavy track full of short verses showcasing how each emcee strives to find self-purpose and feed their soul, laid out over a quick beat that features samples from Pokemon and Super Mario video games.
Clocking in at under 20 minutes total, the EP feels like just a taste of what this crew of six can really do and they know that. "We want to get this out and keep it rolling into another project," Hardface said. "We all strive to do something bigger, maybe something more conceptual next."
In addition to the coronavirus pandemic, there's another world-changing event that's affecting their music: the death of George Floyd at the hands of a Minneapolis cop and the ensuing protests against racism and police brutality.
Most of the Supa Friends crew attended the first protest in Madison a couple of weeks back and "we've been down there damn near every day since," Soup said. Asked if the protests and movement will impact the group artistically, he adds: "I've already written songs about it. The world's changed — the vibe is totally different now. Either consciously or subconsciously, all of this will end up in our music."
But despite the uncertainty and difficult times the world is facing now, the six Supa Friends continue to share one main tenet for why they create music: "It's got to be fun. If it's not fun for us to write and create, it won't be fun on stage and it won't be fun for people to see us perform and listen to," explained Soup the Fifth. "And they're the reason we're doing it."
To keep up with Supa Friends, visit their website at www.thesupafriends.com, which has links to their music, social media and someday, even their upcoming events.
Stay up-to-date on what's happening
Receive the latest in local entertainment news in your inbox weekly!