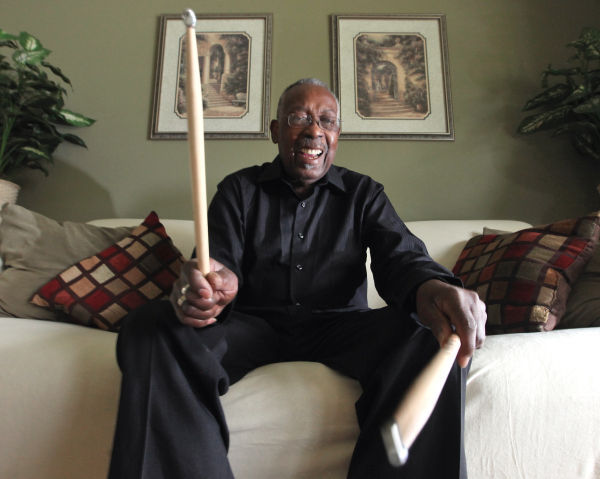 Clyde Stubblefield, a Madison music legend, former drummer for James Brown and one of the most sampled artists of all time, died Saturday of kidney failure. He was 73.
Born in Chattanooga, Tennesee in 1943, Stubblefield's drumming was reportedly inspired by the factory noises he heard in his hometown growing up. He was hired by Brown in 1965.
Stubblefield earned the nickname "The Funky Drummer" playing in Brown's band in the 1960s, providing the rhythm for "Cold Sweat," "Sex Machine" and a host of other iconic funk songs. A sample from a breakbeat on the song "Funky Drummer" ended up becoming one of the bedrock samples for hip-hop music, used countless times everyone from N.W.A. to the Beastie Boys.
Those samples were often uncredited, and Stubblefield was slow to see royalties from his work.
Moving to Madison in 1971, he was a fixture on the local music scene, playing his regular "Funky Monday" gigs at local clubs like the High Noon Saloon and mentoring younger generations of musicians.
An outpouring of love and grief from fans and peers began Saturday afternoon on social media, before word of Stubblefield's passing was even officially announced. Ahmir "Questlove" Thompson, drummer for The Roots and "The Tonight Show With Jimmy Fallon," posted on Instagram: "thank you for everything you've taught me. The spirit of the greatest grace note left hand snare drummer will live on thru all of us."
Legendary funk bassist Bootsy Collins wrote on his Facebook page: "We lost another Pillar Stone that held up the Foundation of Funk. Mr.Clyde Stubblefield has left our frequency. I am lost for words & Rythme right now. Dang Clyde! U taught me so much as I stood their watchin' over u & Jabo while keepin' one eye on the Godfather. We all loved U so much. (SENDOUT YR LOVE TO HIS FAMILY & FRIENDS)! Then share yr stories about this Fire breathin' Drummer, (THE FUNKY DRUMMER)! R.I.P. From all yr Funkateers."
The tributes from those on the Madison music scene were just as heartfelt. "The funkiest of all time," tweeted the Majestic Theatre. " It was truly an honor to watch his genius on our stage & more so to have him call Madison his home. RIP Clyde."
"Rest in power to the funkiest drummer & major inspiration, Madison institution, worldwide phenom, Clyde Stubblefield. <3," wrote Emily Mills of the Mad Rollin' Dolls and the Madison band Damsel Trash.
Stubblefield had struggled with health problems over the last few years. He suffered from end-stage renal disease and underwent dialysis three times per week. He also said in 2014 that he had to relearn how to play the drums after losing his right thumb and the tip of one finger in a kitchen accident.
When he underwent treatment for bladder cancer in 2000, incurring over $90,000 in medical bills, Stubblefield learned how loved he was both at home and around the world. Local musicians raised $10,000 through a series of fundraising gigs, and none other than Prince covered the remaining $80,000.