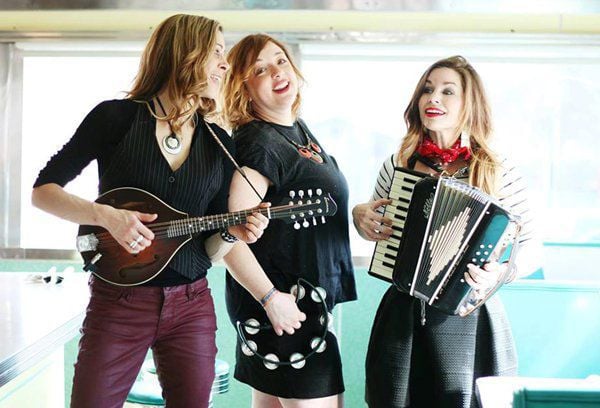 The Madison trio Gin, Chocolate and Bottle Rockets had a show Friday night. Like previous shows, they advertised on social media and singer Beth Kille was on 105.5 Triple M Friday morning to promote the show.
But you couldn't go. In fact, nobody was there except the three members of the band — Kille, Jennifer Farley and Shawndell Marks.
The show was broadcast from Farley's basement live via Facebook Live, where fans could not only watch the show but comment and make requests. They even had an opening act, Madison hip-hop band Wolves and Sheep, play a set beforehand on their Facebook page.
Livestreaming is the new normal for working musicians these days, as concerns about the novel coronavirus pandemic have prompted concert halls, bars and coffee houses to shut down — the places where musicians perform live before audiences.
Losing those venues is a blow to the musicians' livelihood, but it also severs the connection they have with their fans. Fortunately, livestreaming and other technology have gotten easier than ever, reconnecting bands and fans — at least virtually.
"So many of us thrive on the social connections that the music we make creates," singer Beth Kille said. "Having all of that pulled out from underneath us is really mind-boggling."
When disco-rock group VO5 had a show last Saturday night canceled because of coronavirus fears, they moved the show online for a "social distancing miniconcert." Madison musicians like Josh Harty, Sean Michael Dargan and Jay Moran also livestreamed performances online for their followers.
Madison musician and Coney Island Studios owner Wendy Schneider has spent her career working with local independent artists. So it made sense for her to try and help musicians using livestreaming to get their music out to a larger audience.
She created a Facebook group, Live Streaming Resources for Local Music in Madison, as a clearinghouse for musicians to promote their livestreaming shows. The group currently has 471 members, and a scroll down the page provides links to performances by rock bands, bluegrass combos and solo singer-songwriters.
"It's a place where I hope people will consider looking at as they would look at a club calendar," Schneider said. "Just to comb through that page and see what sparks them, or just spend a few minutes on somebody's link that they shared and just acknowledge them."
The Facebook group has also become a place where tech-savvy people can share their expertise with musicians working the kinks out of livestreaming.
"I see people's questions getting answered," Schneider said. "The knowledge pool in Madison is very deep and very dimensional."
Kille had originally planned to host Gin, Chocolate and Bottle Rockets' live stream from her home studio, which seems tailor-made for a performance. But Kille's husband works at a hospital, and to make sure that her bandmates felt comfortable in the space, the band decided to relocate to Farley's basement.
"I didn't want the tech to become a barrier between us and the fans," she said. "I think the fans just want to lay eyes on the people that they enjoy watching."
Nationally known musicians, who had to cancel their spring touring dates, have also turned to livestreaming. Bela Fleck & Abigail Washburn played a "Banjo House Lockdown" on Friday, Laura Marling gave guitar lessons via her Instagram page, and Rhett Miller of the Old 97's has plans to do three shows a week online (the Friday shows are a "pay-what-you-can" performance, the digital equivalent of having a guitar case open to accept donations during a coffeehouse show.)
Livestreaming can't come close to replacing the revenue from lost live gigs, but musicians are experimenting with ways that fans can support the band. Kille was heartened when the band posted a five-minute video earlier in the week, and fans contributed over $100 via Paypal and Venmo.
"As a musician, I make money through multiple streams," Kille said. "But half of my income is performance income, and for all of that to be canceled is pretty intense." Kille suggested that another way to financially support the musicians you like is to order T-shirts, CDs and other merch from their websites.
Schneider said that her focus right now is on supporting organizations providing food and other needed aid to local residents such as the United Way, Goodman Center and Mutual Aid Group. While musicians appreciate financial support, she said, what may be more critical is simply staying connected to them, and giving them a creative outlet in turbulent times.
"I feel like everyone is coming alive in different ways of how they're going to do it," Schneider said. "The group thread is a great way to say, 'I'm here. I need to perform, I need to connect.' It's been a strange life preserver around the music community."
Or, as Kille put it in an email to her fans, "We're all in this together. Just 6 feet apart."