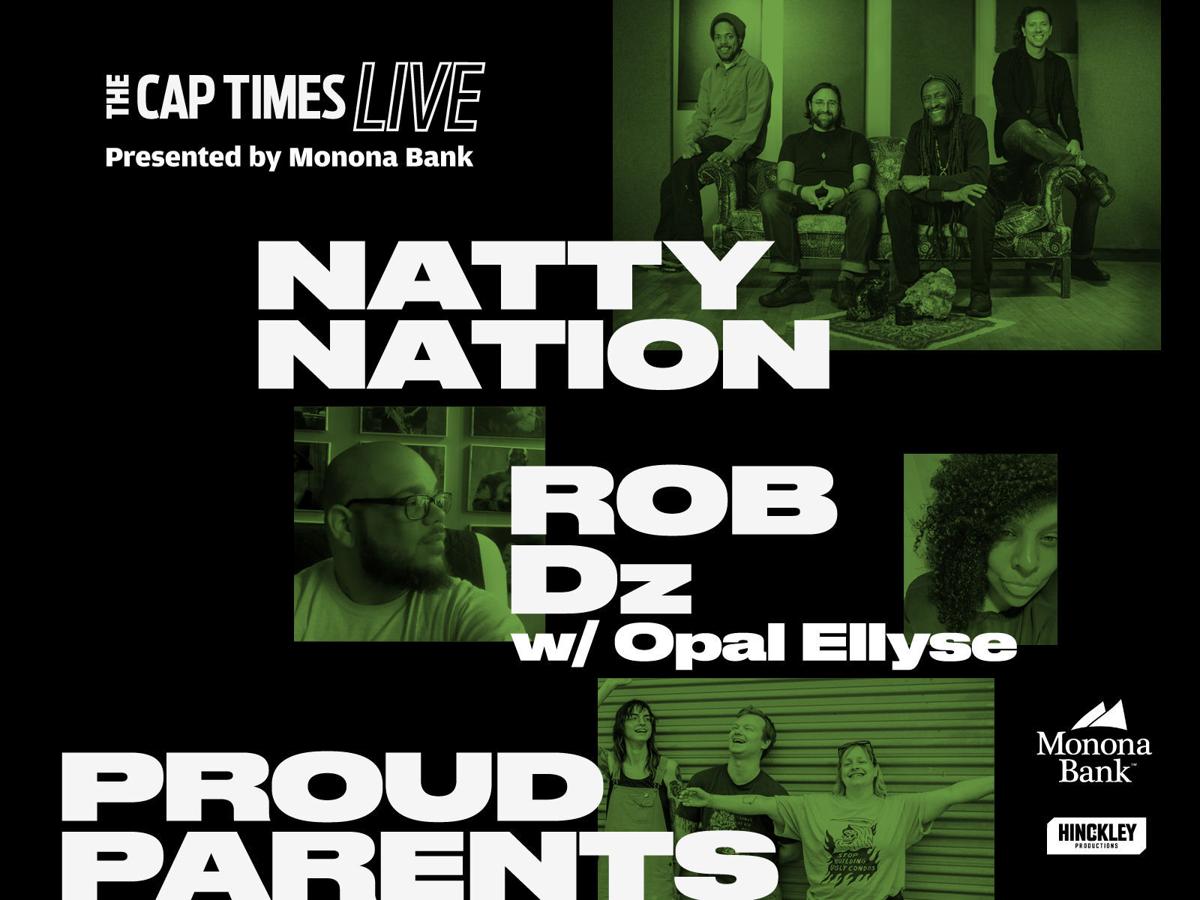 Musicians are among those whose livelihoods have been hit hardest by the pandemic, so we are excited to announce Cap Times Live, a virtual concert series featuring Madison-based artists at the High Noon Saloon.
We see this series as a way to introduce some local musicians to new fans and to give them a platform during a time when in-person performances are still difficult or impossible due to COVID-19. Thanks to our presenting sponsor, Monona Bank, we are not only able to pay the artists to play, but we can also highlight ways Madison can support them via virtual tip jars and other platforms.
Natty Nation, Rob Dz with Opal Ellyse, and Proud Parents will play at the High Noon in May, July and September respectively, and each performance will include an interview with Cap Times features editor Rob Thomas. You can see each show live for free by registering on Zoom at the links below or by watching via Facebook Live on the night of the show.
Those who register on Zoom will have the chance to pose questions to the bands and registrants will also be signed up for our weekly Madison Life email newsletter.
Here's more detail about each Cap Times Live performance:
Natty Nation — Tuesday, May 11, 7:30 p.m.
Natty Nation released its first album, "The Journey Has Just Begun ... " 25 years ago, and they will celebrate the anniversary by playing the entire album — for the first time ever live — at the inaugural session of Cap Times Live. Based in Madison, the critically acclaimed outfit has remained dedicated to one mission: spreading light. Roots reggae is their foundation, but they embrace rock, soul and funk as well.
Rob Dz with Opal Ellyse — Tuesday, July 13, 7:30 p.m.
Rob Franklin, also known as Rob Dz, is a Kennedy Center-certified teaching artist for the Making Justice program. As a musician, he has performed with, among others, Nas, Eminem, Common, Talib Kweli and Dead Prez. In 2017, he was inducted to both the American Folklife Center at the Library Of Congress and The National Museum of African American History and Culture as a member of The Story Corps program.
Opal Ellyse is a poet, hip-hop artist and storyteller. She has been performing poetry nationally since 2016, and released a full-length studio spoken word album called "My Name Is Opal" in 2019. The album has been streamed in over 28 countries, certifying her as a Spotify Verified artist.
To support Rob Dz you can follow him on Instagram.
Proud Parents — Tuesday, Sept. 14, 7:30 p.m.
Starting in Madison as the musical culmination of a decade of friendship and playing in punk bands, C Nelson-Lifson and Tyler Fassnacht began writing the first of Proud Parents' jangly, garage-infused pop tunes in Nelson-Lifson's living room in 2014. Shortly thereafter, Heather Sawyer joined on drums and vocals, turning the songwriting duo into a trio, and they quickly gained a following both locally and regionally as a live power-pop force.
Register here to see them perform live on Zoom, and support them by shopping here or by sending tips via Venmo to @tyler-fassnacht.