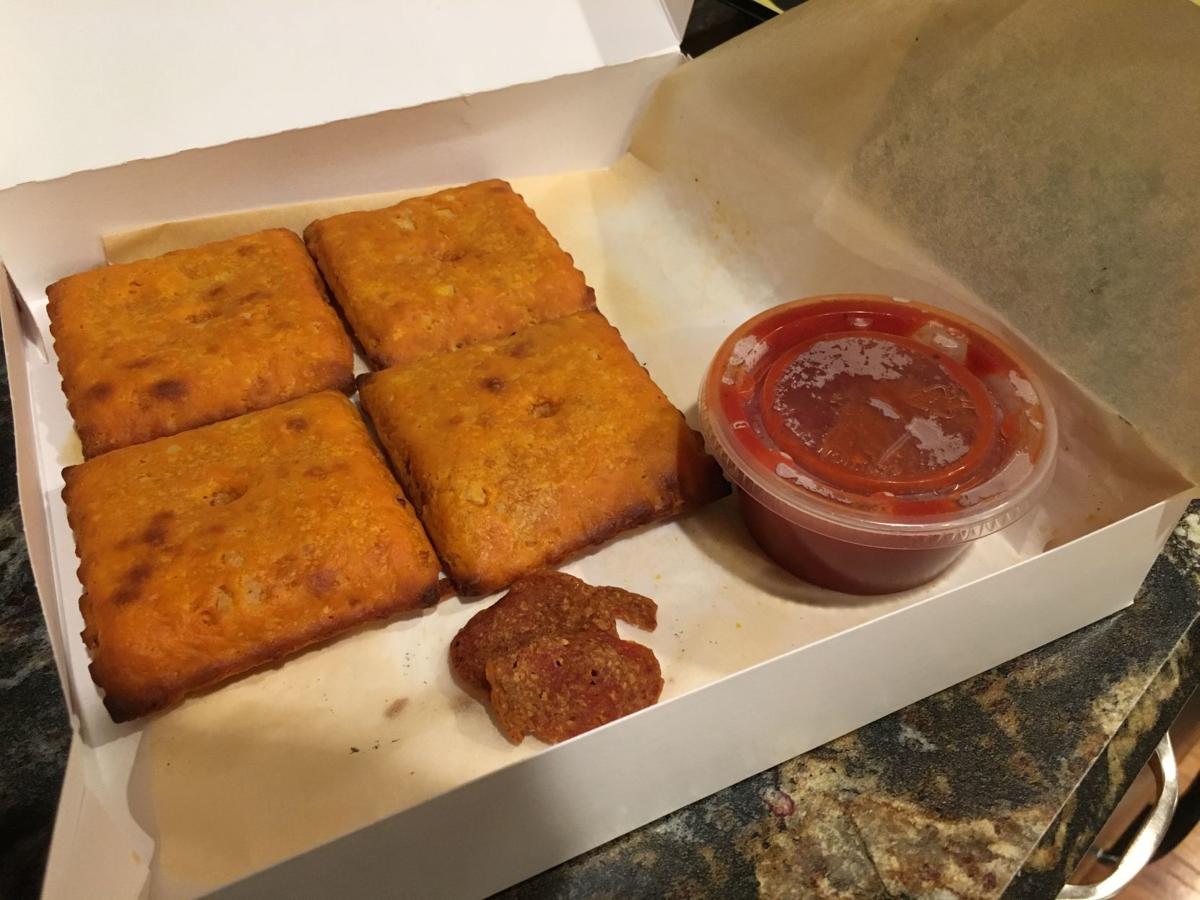 The first question that comes to mind when confronting a Pizza Hut Cheez-It Pizza is "What is it?"
The second question, of course, is "why?" But that can only truly be answered by Pizza Hut, Cheez-It's parent company Kellogg, and their god.
But seriously, what is it? Pictures of four brown squares in a box didn't help. How big were they? Were they pizza-sized? Were they Cheez-It cracker-sized? What was inside the brown squares? Crushed Cheez-Its? More brown?
So of course I had to order some to find out. The price is $6.49, which was my first clue that the Cheez-It Pizza would be more of an appetizer than a full pizza. And indeed, the four brown squares turned out to be about the size of a deep-fried Rubik's Cube.
Inside the squares is — and I probably should have seen this coming — melted mozzarella cheese, making the Cheez-It Pizza just an oddly shaped mozzarella stick. There's a little tub of marinara sauce for dipping, even though the broad, flat dimensions of the Cheez-It make the logistics of the dip a challenge. 
Considered another way, the Cheez-It Pizza is four big toasted raviolis. The secret is that Pizza Hut mixes sharp cheddar flavor into the breading, so it does taste surprisingly a lot like a Cheez-It.
The downside, for me, was that that flavor was so piquant that I was pretty satisfied with one Cheez-It square, whiel I could drop a half dozen mozzarella sticks or a dozen fried cheese curds without thinking twice. Maybe that's the upside?
Either way, I don't think I'll be ordering one again. I'm still mystified by the marketing. Why would you call it a "pizza" when it is clearly not a pizza? Does that mean everything sold by Pizza Hut is a considered to be a pizza, because it originates under the Hut? These are the existential questions one mulls while eating something that is, ultimately, undefinable. Or a variation on a toasted ravioli, take your pick. 
Stay up-to-date on what's happening
Receive the latest in local entertainment news in your inbox weekly!