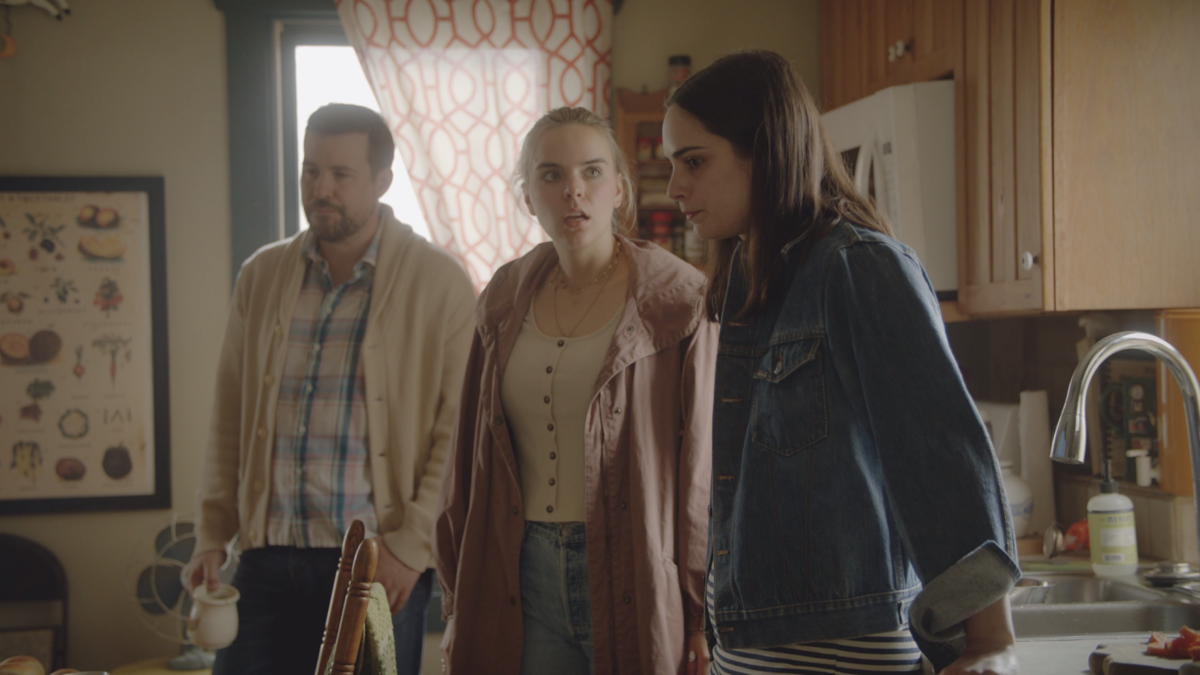 You know "Ringolevio" is a movie about a Midwestern family by the climactic dinner scene alone. In a movie set in upstate New York or southern California, tensions would boil over onto the dinner table into a screaming match.
In Kristin Peterson's "Ringolevio," the tension is there, but the meal is eaten in uncomfortable silence.
"It's painfully Midwestern," Peterson said in an interview from her home in Milwaukee. "Have you heard of the distinction between 'ask culture' and 'guess culture'? I saw a whole critical essay about how people on the coasts, they ask if they can do something or take something. Whereas in the Midwest, we have so many more unspoken procedures before we can ask for a favor, or even just say our feelings."
"Ringolevio" has its world premiere this week as part of Los Angeles' Dances With Films (DWF:LA) festival, and because the festival is all-virtual this year due to COVID-19, anyone can buy a ticket to watch. The screenings take place online at 8 p.m. CST Monday, Aug. 31, and 7:30 p.m. CST Thursday, Sept. 3.
In the film, Ada (Nicole Velasco Lockard) is an introverted artist who goes to meet the family of her girlfriend Marissa (Meredith Johnson of 2019 Wisconsin Film Festival favorite "Pet Names") on a farm in rural Wisconsin. The family's parents abandoned the kids at a young age, and Marissa was raised by her three older brothers (Joshua Koopman, Cory Hardin and Zachary Krueger) as they were shuffled from relative to relative around the country.
The four siblings communicate in a language of inside jokes, shared traditions and juvenile pranks that Ada immediately feels ostracized from. Relations grown more and more strained between Ada and the brothers, and Ada and Marissa, as Ada struggles to find a place for herself in their world.
"Ringolevio" is named after a kids' street game that's sort of an almagam of tag and Capture the Flag. Peterson notes that the game is usually played in Brooklyn or Queens, not Wisconsin, and that in the film, they play it totally wrong. The family's bowdlerized version of Ringolevio becomes sort of a metaphor for the family itself, its rules inscrutable to those who aren't on the inside.
Peterson said her screenplay for the film started with what became the opening scene of the film, of Marissa and Ada in their car. Marissa is sobbing into her hands, only to start laughing, revealing that she's just kidding. It's a child's joke disguised as an adult interaction.
"When you're 18 or 20, there's this magical feeling where you have a lot of friends, but you can't go to bars, so you just run around the countryside, and read books in a cemetery," she said. "There's the freedom of not being a kid anymore, but you're not an adult yet. I always wanted to make a movie about playing children's games while dealing with really adult topics."
Peterson, who was born in Janesville, considers herself a "cross-disciplinary artist" and also writes poetry and produces theater. She never thought filmmaking was possible for someone living in Wisconsin, until she helped an old friend from Janesville who was a film major at UW-Milwaukee.
"It's a very naive realization, but ever since helping on indie shorts, I was like, 'Oh, I could do this,'" she said. "And then I just worked my way up to the point where I had enough confidence to start directing and writing myself."
While early drafts were noticeably bleaker and more violent ("There was somebody impaled on farm equipment"), the final draft of "Ringolevio" is understated, moving and often quite funny.
The film also features some beautiful shots of rural Wisconsin. "Ringolevio" was filmed in a 14-day shoot northwest of Madison on a 120-acre farm called Common Gardens. Peterson had the farmhouse firmly in mind when she was writing the screenplay as the perfect location for her film.
"The owner, he rents out the house as an Airbnb, and that's how I found the place," she said. "That's how I knew I had the location when I was writing. We can use the chicken coop, we can use this. I just messaged him (and asked to film there), and thought that if he doesn't say yes, I have no idea where I'm going to set this. But he was on board. One of the people who lived there was a costume designer. It was just heaven."
Peterson said she firmly ascribes to the late Robert Altman's often-quoted line that "90 percent of filmmaking is casting," and that one of her strengths as a filmmaker is finding the right people both in front of and behind the camera.
"Everyone on set was the type of Midwestern person I love, which is just like, 'Okay, what are we doing today?'" Peterson said. "No crap, no emotional baggage. Like, let's just have fun, let's do the hard work, and then we can rest when the 14 days are done. I just really like building the family and finding the people."