In large part, De Ruyter does this by training her camera on some of Wisconsin's most colorful characters — owners and devoted patrons of classic rural supper clubs — and letting them talk.
These folks believe in the trinity of steak, potatoes and strong brandy cocktails. Kids love the soup. Old timers love seeing their friends at the bar.
And did you know, this restaurant lets community organizations use their private room for free?
"On a normal Friday night ... I've got three customers that always sit in these three spots," says Steve Krabbe, co-owner of Krabbe's Kountry Klub in Seymour and a primary source for the film. "I can always count on those three to be here. If they're not here, we call and find out what's goin' on."
Tightly edited with fun-loving graphic design by Rebecca Berdel, "Old Fashioned" explores supper clubs from basic (Al-Gen Dinner Club, Rhinelander) to elaborate (the Pyramid Supper Club, now closed, in Beaver Dam). Madison's own Smoky's Club and Tornado Steakhouse make brief cameos.
Throughout her six-year journey, De Ruyter, a native of the Green Bay area, keeps the tone genuine and funny, never mocking. She seems delighted by the quirks of Wisconsin supper club culture, from butter-drizzled slabs of rare beef to walls hung with dead ducks and vintage Miller High Life signs.
"It's these places and they're kind of dark without windows ... and there's things called relish dishes," says one young diner, attempting to describe a supper club to a woman who's never seen one. 
"None of that makes any sense," her friend replies. "But then you come here and you're like, oh, that's exactly what you described. ... It all works. Somehow, it's perfect." 
At a talkback after a screening at the Chazen Museum of Art, one audience member noted to De Ruyter that the film reminded him of "a collection of old postcards." To ground the story, De Ruyter inserts dozens of archival images of historic supper clubs, interior and exterior.
She also calls in experts like Madisonian Jim Draeger, an architectural historian, and local food historian Terese Allen to detail how Wisconsin's mix of immigrants created a statewide culinary identity.
They detail how supper clubs evolved out of dance halls and taverns, and how Wisconsinites came to love Korbel brandy Old Fashioned sweets after the 1893 Chicago world's fair.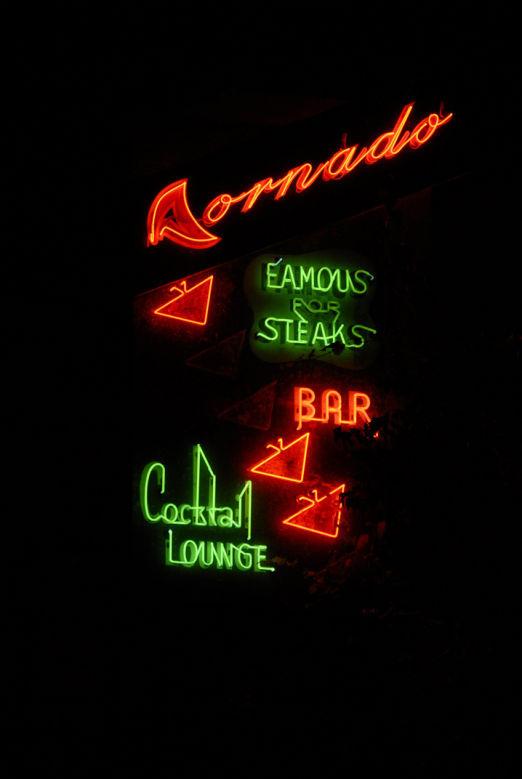 "Old Fashioned" may turn out to be even more historical than De Ruyter intended. At the end of the 51 minute film, she noted that some of the supper clubs in the film have closed since she wrote about them. Chains are encroaching and diners are aging.
"Unfortunately, part of the story is we're not seeing (younger people) as much," said Brian Risselada, De Ruyter's husband and associate producer on the film. "We wanted to be on the lookout for them to get their perspective."
Set to screen once more on Thursday, "Old Fashioned" is featured on a Film Festival program called "Dinner, Drinks, Entertainment."
In the "entertainment" category is "Little America," a charming five-minute documentary about a tiny amusement park in Marshall, about 20 miles east of Madison.
Kurt Raether filmed the whole thing at Little Ammericka (named for founder Lee Merrick) in a weekend, following proprietor Daryl Klopmaker among the Mad Mouse roller coaster tracks and bumper boats.
Raether even gets some height when, for a dizzying few seconds, he takes the camera onto the ferris wheel.
Second in the lineup is Bill Roach's "Tale of the Spotted Cow," a 38-minute commercial for New Glarus Brewing Company.
Shot like an extended Budweiser ad, all slow motion horses, dewy bottles of beer and rippling American flags, "Spotted Cow" has the rosy glow of a Hallmark movie. With a majestic soundtrack straight off one of those CD machines in a touristy gift shop and a supporting cast of devoted employees, "Spotted Cow" is very cheesy.
That sappiness, unfortunately, undermines the natural charisma of New Glarus founders Deb and Dan Carey, whose story could be interesting with some real detail.
Deb Carey says the beer industry is "the last bastian of male chauvinism," but those we see consume her beer are overwhelmingly older white men, shown in exaggerated fits of conviviality. Beer-making is "a magical science," which we learn next to nothing about.
A pre-Prohibition style ale and popular Wisconsin "lawnmower beer," Spotted Cow saved New Glarus Brewing and transformed the lives of Carey and the community they live in. It would have been nice to hear some outside beer experts talk about why, and how, that happened.
As a viewer, it's better, perhaps, to stick with an Old Fashioned, which De Ruyter explains how to make in bright cartoonish detail.
That film, which De Ruyter plans to shop around to other festivals before releasing it on DVD, is still raising money for production costs. Visit oldfashionedthemovie.com to keep tabs on where it's headed, and the next time you stop into a new supper club, tell them Holly sent you.