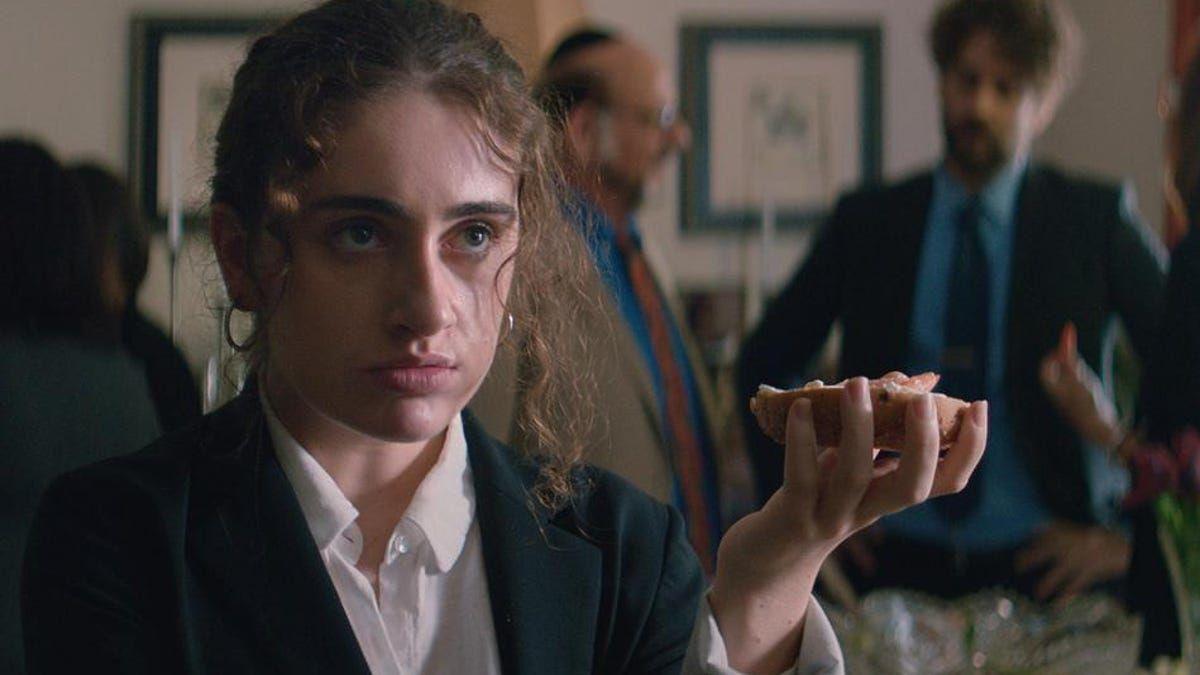 If you miss the feeling of being at a party, or, more precisely, the feeling of wanting to leave a party, "Shiva Baby" is for you. Most of the 77-minute running time of writer-director Emma Seligman's claustrophobic cringe comedy takes place at a shiva, a Jewish tradition one character refers to as the "afterparty of the funeral."
In this case, the funeral is for a family acquaintance who Danielle (Rachel Sennott) barely remembers, and the flailing undergrad is already dreading the occasion. An endless parade of friends of her mother (Polly Draper) come up to pinch her cheeks, joke that she's not eating enough and probe about her job and/or boyfriend prospects.
Those ordinary social interactions are bad enough, and Seligman captures the oppressive politeness of such gatherings. Stuffing their faces with food and laughing too loud, the guests almost seem like nightmarish figures as they loom large in Seligman's lens. Anyone who already has pandemic nightmares of being trapped in a room full of people will have those fears triggered here.
But that's just the beginning of Danielle's problems. Also at the party is Maya (Molly Gordon of "Booksmart"), Danielle's estranged best-friend-turned-ex-girlfriend, which leads to some uncomfortable conversations around the bagel spread. And then walks in Max (Danny Deferrari), a handsome family friend with a beautiful wife (Dianna Agron) and baby daughter in tow.
The problem is that, earlier that day, Danielle happened to be having sex with Max in his high-rise apartment. She's been working on the side as a call girl to make extra money, a job prospect she definitely doesn't want anybody at the shiva to know about.
That's the setup for "Shiva Baby," and Seligman effectively ratchets up the tension and the laughs over her film's brisk running time. As Danielle ping-pongs around the house, trying to extricate herself from one conversation after another, Sennott (a comedian best known for her sly Instagram videos) captures her shifting moods, from dutiful to defiant, selfish to wounded. In the tradition of flailing young movie characters going back to "The Graduate," Danielle feels hemmed in by the adults and their plans for her. But she has no better plans herself, other than fleeing.
Seligman captures this trapped state of mind effectively; her signature shot is of Danielle seeking an exit strategy from one conversation while eavesdropping on a more interesting one taking place elsewhere in the room. The jittery string-heavy score by Ariel Marx gets on your nerves in the best way.
Like a good houseguest, "Shiva Baby" doesn't overstay its welcome, and when Danielle is finally able to leave the shiva, Seligman gives her an understated but hopeful note to end on.
"Shiva Baby" is available on video-on-demand, and UW Cinematheque is offering access to a limited number of viewers to watch the film online for free. Email info@cinema.wisc.edu and put "SHIVA" in the subject line.