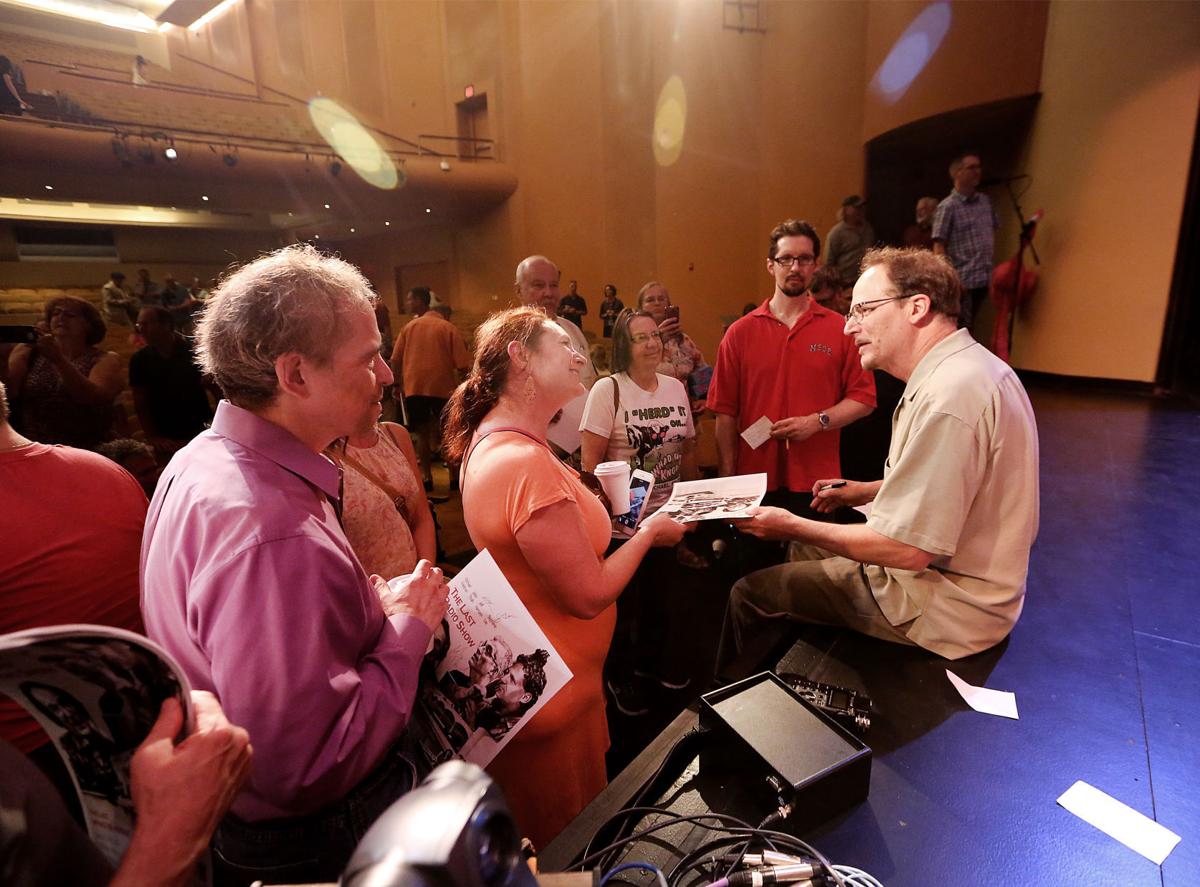 Michael Feldman said he had a possible title for the documentary about himself: "Making a Murmurer."
But the low-key public radio host turned podcaster didn't have that much drama in his life to warrant such a title, he joked. As it stands, filmmaker Marc Kornblatt's half-hour "Whad'ya Do Now?" is an entertaining look at a crisis point in Feldman's life.
"If it's only a half-hour long, it wasn't much of a life," Feldman said. "I'm trying to get an hour-and-a-half for my next one."
The movie premieres at 7 p.m. Thursday at the Barrymore Theatre, 2090 Atwood Ave., at the opening night of the Wisconsin Film Festival. The short will be one of several in the "Transmissions from the Heartland" screening, which will also include a new documentary by Milwaukee filmmaker and "American Movie" subject Mark Borchardt. Tickets are $10, available in advance online through Wednesday or at the door Thursday.
The movie was triggered by Wisconsin Public Radio's decision to end Feldman's longtime public radio show "Whad'ya Know?," a Wisconsin institution, last June after 31 years. 
"It's not like it was a surprise," Feldman said. "For several years they had been hinting that 30 would be a nice number (to end on). First they said 25 would be a good number, and then 30.
"But then we got a contract for another year from PRI, so we went out on 31, which was an odd number."
But Feldman, 66, wasn't ready for retirement ("I don't golf. Travel? I don't think so.") And so he turned "Whad'ya Know?" into a podcast, recorded monthly at the High Noon Saloon.
Kornblatt said he didn't come to Feldman's story as a fan of the radio show. But something about what Feldman was going through resonated with him.
"A public school teacher who had recently retired, I had left the classroom still loving the work, but discouraged by how public school teachers were increasingly ill-treated," Kornblatt said. "At 61, though I took my leave as gracefully as I could manage, like Feldman, I was not leaving happily. So, his story touched me personally, and I thought it would touch others like me."
Feldman said he would have preferred to do a full-length documentary that included the long history of "Whad'ya Know?," but conceded control to Kornblatt's wish to do a more fly-on-the-wall, in-the-moment film.
"It captures me at a moment," Feldman said. "I've never been good with transitions, especially endings. They're really bad for me, because I can't conceive of them happening. It shows the way I deal or don't deal."
Kornblatt said the process of making the documentary was an intense one, as he functioned as his own one-man crew, shooting and editing the entire thing in about six months. He said Feldman turned out to be a surprisingly open subject about what he was going through.
"Feldman, despite his reputation as a, shall we say, feisty chap, turned out to be a puppy dog," Kornblatt said. "OK, OK, maybe not a puppy dog. But Michael was still worth spending time with. I found him mostly funny, serious when the moment called for it, and generally open and insightful, with just enough edge to make him real."
While the film ends with Feldman continuing to do what he loves, Feldman said it's not yet a success story. The transition to podcasting has been a tough one, in terms of both making money and retaining his old audience from radio.
"It's not a seamless transition into something like podcasting," he said. "It's really like doing a vanity radio show, like when you're a kid and you're broadcasting from your room and pretending you're doing a radio show. It's not nearly as rewarding."
Kornblatt said he hopes the film resonates with both Feldman's longtime fans and with anyone who has had to grapple with sudden, unexpected change in their lives.
"I began as an actor out of college 40 years ago, turned to writing, then teaching and am now a full-time filmmaker," he said. "Each time I changed careers it came as result of feeling that I had to move on. So, yes, the theme of change and reinventing oneself is a major theme of the film."
Stay up-to-date on what's happening
Receive the latest in local entertainment news in your inbox weekly!