It's a testament to the power of cinema that the Wisconsin-made film "Pet Names" makes going camping with your ex seem like a pretty fun idea.
Carol Brandt's frank and evocative comedy-drama played Friday night at the UW-Cinematheque. It was one of two appealingly understated Wisconsin-made features I saw over the weekend at this year's Wisconsin Film Festival. The other was James Runde's Madison-made "Played Out," which premiered Saturday at the Union South Marquee. 
Meredith Johnston plays Leigh, a brash, sarcastic Milwaukee woman in her early 20s who had to drop out of grad school to care for her ailing mother. She seems stuck in her past in the family home, partying with her old high school friends, walking the same streets she did as a kid.
On impulse, she asks her ex-boyfriend Cam (Rene Cruz) to join her on a camping trip she had planned with her mother before she got sick. Cam agrees, mostly because he seems afraid not to. The connection between the two is frayed and complicated — they're not quite friends, but there's a shared history there, a well of memories and inside jokes to draw from.
In the lush Wisconsin woods ("Pet Names" was filmed at a campground near Spring Green), Leigh and Cam imbibe substances, joke around, explore the woods, and care for Cam's obese pug Goose (scene-stealer Chato). They also don't talk about the things they ought to be talking about, which causes the tension between them to rise.
What's refreshing about "Pet Names" is that it's really not about their relationship — the idea that they'd get back together, which would be the central question of a more mainstream film, isn't really an issue here. But Cam knows Leigh in a way few others do, and that allows her to lower her defenses a little and reveal her inner fears. Johnston wrote the screenplay for "Pet Names" based on her own experiences, and she's so wonderful in the role, so intimidating and wounded, that the viewer quickly forgets this is a performance and not a real person.
The gentle, wry Cam makes an effective counterweight to Leigh's bottled aggression. Brandt shot "Pet Names" in a boxy full-frame aspect ratio, giving the shots of the green Wisconsin forests the look of old vacation photos.
"Pet Names" is available to rent or buy on Amazon Prime, and Brandt said that she and Johnston are already working on their next collaboration together.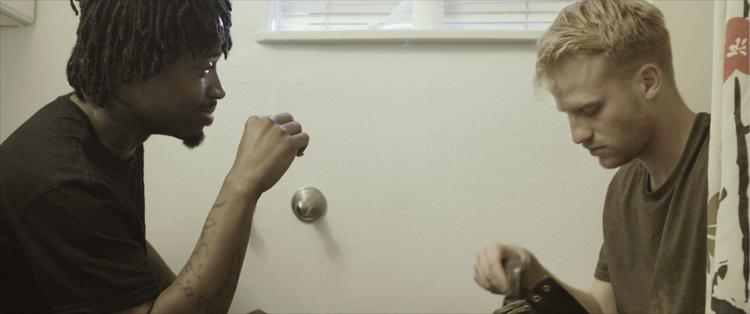 Madison filmmaker James Runde's "Played Out" mines a similar vein, looking at the lives of several ordinary local residents on one ordinary day. Runde said he was inspired by the interconnected multi-character narratives of the films of the late Robert Altman, but there's a quietness and empathy in "Played Out" all its own.
Runde plays James, the lead singer in a local rock band who is allergic to responsibility. Even showing up for his sister's birthday party is a struggle. Leslie (Leslie Gavin) is the bass player in the band, a middle-aged single mom struggling to connect with her teenage son. And Tim West is Booda, a rapper trying to maintain his dreams of a music career while living up to his responsibilities as a husband and father to two young boys.
Runde enlisted the families of each of the three actors to play versions of themselves, and the result is a 51-minute slice of life that feels authentic. There are moments in the film that are pretty funny, especially when James and Booda are together, and there are moments of unexpected poignancy.
I kept fearing that the film would lose its delicate balance, that Runde would introduce too much plot or push the film towards a more dramatic ending. But the tone stays consistent throughout, and each of the three storylines ends on a satisfying note. These characters will wake up tomorrow and struggle again, but they each find a little hard-won peace at the end of the day.
Runde has had films in the previous three Wisconsin Film Festivals, and is hard at work writing his next one.
The Wisconsin Film Festival runs through Thursday at AMC Madison 6, and through Sunday at several on-campus venues. Visit 2019.wifilmfest.org for the full schedule.