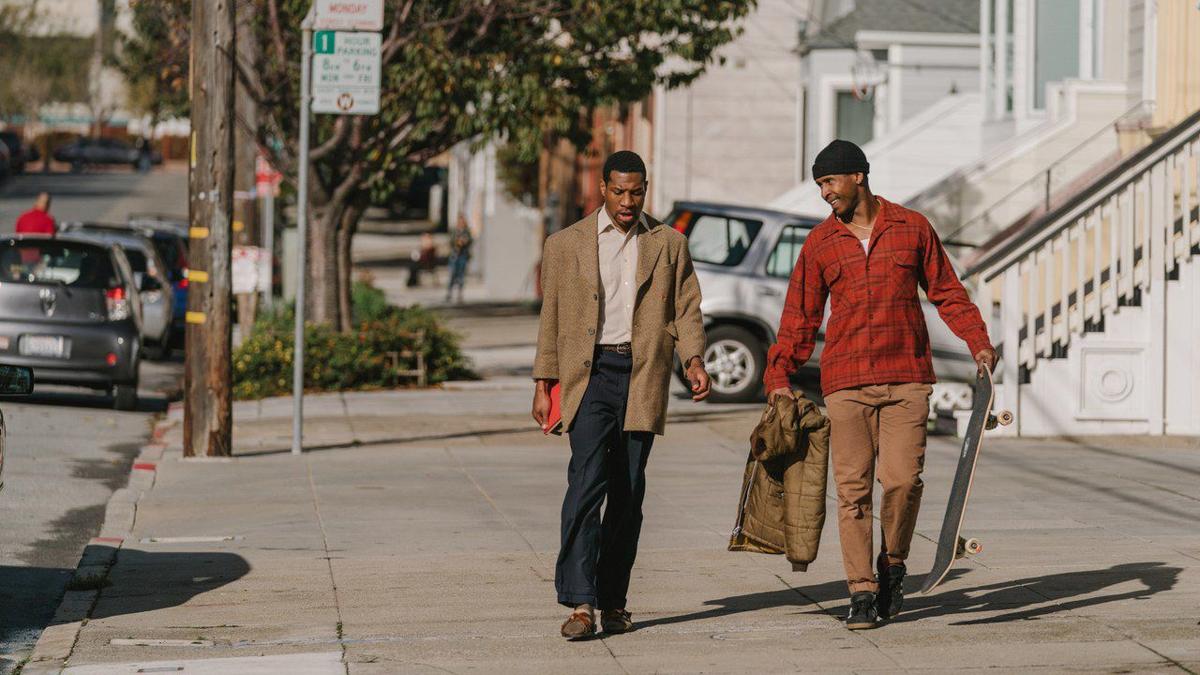 Home is where the heart is, the saying goes. But what if someone else is living in that home, leaving you standing on the sidewalk, peering in?
In "The Last Black Man in San Francisco," a home — a stately Victorian edifice in San Francisco — serves as a moving metaphor for the American dream denied. It's close enough to touch. But in the end, it belongs to someone else.
The film, a collaboration between actor-writer Jimmy Fails and writer-director Joe Talbot, focuses on the issues that San Francisco, Madison and many other American cities grapple with — gentrification, income equality, and whether a city's prosperity belongs to all of its citizens, or just a fortunate few. But this is no hard-edged social realist drama, but an elusive mood piece that glides between past and present like Jimmy skateboarding down Lombard Street.
Jimmy (although the screenplay is based in some ways on Fails' own background, he plays a fictional version of himself) is obsessed with his family home. It was the house his grandfather built on an empty lot in the Fillmore district after coming home from World War II, a triumph for an African-American at that time.
But the family lost the house. The drug addiction of Jimmy's father (Rob Morgan) was to blame, and now the wave of gentrification has caused property values to skyrocket, putting it out of reach for a blue-collar African-American like Jimmy. It's owned by a rich white family, who are fighting in court over who has the right to sell it while the house stands neglected and unused.
So Jimmy and his friend Mont (Jonathan Majors) sneak onto the property from time to time, lovingly doing small repairs and other upkeep. The new owners are annoyed, and probably embarrassed that they've let such a beautiful house fall into disrepair.
Jimmy dreams of reclaiming the house, by squatters' rights if necessary. In doing so, he hopes to turn back the clock, and undo all the misfortune that has befallen his family over his lifetime. But where he sees hope in the home's hardwood floors and stained glass windows, his father only sees defeat, and suggests that Jimmy's vision of the house and its supposedly glorious past may not be accurate.
Mont, meanwhile, is an aspiring playwright who lives with his grandfather (Danny Glover) in a cluttered but cozy home. He has his own illusions of somehow turning the world he sees into theater. When he comes across the local toughs in the street, he starts directing them as if they were onstage. "Go deeper." It doesn't go well.
Talbot and Fails' vision of San Francisco is of a place where its Bohemian past and gleaming present collide in sometimes surreal ways. In one scene, Jimmy is sitting next to a naked man at a bus stop, when a streetcar, turned into a party bus, swings by, and the tech bro passengers start jeering at the man. Blaring from the streetcar's speakers is Jefferson Airplane's "Someone To Love," an iconic San Francisco song if ever there was one, but remixed into a soulless dance-pop anthem.
Jimmy's quest to reclaim the house seems so hopeless, but we become emotionally invested in it, hoping he'll somehow find a way to overcome the forces of gentrification.
But "The Last Black Man in San Francisco" is never a story about good and evil. It's a more nuanced story about how our memories can propel us to do great things to change the future, but also hold us back from seeing the present clearly.
"You have to love it before you can hate it," Jimmy says at one point of San Francisco, and that essential paradox underlies the film. Even if that city, or that country, that you loved never really existed, it's still worth fighting for.
Stay up-to-date on what's happening
Receive the latest in local entertainment news in your inbox weekly!