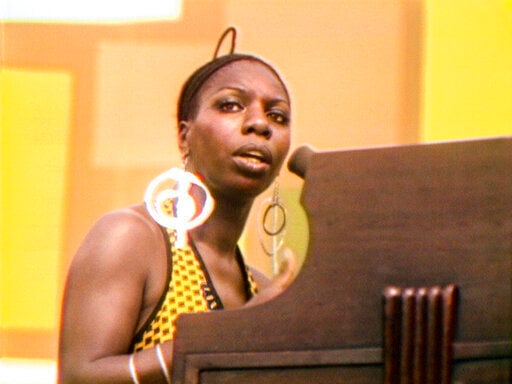 If "Summer of Soul" were just a concert film, it would have to be one of the greatest concert films of all time. Featuring never-before-seen footage of Nina Simone, Stevie Wonder, Sly and the Family Stone and many more Black artists performing in their prime in the summer of 1969, the film is packed with vibrant, brilliant music.
But Ahmir "Questlove" Thompson, best known as the drummer for the Roots, isn't satisfied with just making a concert film. Subtitled "... Or When The Revolution Could Not Be Televised," "Summer of Soul" positions that music in the historical, cultural and political contexts in which it was made, at a time when the country and the Black community were going through massive change. Created over a half-century ago, the music speaks anew to our own time, eloquently and urgently.
"Summer of Soul" is now playing in theaters as well as on Hulu.
The performances took place at the Harlem Cultural Festival, a series of six free summer concerts in Mount Morris Park in the heart of Harlem, 100 miles and a world away from Woodstock that same summer. An estimated 50,000 people packed the park for each of the concerts, and the sea of mostly Black faces radiates with joy and excitement as one icon after another takes the stage before them.
Simone's "Young, Gifted and Black" soars over the crowd, Sly and the Family Stone sing "Everyday People" a cappella for a few bars before the chugging funk music kicks in, and Stevie Wonder dazzles behind both the keyboard and the drum kit. But the Harlem Cultural Festival aimed to showcase Black musical excellence beyond soul, so the concerts also featured the joyous gospel of Mavis Staples and Mahalia Jackson, the psychedelic rock of the 5th Dimension, and the South African jazz of Hugh Masakela.
Again, just the music would be enough. But Thompson, that master of remixing as a musician, deftly mixes in present-day interviews and historical footage of the era — of protests in the street and the rise of Black Power — that somehow don't distract from the performances, but deepen and enhance them. Don't get me wrong — I would love a straight concert film of these performances, and hope that will be included on a Blu-ray release someday.
While the local news covered the concerts and showed highlights, after the summer was over, some 40 hours of footage was boxed up and never shown. All anybody could talk about that year was Woodstock. What Questlove has done with "Summer of Soul" is an essential act of cinematic archaeology, and he's unearthed these wonderful moments just when we needed them most.