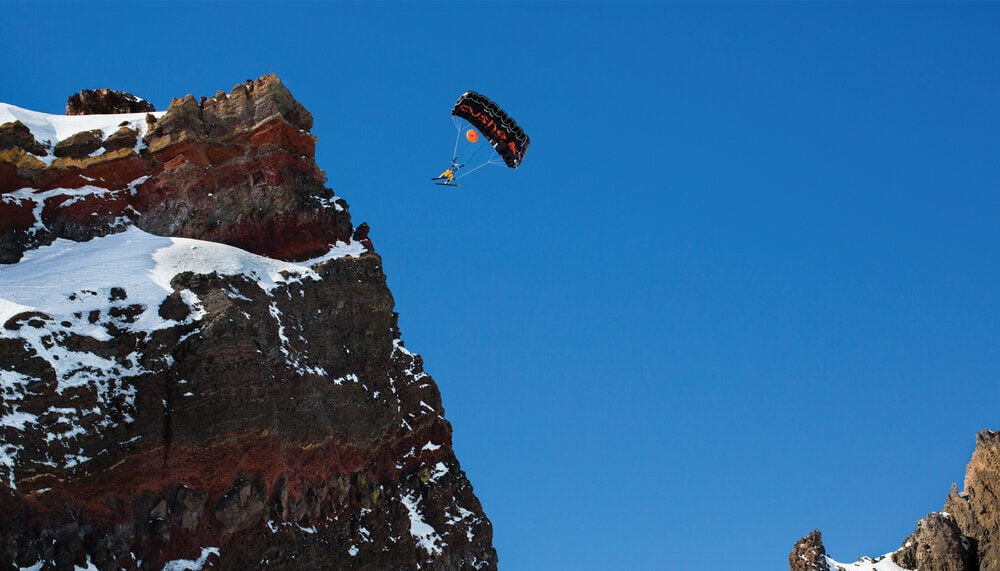 The most famous stunt in all of the James Bond movies happens at the beginning of 1977's "The Spy Who Loved Me," when 007 skis off a cliff and deploys a parachute in midair before he hits the ground.
Matthias Giraud calls that an average Tuesday.
Giraud is a base jumper, who leaps (or more often, skis) off of mountains and then parachutes his way to safety. The documentary "Super Frenchie" (Giraud's nickname), now available to rent on video on demand, is full of such vertigo-inducing feats, captured by helicopter cameras and GoPros strapped to Giraud's helmet and skis. One minute he's skiing down a mountain, the next minute there's nothing but empty air under his skis instead of snow. "3, 2, 1, see ya," he says as he goes over the edge.
"Super Frenchie" immediately recalls the Oscar-winning documentary "Free Solo," about a similar thrill-seeker, Alex Honnold, who climbs sheer rock faces without ropes or harnesses. But "Free Solo" worked because it was more than thrilling footage, but a character study of an intensely calm man who probably doesn't understand himself why he's driven to cheat death.
Giraud is not as interesting a character as Honnold, and the film is full of whoa-dude platitudes ("We all want to fly, and here's Matthias doing it") rather than genuine insight. Director Chase Ogden clearly means to celebrate Giraud and his derring-do, even if that means glossing over the parts of his life that wouldn't fit into a Mountain Dew commercial.
Giraud mentions, in passing, his difficult childhood, including a controlling mother and a history of mental illness in the family, and his need to escape his home life by going to the mountains. But that's never really explored, even though Ogden interviews Giraud's mother and father.
There's also the question of whether Giraud's exploits are "selfish," especially after he gets married and his wife becomes pregnant. Ogden seems to buy Giraud's defense that he needs to jump off mountains for his own personal growth, and that "it's not selfish because I'm never reckless." But Giraud has plenty of friends, including his mentor Shane McConkey, who thought they weren't reckless either, and never came home from a base jump.
It's true that Giraud plans his jumps, mapping the best route and testing weather and wind patterns ahead of time. But after spending a day climbing up a mountain with camera crews in tow, one can imagine there's some pressure not to abort a jump. And we do see him act recklessly; before he jumps off Pointe d'Areu near Mont Blanc, he notices that the thermal currents are strong enough to push him against the mountain while in freefall. He jumps anyway.
The jump is disastrous, and Giraud is lucky to survive with a double brain hemorrhage and several broken bones. We expect that this will cause Giraud to rethink his obsession, especially after his son Soren is born, and he tells his wife, "I'll never do that again." But he tells the camera, "I have to do it," and six months later, he's back on the mountain.
"Super Frenchie" presents this as a story of triumph, but the viewer may see it differently. Without being able to connect emotionally with its central character, "Super Frenchie" offers little beyond terrific base jumping footage. And, I hate to say it, but the 50th time you see someone jump off a mountain is not as cool as the first time.