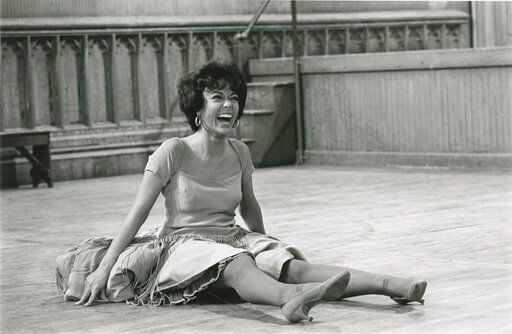 There's a moment early on in the documentary "Rita Moreno: Just a Girl Who Decided to Go For It" when veteran television producer Norman Lear says of Moreno, "I can't think of anyone in the business who lived the American Dream more."
And who could argue with that? Moreno came to New York from a town in Puerto Rico when she was a girl, striving in Hollywood until she became a screen legend and EGOT (Emmy, Grammy, Oscar, Tony) winner, including becoming the first Latina Oscar winner for 1961's "West Side Story."
But then director Mariem Pérez Miera includes a snippet of an interview from artist Frances Negrón-Muntaner, who sees how much racism and prejudice held Moreno back, not just when she was starting out, but for decades. She may have achieved the American Dream that was available to her, but "how could she have been if she hadn't had those limits?"
The frank and engaging documentary often sets up Moreno's life as a traditional rags-to-riches celebrity story and then undercuts it with the painful truth. In this way, the film takes its cues from its subject. Moreno seems incapable of being less than forthright — about herself and the world around her — and that bracing honesty is like a splash of cold water.
Moreno talks about being insecure as a child, playing the dutiful daughter to her domineering mother, and dealing with prejudice routinely when she came to America. As a young actress, the only roles open to her were demeaning "ethnic roles" — island girl, native girl, Asian handmaiden — where producers required her to darken her skin. She jokes, with no small amount of bitterness, that she would use one generic "foreign accent" for all these roles, whether the part was Asian or Russian or Native American. The white male producers couldn't tell the difference.
Her Oscar-winning turn in "West Side Story" as Anita should have opened more doors, but instead, it gave her the strength to close them. She stopped taking those demeaning roles — and didn't work in a movie again for seven years. If her career didn't ascend, it instead broadened to encompass theater ("The Ritz") children's television ("The Electric Company") and very grown-up television (HBO's "Oz.")
No topic seems off limits in "Just a Girl," as Moreno talks about her rape by a Hollywood agent and her toxic relationship with Marlon Brando that led to her attempting suicide. When she meets her husband Leonard Gordon, we think she's found her happy ending. But even that love story has many dimensions. "We weren't a good couple," she says, although she talks tenderly about being there on his deathbed.
Miera interviews many of Moreno's contemporaries, and it's a delight to see Morgan Freeman light up while talking about his old "Electric Company" castmate, and see them goof around together in old clips. She also interviews Latinx celebrities like Eva Longoria, Lin-Manuel Miranda and Madison resident Karen Olivo about the effect Moreno's career had on them.
Olivo says that as big as "West Side Story" was, what really inspired her was Moreno's over-the-top turn as screen star Zelda Zanders in 1952's "Singin' in the Rain," because she was allowed to play the character, not an ethnic type. "She was deciding that her story, and who she was, was more important than how they saw her," Olivo says of Moreno's evolution.
Moreno got some blowback this week while appearing on "The Late Show with Stephen Colbert," responding to the charge that the new film version of Miranda's "In The Heights" contains so few Afro-Latinx actors. Miranda apologized, but Moreno dismissed the criticism, saying, "Can't you just wait a while and leave it alone?"
The comment was jarring coming from a Latinx actress who had to "wait a while" — decades, in fact — to play someone like herself onscreen. I suspect Moreno was in Mama Bear mode defending her friend Miranda and not considering the implications, but it was still a tone-deaf thing to say. (She later issued an apology.)
But what did you expect, that Moreno would hold her tongue? "Just a Girl" makes clear that holding back is not in her nature.