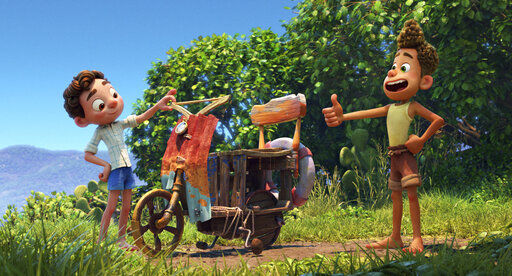 It's sadly unsurprising that Disney has chosen not to put the new Pixar film "Luca" in theaters, but to premiere it directly on Disney+ on Friday. There's not even a premium surcharge to stream it as was required for "Cruella" or "Raya and the Last Dragon."
"Luca" is not a "tentpole" movie like "The Incredibles 2" or "Toy Story 4," animation events that include a cross-platform, cross-promotional blitz of toys, T-shirts and videogames. It's a smaller film, by design, and Disney doesn't seem to do small much anymore.
But that narrowness of focus is one of the many charms of "Luca." Director Enrico Casarosa (who made the enchanting Oscar-nominated short "La Luna") seems inspired by his childhood memories of Italy and the movies of Studio Ghibli in making a poignant, mostly human-sized story of friendship and self-acceptance.
"Luca" takes a deep dive into the fantastical side of its story early. Luca (voiced by Jacob Tremblay) is a sea monster, one of a family of blue-green creatures living underwater off the coast of a picturesque Italian village named Portorosso. The human locals have seen glimpses of the monsters over the years and have grown fearful, and Luca's parents (the wonderful Maya Rudolph and Jim Gaffigan) are just as frightened of being discovered.
Luca, however, is curious about the surface world, as alarm clocks, phonographs and other lost human artifacts float down to the ocean floor. He makes a few cautious forays onto land, and learns that when he's dry, he transforms into a human boy. He's mesmerized as he learns about life in Italy, touring the countryside on a Vespa scooter. I mean, who wouldn't be?
On one of these trips, Luca meets Alberto (Jack Dylan Grazer) a cocky fellow sea monster who permanently turned his back on the sea to live life on land. Fast friends, the two boys dream of buying a Vespa and going on adventures. But then the boys meet Giulia (Emma Berman), a human girl visiting from Genova, who feels like an outcast in Portorosso too.
Almost every kid (or adult) has been in that tricky situation, when two friends become three. Alberto grows jealous of Giulia and Luca's growing bond, as she tells him about the wider world. Meanwhile, Luca is fearful of revealing his secret to Giulia for fear that she'll reject him. Take away the fins and flippers, and there's real depth and poignancy in how the screenplay by Jesse Andrews and Mike Jones explores the complexities and joys of friendship.
Which is not to say the movie isn't a lot of fun, full of zippy chases, big laughs and some colorful and truly mouthwatering visuals of Italy. I still don't know how an animated plate of pesto pasta could make me so hungry. Less memorable is a subplot involving Luca's parents coming on land to chase after their wayward son. Rudolph and Gaffigan are certainly funny, but last year's "Onward" had the exact same subplot.
The simple, understated beauty of "Luca" may relegate it to "minor" Pixar status. But I'd take minor Pixar over almost anything else, and the lovely, wistful delights of "Luca" are refreshing to plunge into.