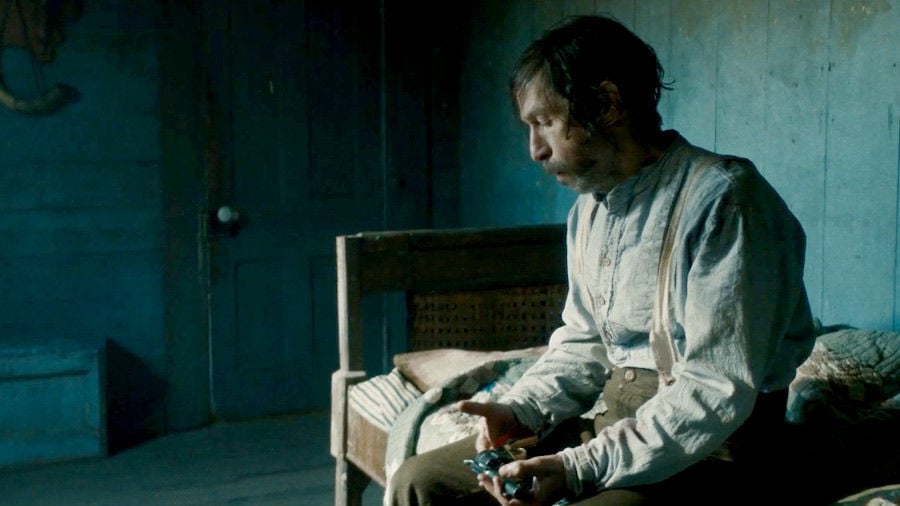 In the Coen Brothers' 2018 Western anthology film "The Ballad of Buster Scruggs," Tim Blake Nelson played the title role, a singing cowboy whose corny charm barely masked the fact that he was a killer marksman and cheerful psychopath.
Nelson has the title role again in the indie Western "Old Henry," playing a different kind of gunslinger, but no less deadly. Writer-director Potsy Ponciroli's film is available Friday on video-on-demand through Amazon, VUDU and other streaming sites.
Nelson plays Henry, a hardscrabble pig farmer in a forgotten corner of 1906 Oklahoma. He's a small, dirty man, but clearly not one to be trifled with. Henry is curt and gruff with his teenage son Wyatt (Gavin Lewis), trying to protect him from what he knows is a dangerous world.
One day, Henry and Wyatt come across a riderless horse, its saddle caked with blood, a satchel full of cash strapped to it. They follow the trail of blood to a grievously wounded rider, Curry (Scott Haze), lying in the grass. He's been shot. Henry knows it's a mistake to get involved, but at Wyatt's urging, they bring Curry home anyway to tend to his injuries.
Then trouble comes in the form of three men on horses, led by the sinister Ketchum (Stephen Dorff) who claims he's a sheriff from another county, and that Curry is a bank robbing fugitive.
Henry hides Curry, who later tells them that he's the lawman, and Ketchum is the bank robber hunting for his loot. Caught in the middle of a violent standoff, Henry proves to be much more than a simple farmer. Most farmers don't know to give advice like "Don't elevate the legs when someone's been shot in the gut."
Film critic Rob Thomas and arts writer Lindsay Christians talk about the big-screen adaptation of the Tony-winning Broadway hit "Dear Evan Hansen."
Ponciroli's film is a reverential tip of the hat to classic Westerns, with some overt references (a shot through a doorway is a clear homage to a similar shot in John Ford's "The Searchers") and some more thematic, dealing with familiar genre themes about guilt and regret. Henry is much like Clint Eastwood's Bill Munny in "Unforgiven," a man trying unsuccessfully to put the sins of his past behind him.
"Old Henry" isn't in those movies' league, of course, but it does a good job evoking them, with sumptuous widescreen vistas of an untouched landscape and evocative close-ups into the eyes of its flawed characters. Ponciroli knows how to build tension and stage a shootout, lean and effective, such as a cat-and-mouse game between Henry and a gunman hiding under the floorboards.
The performances are strong, especially Dorff, having a lot of fun playing the sort of chatty villain who enjoys using ten-dollar words that fly over his henchmen's heads. And the screenplay is surprisingly meaty; cryptic flashbacks that at first seem to be mere window dressing end up playing a key role in some of the film's later plot revelations.
But the film works especially as a showcase for Nelson, who conveys as much about Henry in the spaces between the lines as he does with the dialogue. It's a rare lead role for one of the best character actors working today, and Nelson grabs it by the reins.
Share your opinion on this topic by sending a letter to the editor to tctvoice@madison.com. Include your full name, hometown and phone number. Your name and town will be published. The phone number is for verification purposes only. Please keep your letter to 250 words or less.