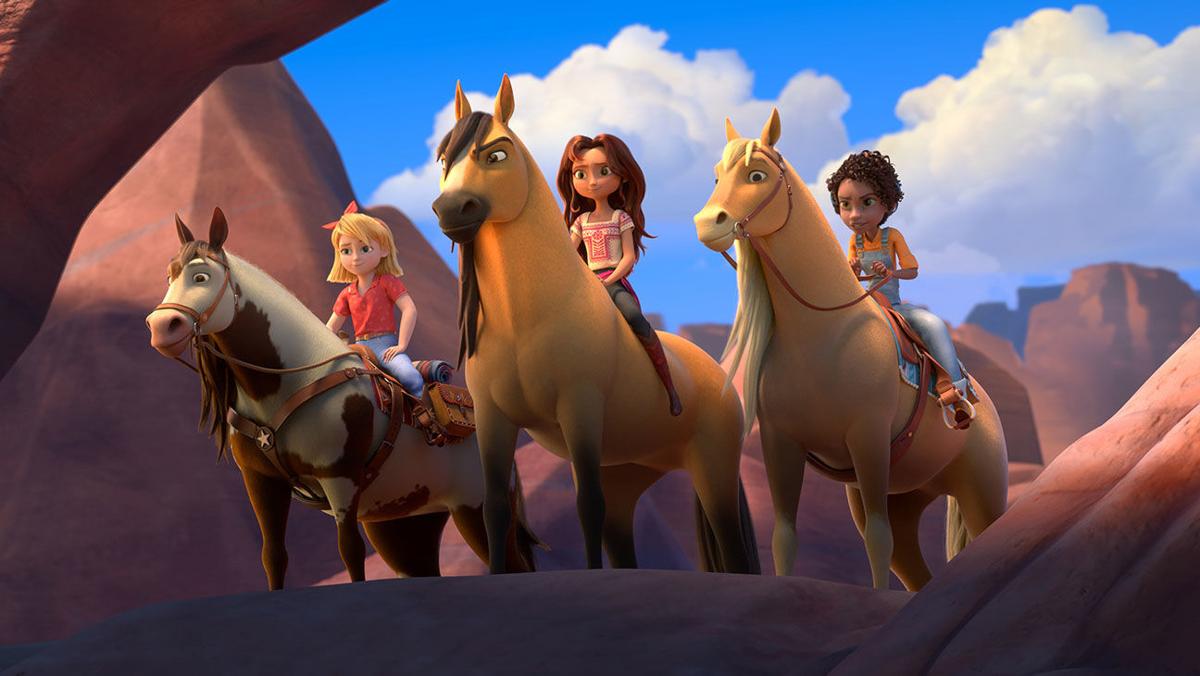 "Spirit Untamed" is opening Friday at Marcus Point, Marcus Palace, AMC Fitchburg 18 and AMC Madison 6 and was reviewed from a digital screening link.
From "A Quiet Place Part II" to "F9," movie theaters this summer will be full of films that were delayed a year or more due to the pandemic.
And then there's "Spirit Untamed," which looks like it's been on the shelf for about 15 years. While the backgrounds are picturesque enough, the janky computer animation looks like a throwback to "Shrek"-era 2000s movies, with characters that look stiff and plastic. It makes the 2002 original, "Spirit: Stallion of the Cimarron," look even better with its classic 2D hand-drawn animation.
The reason for the basic CGI animation may be that "Spirit Untamed" is not really based on the original movie but on a spinoff Netflix series, "Spirit Riding Free," which is now in its ninth season. Isabella Merced voices Fortuna "Lucky" Prescott, the daughter of a famous trick rider in an Old West border town known as Miradero. Lucky's mother died in an (off-screen) riding accident when Lucky was an infant, and her widowed father Jim (Jake Gyllenhaal) sent her off to live with her Aunt Cora (Julianne Moore) in the city. As she grows up, Lucky's free-spirited ways do not mesh well with what's expected of a young woman in polite society.
Now a rebellious tween, Lucky is sent to live with her father in Miradero for the summer. The characterization of Jim is one of the movie's big problems — Gyllenhaal plays him as awkward but loving, but if he's such a great guy, why did he send his daughter away for a decade? The screenplay also requires him to suddenly become stern and overprotective, demanding that Lucky stay away from trouble, and horses in particular.
Of course, that doesn't last. The legend of Lucky's mother has only grown among the townsfolk in Miradero, and she's told time and time again how much she resembles her. That adventurous maternal spirit manifests itself when Lucky sees a beautiful golden mustang she calls Spirit that's been caught by horse rustlers, led by the cheerfully villainous Hendricks (Walton Goggins).
Hendricks intends to sell Spirit and the rest of his wild mustang herd to be worked to death in the city, so with new friends Pru (Marsai Martin) and Abigail (McKenna Grace) at her side, Lucky is determined to save Spirit and the other horses.
There are some fun interactions between the three young voice actresses (especially Grace as a goofy, guitar-playing troubadour), and the film moves quickly enough from action scene to action scene to keep the young'uns from getting bored. But any attempt at emotion, human or equine, fizzles out, and more time and thought was clearly spent animating Spirit and the other horses than the human characters.
Young girls who love horses might be entranced, but their parents will balk at paying full price for a slim 80-minute animated movie when there are 78 episodes of the TV show streaming at home.