When asked whether he's ever felt in danger in his travels around the world, documentary filmmaker Aaron Ohlmann pauses. "Is my mom going to read this?"
Mom might have cause to be concerned. Since he graduated from the University of Wisconsin-Madison in 2003, Ohlmann has interviewed genocide victims in Rwanda, stand-up comedians in Iraq, Yakuza members in Japan, and poachers in West Africa. His latest project was an Emmy-nominated episode of the National Geographic series "Trafficked with Mariana van Zeller," which is available to stream on the National Geographic website or on Hulu.
"I think, ultimately, it's possible to go anywhere safely and do anything safely," Ohlmann said in a phone interview in Los Angeles. "And that includes frontlines journalism, with a reasonable amount of risk. I work really hard to cultivate good relationships going in and work with really smart people who are on the ground and let them set the guidelines. It's their territory. I don't want to be accused of just parachuting in and being reckless.
"The flip side is yes, I've been terrified," he added. "A number of times I have gotten into situations that were . . . not uncomplicated."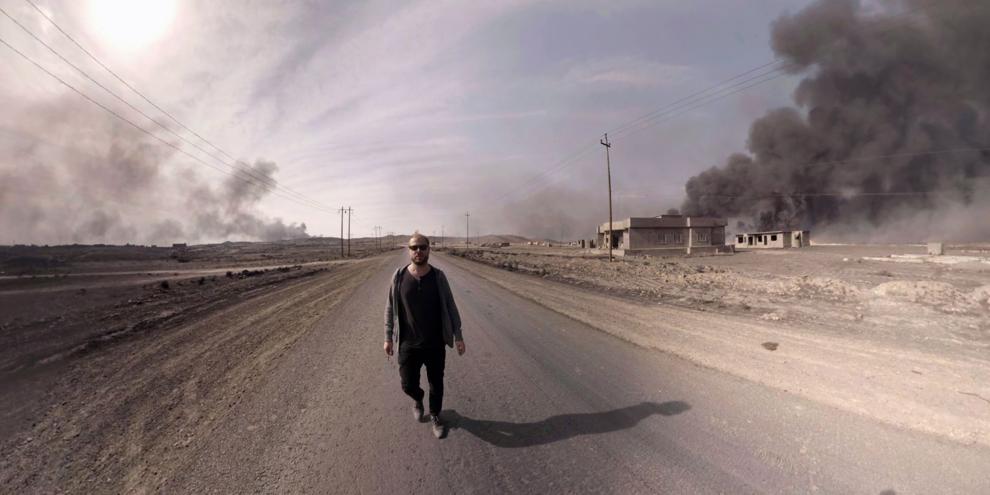 Each episode of "Trafficked," which Ohlmann serves as a producer of in addition to directing the premiere episode ("Scams"), delves into a different aspect of international crime, from fentanyl smuggling to financial scams. "Scams" focuses on international con artists.
While the show is gripping and cinematic in part because of its dark subject matter (the "Scams" episode features an eerie scene in which van Zeller meets an Israeli investment scammer who confiscates her phone as ominous music plays on the soundtrack), Ohlmann said he really isn't in it for the thrills.
He's most interested in meeting people around the world who might seem dangerous or irredeemable, and discovering they're really not so different from everybody else. And to get that kind of relationship with a subject, you have to build trust.
And to build trust, you have to get close.
"I was traveling a lot and hanging out with a lot of humans that I think have been categorically dismissed by the world, including thieves and murderers and weirdos," he said. "All ends of the spectrum, and finding out that so much of who they were was redeemable. The idea that stuck with me is that, no matter how far you travel, to the fringes, you still find people who are relatable and redeemable, despite the things that they've done."
Ohlmann, who grew up in the Fox Valley region, said that as a UW student he wasn't sure what he wanted to do with his life, and documentary filmmaking was a way to explore a variety of interests. Underlying it all was a desire for social change that he attributes to his time in Madison.
"I think there was an interest in how the world works and a sort of sense that, like a lot of folks in Madison have, that the world could be better," he said.
After graduating, Ohlmann moved to Los Angeles and met director Rene Daalder. He ended up serving as Daalder's editor and cinematographer on the 2005 film "Here is Always Somewhere Else," which focused on the life of a Dutch artist, Bas Jan Ader, who was lost at sea while attempting to cross the Atlantic Ocean in a sailboat. Ohlmann brought the movie to the 2005 Wisconsin Film Festival.
Since then, he's shot in over 50 countries. He was an archivist for the United Nations' International Criminal Tribunal for Rwanda and made films on Somalia and Northern Iraq for the U.N. He directed two episodes of "VICELAND" with the late actor Michael Kenneth Williams ("The Wire"), and produced on the 2019 Netflix series "Larry Charles' Dangerous World of Comedy," going to global conflict zones to find out how humor survives in such dire circumstances.
"A truly remarkable human being," Ohlmann said of Williams, who died last month. "What was it he said that I loved so much? 'If the system fails you, you create your own system.' I know that telling those kinds of stories was important to him."
Ohlmann said he felt like he met a fellow traveler when he met van Zeller and started talking about the idea of "Trafficked."  The show was nominated for a Documentary Emmy last week but lost to a CNN documentary on Amazon head Jeff Bezos.
"Mariana and I have been in these similar kinds of worlds for a really long time," Ohlmann said. "I met Mariana and instantly connected, and saw her ability to connect with just about anyone on earth. She has a really strong sense of empathy.
"This was a really great opportunity to do something that would get seen, but also not exist in the black and white areas. 'Trafficked,' when it's doing the job that I set out to do, is existing entirely in those gray areas."
While Ohlmann's official bio says he lives "out of a suitcase," that's not so much been the case during the last 18 months. But the pandemic hasn't stopped him from working.
"We're focused on trying to tell the kinds of stories we can tell during the pandemic," he said. "Travel has been curbed considerably, so we've buckled down and worked on developing things and working in post (production). My passport has been getting a lot less of a workout."
Share your opinion on this topic by sending a letter to the editor to tctvoice@madison.com. Include your full name, hometown and phone number. Your name and town will be published. The phone number is for verification purposes only. Please keep your letter to 250 words or less.