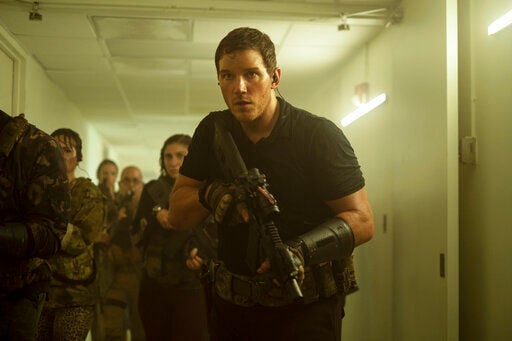 "The Tomorrow War" is a rarity — a $200 million summer blockbuster that is an original story, not a sequel, prequel, reboot or adaptation of an existing intellectual property.
Maybe "original" is taking it a little too far. Chris McKay's sci-fi action film borrows heavily from "Aliens," "Independence Day," "World War Z," "Edge of Tomorrow" and a host of other like-minded blockbusters. But at least "Tomorrow War" has an interesting premise and stays true to its possibilities, at least for a while. Originally slated to play in theaters, the pandemic derailed those plans, and it arrives Friday on Amazon Prime.
In Zach Dean's screenplay, in the year 2051, humanity is locked in a brutal war with ugly, gooey aliens called White Spikes (great band name, by the way). The creatures, which look like a cross between a skeleton, a velociraptor and a folding lawn chair, have overrun the planet, and humanity is running out of bodies to throw at the invaders.
So the survivors invent a time portal taking them back to 2022 to look for recruits. A military draft is enforced, and every week thousands of recruits are sent into the future to join the fight. Only a third of them return alive, injured and defeated. Dean's screenplay captures the hopelessness of living in a world with seemingly no future, lightly evoking anxiety about the climate change threat without getting political.
Army vet turned high school biology teacher Dan Forester (Chris Pratt) is conscripted, part of the wave of middle-aged and older people being sent into the future. (Because of a classic time-travel paradox, only people who aren't alive in 2051 can be sent forward so they don't meet their future selves.)
The best part of "Tomorrow War" is in the first hour, as Dan and his squad of barely trained novices are literally dropped into the middle of a war zone overrun with vicious creatures. McKay cast several comic actors (Sam Richardson, Mary-Lynn Rajskub, and Mike Mitchell of the "Doughboys" podcast) in appealing supporting roles around Pratt. In addition to adding some comic relief, their presence makes the action setpieces even more tense, because these regular people are clearly not cut out for combat. A shootout in an office building stairwell, with the aliens still lurking in the shadows, is particularly well-staged.
About midway through "Tomorrow War," this ragtag crew is replaced by generic, black-clad soldiers, and the movie starts to get more generic as well. You see one anonymous guy get his head ripped off, you've seen them all. A scene of aliens swarming an oil refinery feels like a direct lift off a similar scene in "World War Z," and it gets a little monotonous to watch Pratt machine-gun one alien after another.
Pratt is fine in the action-hero mode, although as in the "Jurassic World" movies, he seems to be deliberately suppressing the wit he showed on "Parks & Recreation." Attempts to add a more poignant foundation to Dan (he feels like he lacks purpose, he has an estranged relationship with his dad (a crusty J.K. Simmons)) never quite land. Ditto as he bonds with a commander (Yvonne Strahovski) with a secret agenda.
The film is also way too long at 138 minutes, and the novelty of the premise wears off, giving way to an implausible final act. By the time it's over, it feels like tomorrow.