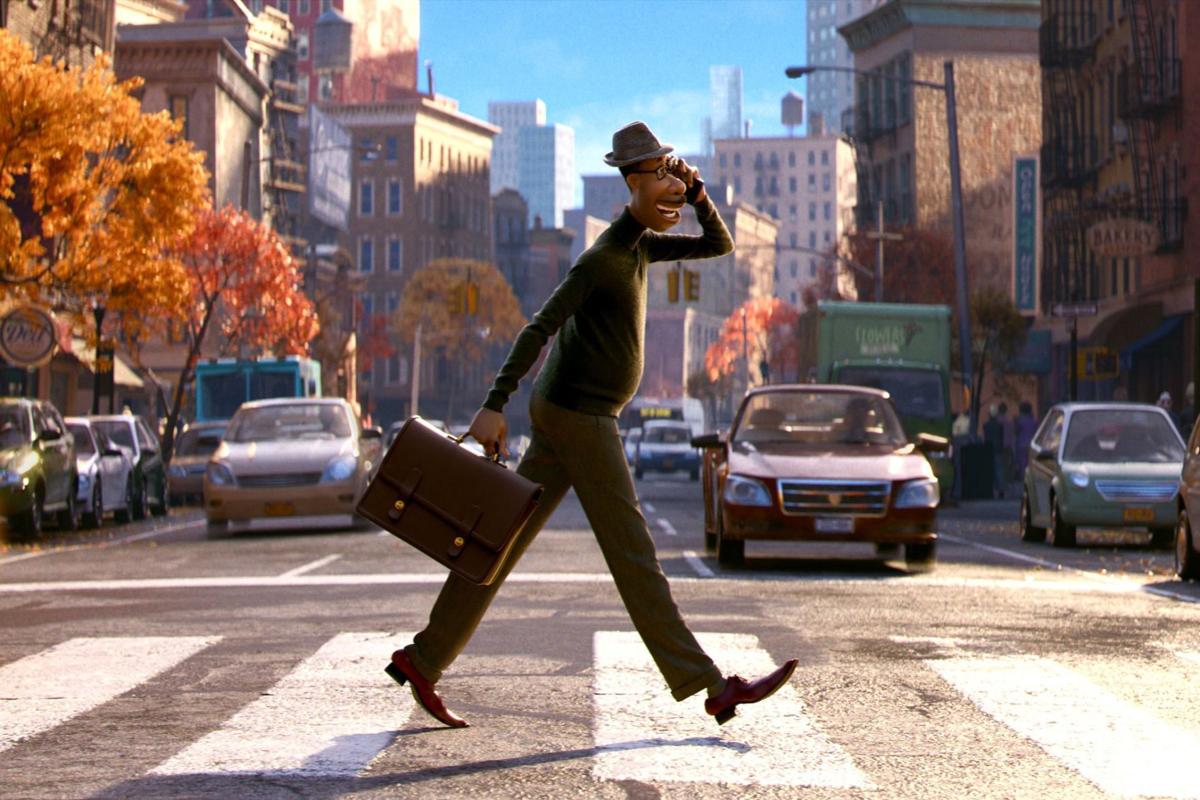 With Disney recently announcing an avalanche of sequels, prequels and reboots built around "Star Wars," Marvel and the many other properties it owns, it's heartening to see that it can still find room for a weird, metaphysical movie like "Soul."
Pixar's new movie is another wonder that, like "Inside Out" or "Coco," seeks to turn the mysteries of life into zippy, breathtaking animation. If the concept behind "Soul" is a little harder to get your arms around, attempting to illustrate nothing less than the meaning of existence, it's still a delightful journey.
Originally to be a summer theatrical release but postponed due to COVID, "Soul" premieres Christmas Day on Disney+.
The protagonist of "Soul" is Joe Gardner (Jamie Foxx), a frustrated jazz pianist turned middle-aged middle-school band teacher. Joe lives in a perpetual state of what-might-have-been, morosely wishing he had gotten that big break. An early scene shows how much music consumes his life, and as he tinkles away at the piano in the school music room, the rest of the world dissolves around Joe into shimmering blues and pinks.
But then fortune strikes, as an old student turned session player (Questlove) runs into Joe with the opportunity of a lifetime. The legendary jazz trumpeter Dorothea Washington (Angela Bassett) needs a pianist to accompany her at that night's gig. Joe aces the audition, and is so thrilled that he wanders out into the street, falls down a manhole, and dies. End of movie. Cue closing credits.
Just kidding! Joe may be dead, but he's not done. We next see his soul, a little blobby thing that looks like the Funko Pop version of his living self, riding an endless cosmic People Mover with other recently departed souls on their way to the Great Beyond. But Joe isn't ready. He's got to make that gig, so he jumps off the escalator and goes on the run as a fugitive from fate.
After falling through several dimensions, Joe lands in the Great Before, a candy-colored preschool of sorts that gets pre-born souls prepared to enter the world. Patient counselors that look like cubist portraits nurture the adorable little souls along, and recently deceased famous people like Archimedes and Shakespeare mentor the souls to find their "spark" — the thing that will give them purpose in life.
Joe ends up impersonating one of the mentors, and is assigned a recalcitrant soul named No. 22 (Tina Fey) who has resisted multiple attempts to be born. I won't reveal how, but somehow Joe and No. 22 make it to Earth, but not in the way they expected. As No. 22 learns the joys of life (pizza, autumn leaves), Joe starts to rethink his conviction that his life will only have meaning if he becomes a famous musician.
While there's plenty of humor and wonder in "Soul" that will appeal to kids, the movie's ruminations on mortality and purpose will probably resonate more strongly with their parents.  
One of the joys of watching "Soul" is the way it toggles between two fully realized worlds, one imaginary and one grounded in reality. For New York City, director Pete Docter ("Inside Out") and co-director Kemp Powers create a bustling, vibrant and, most importantly, diverse world teeming with life, energized by Jon Batiste's bouncy soundtrack. There were moments where my eyes would look past Joe and just marvel at the wide variety of characters passing by in the background, each as fully realized as Joe.
Contrast that with the cool, surreal beauty of the netherworld, full of visual marvels like a tie-dyed pirate ship sailing across a dark blue landscape, like a Yes album cover come to life. Trent Reznor and Atticus Ross' burbling synthetic score perfectly fits this cheerfully strange world.
It's a cool world to visit. But it's probably fitting that, in a film that urges us to embrace the everyday miracles of life, I found myself preferring the real world of "Soul" over its fantastic one.