Four of the five films nominated this year for Best Animated Short Film stay close to the kitchen table, focusing on the shifting dynamics between parents and children. With economical storytelling and vibrant animation in a variety of forms, these films illustrate the inner lives of both parents and children to poignant effect.
The fifth nominated movie features a talking dog. We'll get to that later.
The "2019 Oscar Nominated Animated Shorts" anthology collects all five films, along with two additional animated shorts, "Tweet Tweet" and "Wishing Box." The anthology opens Friday at AMC Madison 6, and is also part of the "Best Picture Showcase" on Saturday, Feb. 16. AMC Madison 6 is also screening an anthology of the five films nominated for Best Live Action Shorts.
The one likely most familiar to audiences is Pixar's "Bao," which played before "The Incredibles 2" last summer. Written and directed by Domee Shi, the film at first feels like a flight of fancy, as a Canadian Chinese woman discovers that one of the dumplings she lovingly assembles by hand has come to life as a newborn babe.
There are some good jokes as the mother lovingly takes care of her new doughy baby, kneading his noggin back into shape whenever an accident leaves it flat as a pancake. But as the bao dumpling grows up and yearns for independence, "Bao" becomes more serious, with the relationship serving as an allegory for the difficult balance between protecting a child and letting them go.
That this struggle between parent and child is taking place in an immigrant household adds extra dimensions to a seven-minute film that, like those mouth-watering dumplings, delivers a rush of emotional flavors in a small package.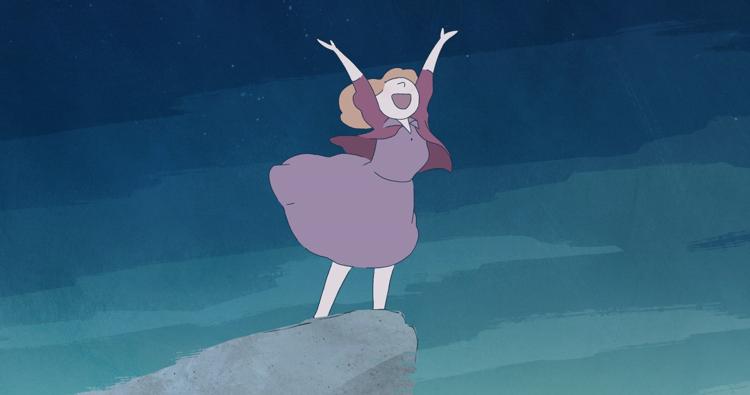 "Late Afternoon," by Louise Bagnall and Nuria Gonzalez Blanco, uses hand-drawn animation to delve into the mind of an elderly woman with Alzheimer's disease. As her mind wanders, her confusion is represented by endless swirling colors and shapes that she floats helplessly through. Occasionally, the shapes form themselves into memories — she's a young girl with her sister, a young woman with her future husband — before frustratingly dissolving into chaos.
It's a gently devastating film, especially for those who have family members with Alzheimer's or other forms of dementia, and a reminder to cherish those family bonds while we can.
Andrew Chesworth and Bobby Pontillas's "One Small Step" shows how much storytelling can be done with the right visuals, charting at least a decade in the relationship between a daughter, an aspiring astronaut, and her cobbler father. The film felt a little rushed at times in covering so much ground, but builds to a powerful final image that's worth the journey.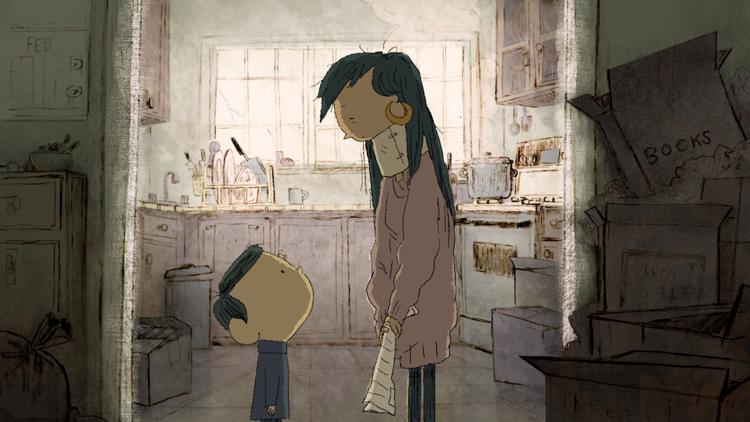 While most of the films in the collection are suitable for young audiences, every year there always seems to be one that I have to caution parents about. This year, it's definitely Trevor Jimenez's surreal and wrenching "Weekends," in which a young boy is shuttled back and forth between his divorced parents.
He lives mostly with his mother in a small rural home, then is shuttled off to his father's new bachelor pad in the city for the weekends. The boy's sense of confused dislocation is illustrated by some nightmarish imagery, such as a dream sequence in which the boy's emotionally distant stepfather turns into a bizarre creature with a melting birthday cake for a head. "Weekends" shows the damage that parents can do to their children without realizing it, and the coping skills that those children need to learn to survive.
The fifth film in the series is Alison Snowden and David Fine's "Animal Behaviour," in which a dog therapist oversees an angst-y menagerie of patients, including a gorilla with anger issues and an obsessive-compulsive cat. It's fun and has some good lines, but doesn't go much deeper than the usual jokes about animals (Dogs like to sniff butts!). It feels a little shallow next to the other four films, which push the storytelling possibilities of animation in new and resonant ways.