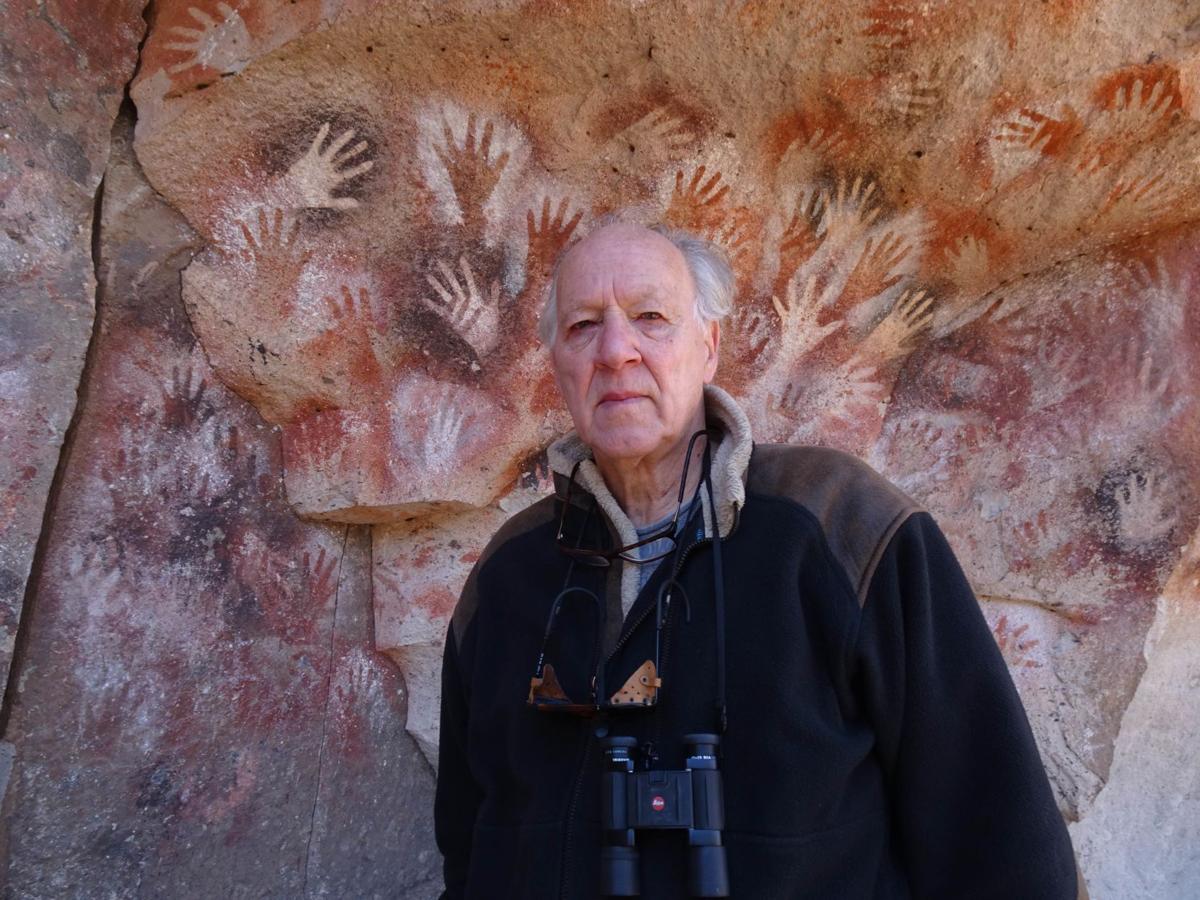 Late in his documentary "Nomad: In the Footsteps of Bruce Chatwin," Werner Herzog pulls out a roomy leather rucksack that used to belong to his friend, Bruce Chatwin. Chatwin was a travel writer, and used to truck the big, durable sack all over the world.
Chatwin died in 1989 at the age of 49. And now Herzog often has the rucksack on his back as he tours the world, making documentaries like "Cave of Forgotten Dreams" and "Encounters at the End of the World."
In "Nomad," Herzog avoids making a straight biography of his friend, instead carrying his spirit forward. And, in seeing the world through Chatwin's eyes, Herzog has made one of his most unexpectedly personal films.
"Nomad" has its Madison premiere this week through the UW Cinematheque film series, which is virtual this semester due to the coronavirus. Viewers can email info@cinema.wisc.edu with "HERZOG" in the subject line to get a free screening link. You can hear me and UW Cinematheque director Jim Healy talking about the movie and Herzog's career on the newest episode of the Cinematalk podcast.
Chatwin and Herzog shared a fascination with traveling to the far-flung corners of the world, going to places that most travelers don't go. "The world reveals itself to those who travel on foot," Herzog has often said.
In "NOMAD," Herzog uses Chatwin's writings ("In Patagonia" and "The Songlines") as the guidebook to take him on his journey. He follows Chatwin's footsteps to Patagonia, where Chatwin was chasing down the source of a so-called "scrap of brontosaurus skin" he saw in a museum as a child. The skin actually turned out to belong to a prehistoric sloth, but that's beside the point. The quest became the inspiration for Chatwin's first book, and the cave where the skin was discovered is now a tourist attraction thanks to "In Patagonia."
Other sojourns take the viewer to the tip of Tierra del Fuego, to a giant prehistoric mound in Wales, and to the desert of Australia, where Chatwin became fascinated with the songs of Aborigine tribes there, songs that seemed to spring out of the landscape itself. Because of Chatwin's eagerness to dive down cultural rabbit holes and make connections that most people miss, Herzog likens him to "the internet." He means it as a compliment.
Much like Herzog, Chatwin never limited himself to the strict historical record; biographer Nicolas Shakespeare says wryly that Chatwin would never tell a half-truth, but more a "truth and a half." This reminded me of Herzog's interest in what he calls an "ecstatic truth," a poetic ideal that requires going beyond the facts for something more mysterious and elusive. "Nomad" visually captures this with its breathtaking photography, as Herzog uses drone cameras that sweep across the landscape in ways that are both thrilling and meditative.
But what sets "Nomad" apart from Herzog's other documentaries about the natural world is how clearly personal it is for him to honor Chatwin. He visibly tears up when talking about his final visit to see Chatwin on his deathbed. "I'm dying," Chatwin said. "Bruce, I can see that," Herzog responded.
Chatwin has been dead for over 30 years now, but every time Herzog sets foot in a new place, "searching for strangeness" as he puts it, he carries his friend with him. "Nomad" is a fittingly elliptical tribute to the writer's view of the world that reflects back to the filmmaker.
Stay up-to-date on what's happening
Receive the latest in local entertainment news in your inbox weekly!