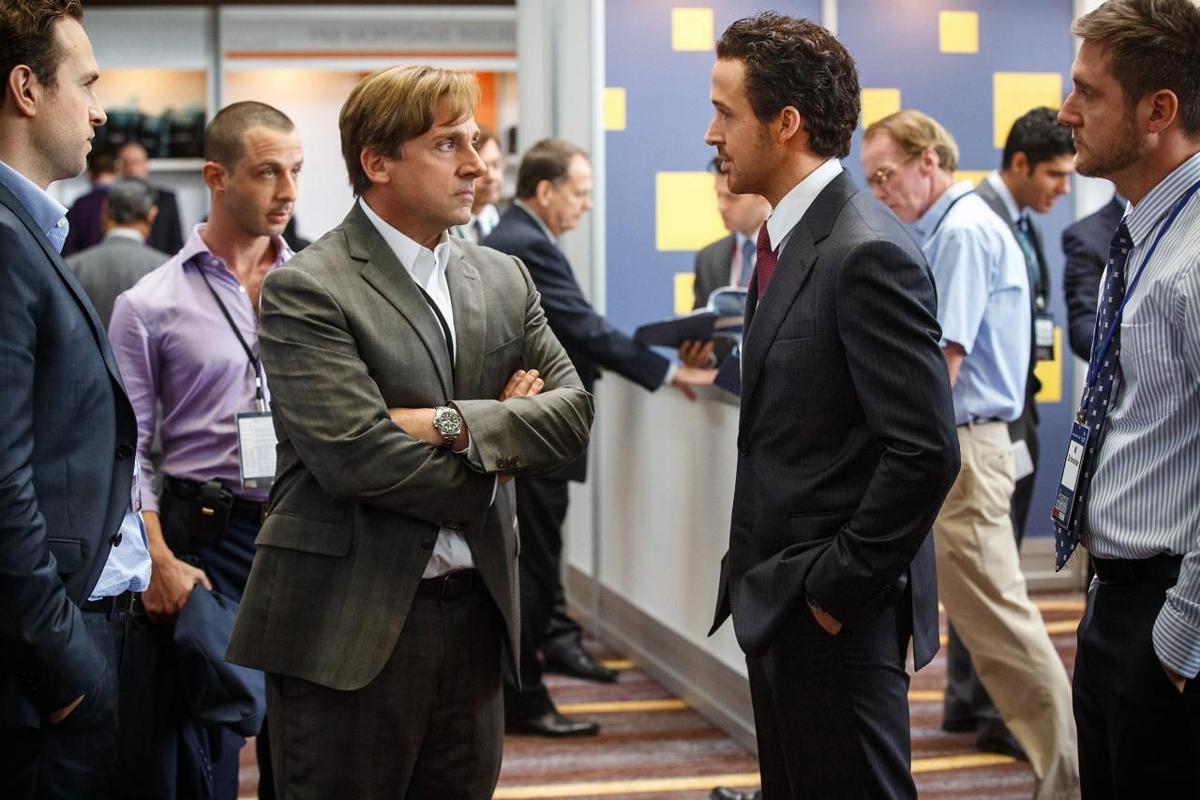 The end credits for the otherwise goofy 2010 Will Ferrell-Mark Wahlberg comedy "The Other Guys" featured a surprisingly detailed rundown of exactly how the 2008 financial crisis occurred. Writer-director Adam McKay ("Anchorman") was clearly enraged by what had happened in Wall Street, the toxic brew of arrogance, ignorance and corruption that led to a global meltdown.
McKay puts that anger front-and-center in "The Big Short," an adaptation of Michael Lewis' book, but it doesn't cloud his sense of humor. Like its oxymoronic title, "The Big Short" is a very funny movie that's dead serious about credit-default swaps and subprime mortgages, a great time at the movies that's also profoundly depressing at the end.
The movie focuses not on the perpetrators of the crisis — the banks that let the housing bubble swell and swell, raking in profits — but on a few smart outsiders who saw the inevitable burst coming. One of them is Michael Burry (Christian Bale) an eccentric financial whiz kid who favors cargo shorts and death metal, who actually reads the fine print on the housing loans that are the foundation of the mortgage bonds everybody's making money off of.
They're full of bad loans, and he foresees that they're going to go bust soon and take the market with it. So he does the unthinkable – "shorting" the seemingly infallible housing market by betting against it. Meanwhile, on Wall Street, short-fused hedge fund manager Mark Baum (Steve Carell), who has a voice like a malfunctioning car alarm, sees the same trends, and also decide to make the same bet. Also playing the same odds are a slick banker (a hilarious Ryan Gosling, almost riffing on Leo DiCaprio's "Wolf of Wall Street" character) and a reclusive ex-financier (Brad Pitt).
Does all this talk of housing bubbles and credit-default swaps make you want to go see "Daddy's Home" instead? As somebody says in the film, that's on purpose — Wall Street wants to bore you so you don't pay attention. The screenplay by McKay and Charles Randolph hilariously battles back against this by using every trick in the book to make the subject matter accessible and entertaining — onscreen graphics, montages, characters talking directly to the screen ("I can feel you judging me," one character says to the audience. "It's palpable."). There's even celebrity cameos, because maybe we'll pay better attention to a lecture on subprime mortgages if it's delivered by Margot Robbie in a bubble bath.
The performances are uniformly terrific — Bale and Pitt seem to relish the chance to play against type as finance nerds, Bale surprisingly sweet as a socially awkward genius. And Carell draws on his comic chops to play the blustering Baum, who steamrolls through meetings with a voice like a malfunctioning car alarm, while tapping into the character's deep well of sadness and sense of injustice.
Strangely, we come to root for these mavericks, even as they're betting against the American economy. But the joke ends up being on them. As cynical as they are, they're actually pretty naïve about how deeply corrupt the entire system is, with financial regulators, bond rating companies, even financial journalists all complicit in maintaining the illusion that all is well.
While "The Wolf of Wall Street" presented amoral behavior without comment and let us pass judgment, "The Big Short" shows no such restraint, wading into the fray with genuine fury and sadness at the damage wreaked on ordinary people by the financiers' arrogance. McKay's satirical blade has never been sharper, and never found more worthy targets.
The film even takes what seems like a direct swipe at our own Gov. Scott Walker, noting how the wealthy get bailed out while economic woes get blamed on "immigrants, the poor and, for the first time, teachers." "The Big Short" is one of the funniest films of the year — until it stops being funny.
Share your opinion on this topic by sending a letter to the editor to tctvoice@madison.com. Include your full name, hometown and phone number. Your name and town will be published. The phone number is for verification purposes only. Please keep your letter to 250 words or less.