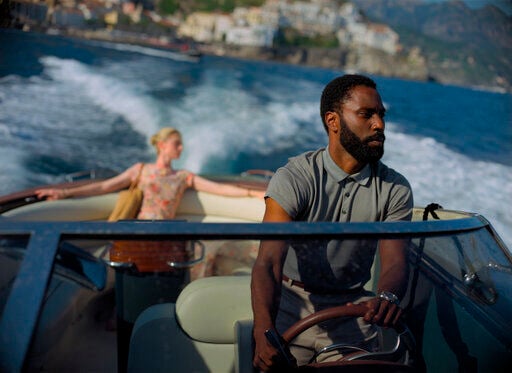 Note: "Tenet" is only playing in movie theaters, and was reviewed at a screening in a movie theater earlier this week. The review is about the film itself, and a positive review is not intended to be encouragement or an endorsement to go see the film in theaters right now. People should make up their own minds whether they want to see a movie in theaters now or wait until it arrives on video-on-demand or DVD. And if you do decide to go the theater, please abide by all theater and public health rules to stay as safe as possible.
In a year that seems to have bent time itself (all those photos from January that people are posting on Twitter now seem like artifacts from a bygone era), it is darkly fitting that the movie intended to bring people back to the theater is Christopher Nolan's "Tenet."
Time has always been Nolan's favorite subject, whether it's the chronology-reversed narrative of "Memento" or the nesting doll of timelines that made up "Dunkirk." "Tenet" is Nolan's attempt to outdo and subvert the James Bond thriller, a globe-hopping adventure that gets increasingly heady and convoluted as it goes forward. And then backward. And then forward again.
"Tenet" lacks the emotional undertow that often lurks beneath Nolan's intellectual puzzles — the unconventional narrative of "Memento" became an eloquent way of illustrating a man's unending grief and guilt, and the interlocking timelines of "Dunkirk" showed how soldiers at war depend on each other for survival.
Solve the puzzle of "Tenet," however, and all you're left with is a solved puzzle. It's a beautiful-looking puzzle, though, a sleek and engrossing movie that glides from one eye-popping action sequence to the next. I've seen movies that were inspired by articles from GQ magazine. "Tenet" looks like it was inspired by the ads.
From the first scene, a terrorist siege inside a packed Kiev opera house, the viewer is hanging on for dear life trying to follow Nolan's twisting story. As near I as I could follow, a CIA operative known only as the Protagonist (John David Washington) infiltrates the Ukraine police, hoping to rescue a high-value target caught inside the opera house. In the ensuing gun battle, the Protagonist seems to see the impossible — a bullet that flies backward into the barrel of a gun.
After he's captured, rescued and restored, the Protagonist is given a new assignment with only one code word, the palindromic "Tenet."  Tenet appears to be a secret organization looking into dangerous new technology, a form of radiation called "inversion" that can reverse the flow of time for objects, even people.
This isn't the same as time travel. It's as if Marty McFly's DeLorean hit 88 miles per hour and, instead of being zapped back instantly to 1955, continued driving through the mall parking lot, only backwards in time. Marty would see the world as running backwards like a rewinding videotape, and the world would see him the same way.
The technology has fallen into the hands of a vicious Russian oligarch named Sator (Kenneth Branagh) bent on using it to destroy the world, naturally. It's hard enough to catch a terrorist who wants to set off a nuclear bomb in the future. How do you catch one who can set off one in the past?
The Protagonist's quest to find the technology and stop Sator takes him from Mumbai to London to Oslo to the Amalfi coast. Nolan's screenplay is so dense with exposition, often muffled by background noise or Ludwig Goransson's bombastic score, that it's very easy to miss a plot point along the way. (When I rewatch "Tenet" on Blu-ray, I'm definitely turning on the subtitles.)
Best to just relax and enjoy the ride, especially the terrific action scenes that get more ingenious in the second half of the movie, where "inverted" characters revisit some of the action scenes from the first half of the movie, going backwards.
Washington makes a dashing and charismatic lead in his bespoke suits and designer polo shirts, although we learn little about the Protagonist's backstory or what makes him tick. When the Protagonist risks the mission to rescue Sator's abused wife (Elizabeth Debicki) it doesn't make sense that he cares so much, because we have no idea what he cares about. Robert Pattinson has a lot more fun as his wry sidekick Neil, who may have ulterior motives for joining the mission.
"Tenet" isn't top-tier Nolan, but it's big, bold and dense enough to keep you engaged for its 150-minute running time. And these days, the ability to lose track of time is a real gift.