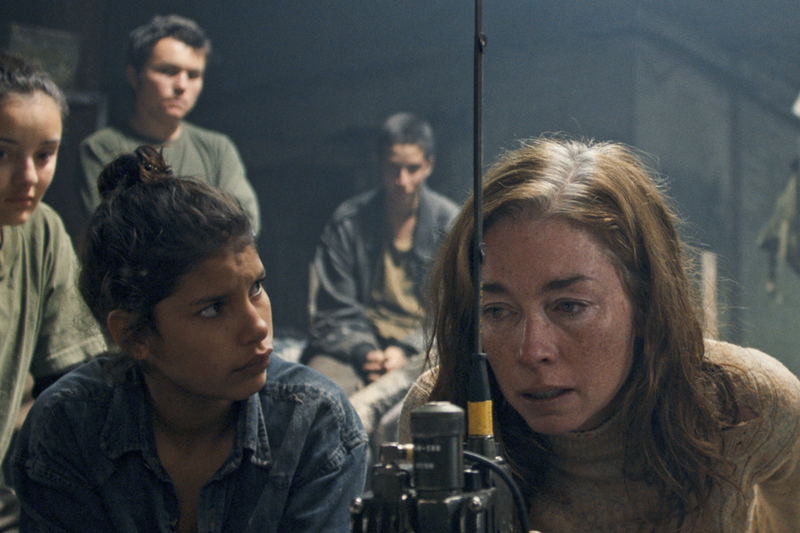 An American doctor is kidnapped in Latin America and held captive by a group of guerillas.
Most movies with this plot, certainly every Hollywood movie, would be told from the perspective of the captive doctor. But the masterstroke of Alejandro Landes' "Monos" is that it presents that scenario from the point of view of the captors, a motley bunch of teenagers held together by fear and ideology.
The result is a film, reminiscent of "Lord of the Flies," in which teenagers in isolation create their own society, modeled after what they see their adult counterparts doing, but warped by their own insecurities and desires. It's a fascinating, gorgeous and tense film.
"Monos" opens Friday at Marcus Point as part of Marcus Theatres' Hispanic Heritage Month.
When we first see the eight members of the squad, they could be horny teenagers out on a camping trip high atop a mountain. They dance around the campfire, have giggly dirt-clod fights with each other, and play soccer. It's only when one of them brings out an automatic rifle and fires it joyfully into the air that we realize these are not ordinary teens.
The teens have code names like Rambo, Wolf and Lady. Their captive, known only as Doctora (Julianne Nicholson), is kept deep in the ruins of a crumbling building. The soldiers' only contact with their superior (known only as "the Organization") is via radio. With their mountaintop outpost surrounded by clouds, it's almost as if the rest of the world doesn't exist, leaving the teens free to make and break their own rules.
Landes' cinematography highlights the idyllic nature of this existence, with a gorgeous primeval landscape all around, while also underscoring its dangers. These are, after all, teenagers with big guns and no supervision. Ordinary resentments, such as the envy that second-in-command Bulldog (Moises Arias of "Five Feet Apart") nurses toward squad leader Wolf (Julian Giraldo), can turn dangerous if not checked.
When their stronghold comes under attack, the soldiers pack up Doctora and head deep into the jungle to hide. On the run, tired and hungry, the soldiers start to lose their edge, and Doctora looks for ways to exploit their weaknesses and escape. As the viewer, we want her to escape, and Nicholson gives a ferociously raw performance as a woman driven to the brink.
But we also empathize with these kids, thrust into a situation for which they're clearly unprepared, viewed as expendable by their unseen superiors. Order and chaos, tenderness and brutality seem to be at war for their souls, and whether they soften or harden under pressure is always in doubt for the viewer.
"Monos" contains some extraordinarily tense action scenes, especially when Doctora makes her desperate bid for freedom. But it also contains poetic passages that are almost like an "Apocalypse Now"-style fever dream, with Mica Levi's unnerving score mixing tribal drums and siren-like drones. The combination makes for an intoxicating moviegoing experience, part action flick and part arthouse meditation.
Stay up-to-date on what's happening
Receive the latest in local entertainment news in your inbox weekly!