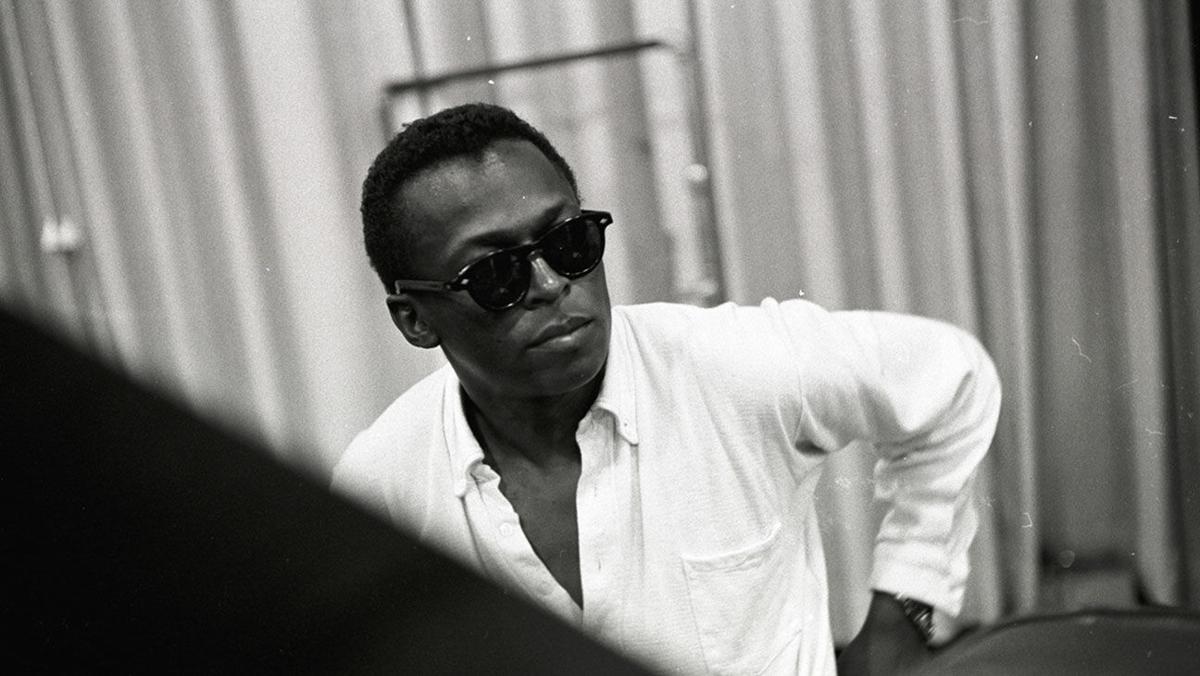 Throughout the documentary "Miles Davis: Birth of the Cool," director Stanley Nelson overlays the sound of Davis playing trumpet with evocative black-and-white images, of the great jazz legend, and just of street scenes that seem to fit the mood.
In one moment, as Davis plays, we see a romantic photo of a couple kissing at a table outside a closed Parisian café, late at night. But then the camera pulls back, and we see a tired waiter, his chin resting on his broom, waiting for the couple to finish so he can clean up and go home.
Such were the complexities of Davis' sound that the music seems to express the emotions of all three characters simultaneously – the passionate lovers and the lonely waiter. He may have been a difficult, off-putting person in real life – okay, he DEFINITELY was – but when he played, his music touched something deep and elemental inside the listener. As one interviewee puts it, "I want to feel the way Miles sounds."
Nelson, an acclaimed documentary filmmaker who brought his Black Panthers documentary to Madison in 2016, captures the contradictions and the genius of Davis in one two-hour film. The film was made for the PBS "American Masters" series and will air on the channel sometime in the future, but opens today at Market Square Theatre. It's worth seeing on the big screen for those resplendent black-and-white images, and to hear Davis' trumpet fill a theater.
Probably wisely, Nelson doesn't try to make a documentary that matches the boldness and audacity with which Davis approached his music. Instead, "Birth of the Cool" is a conventional mix of archival footage and interviews, with Davis' trumpet playing almost throughout the entire film. Actor Carl Lumbly approximates Davis' signature raspy voice in voiceover narration, reading excerpts from Davis' autobiography. (Although the running joke of the film is that, at some point, nearly everyone interviewed does an imitation of that rasp.)
Nelson tries to pack Davis' entire life into the film, starting with his upbringing on a farm in East St. Louis and ending with his shaky last performance at the Montreux Jazz Festival before his death in 1991. A deep dive into one slice of Davis' career – such as the recording of the titular album – might have been more satisfying.
But Nelson's cradle-to-grave approach does illustrate all the various phases of Davis' career, how as soon as he mastered one style of jazz he began restlessly looking for another. "To move the music forward, you have to take it somewhere it hasn't been before," one critic. While some of Davis' experiments were less fruitful than others (I'm not sure the world needed his cover of Scritti Politti's "Perfect Way"), the search was everything.
Nelson doesn't sugarcoat the more disagreeable aspects of Davis' nature – his first wife, Frances Taylor Davis, talks about how Davis hated when she got attention, and bullied the trained dancer into quitting the original Broadway production of "West Side Story" out of jealousy.
Mixing interviews with luminaries like Quincy Jones, Carlos Santana, Herbie Hancock and Marcus Miller, "Birth of the Cool" is at its best celebrating and deconstructing the music, explaining just what about Davis' playing was so distinctive and magical. Illness, addiction and his own personal demons cut his life and career short, but he left so much behind.
Stay up-to-date on what's happening
Receive the latest in local entertainment news in your inbox weekly!