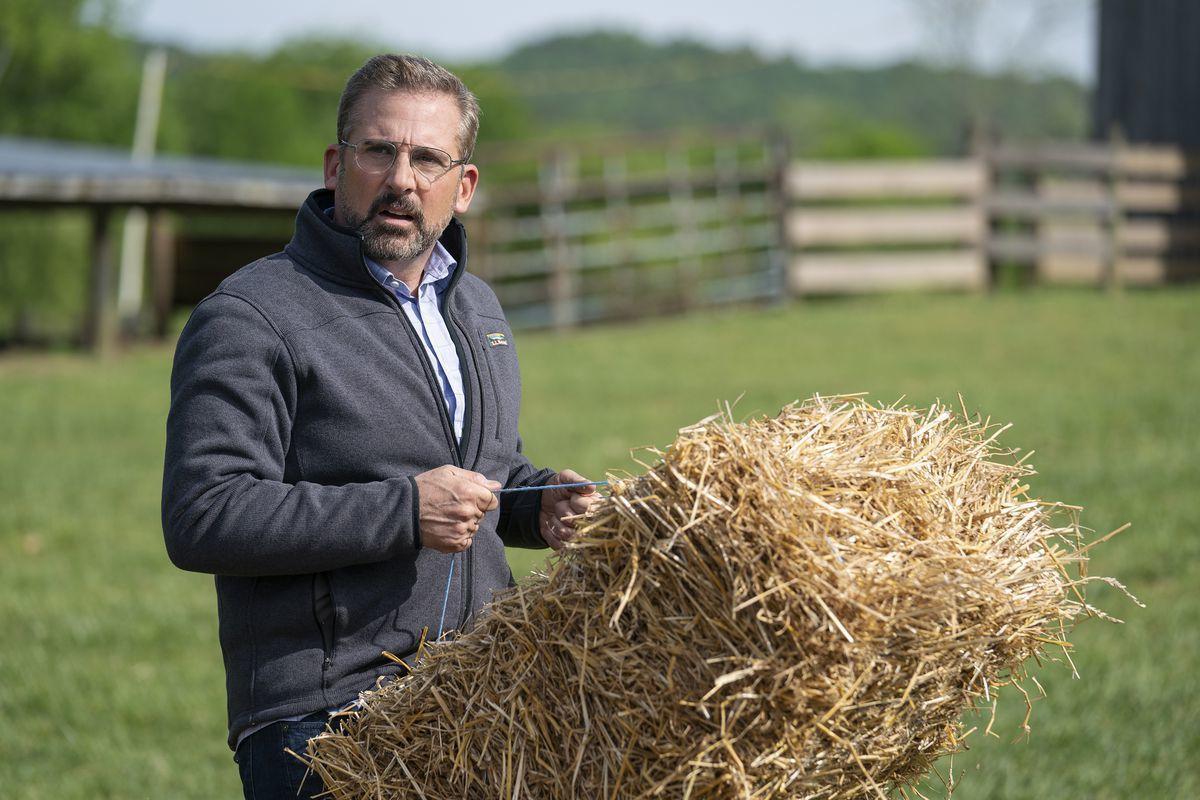 Two-and-a-half years later, Stewart's Wisconsin-set political comedy "Irresistible" will arrive Friday on video-on-demand. Even though the film was actually shot in tax-friendly Georgia, the movie abounds with Wisconsin references, from a debate over the deliciousness of cheese curds to cameos by WISC-TV/ Ch. 3 anchors Eric Franke and Charlotte Deleste.
When the film's main character, a ruthless Democratic political consultant named Gary Zimmer (Steve Carell), is asked by a couple of rural fellas if he's ever been to Wisconsin before, he says that he "spent a fair amount of time in Madison."
Despite those regional shout-outs, "Irresistible" is a fairly universal comedy about American politics. And it may not shock you to learn that Stewart is not a huge fan of how politics is currently practiced.
In "Irresistible," Stewart couches some pointed barbs on political partisanship, and the entrenched interests in both parties that profit off it, inside a relatively genial political comedy in the vein of "Dave." The mix of sweet and sour laughs doesn't always blend well, but this is a more sly film than it first lets on.
The movie opens in 2017 with Gary, who worked on the Hillary Clinton campaign, still nursing a Trump hangover. Desperate to make inroads with rural voters, he seizes on a viral video an aide shows him in which a Wisconsin farmer named Jack Hastings (Chris Cooper) rails against the city council of (fictional) Deerlaken about an anti-immigration measure.
A pro-immigrant swing-state farmer who quotes Patton AND the Bible? It's almost too good to be true; "he's a cross between (General Douglas) MacArthur and elk jerky!" Gary enthuses.
Gary heads to Deerlaken to convince Jack to run against the incumbent mayor, using the local election to road-test slogans and tactics that he wants to use to appeal to moderates in 2018 and 2020. It's a cynical ploy, and soon Gary is bringing the best and worst of national politics to little Deerlaken, including big-money donors and attack ads from shadowy third-party groups with names like Wisconsinites for Religious-based Compassion and Empathy. The fair-minded Jack reluctantly goes along for the ride despite his misgivings, as does his daughter (Mackenzie Davis), who Gary takes a shine to.
The race brings a lot of national media attention, and it also brings Faith Brewster (Rose Byrne), a ruthless Republican strategist and Gary's arch-nemesis. Faith goes to work running the incumbent mayor's campaign, and things escalate from there, turning sweet little Deerlaken into the epicenter of scorched-earth politics.
Stewart gets a looser, funnier performance out of his old "Daily Show" correspondent Carell than many directors have done lately, as Gary gets more and more desperate trying to turn his cheerful small-town volunteers into political killers. He's like the "Music Man," if the music was Rachel Platten's "Fight Song." And Byrne has perfected the blasé amorality of a cable news pundit who lies almost without thinking. Gary can only look on in horrified admiration.
Stewart's screenplay settles for small chuckles rather than the big laughs of something like "Long Shot." And by depicting the politicos as cartoonishly devious figures, but the Deerlaken residents as honorable, salt-of-the-earth types, there's a whiff of condescension toward the Heartland that's not too far removed from one of those political ads that Stewart hates.
But the film reaches a moment, just before the third act, where we assume that Gary will suddenly have a crisis of conscience, infected by the sheer decency of Deerlaken, and renounce dirty politics. That's what's supposed to happen in these political comedies, right?
It doesn't happen. Instead, Gary becomes even more of an amoral jerk than before, and it dawned on me that "Irresistible" might have more up its sleeve than I expected. It's not a perfect movie by any means. But like a good candidate, it finds its legs in the homestretch, and gets a cautious endorsement for that.
Stay up-to-date on what's happening
Receive the latest in local entertainment news in your inbox weekly!