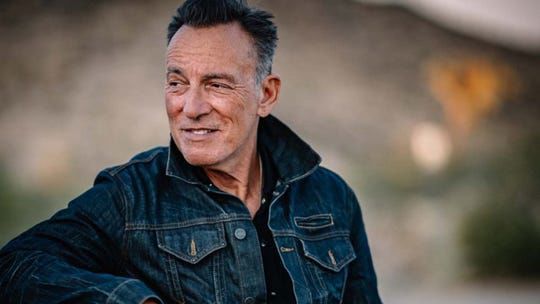 They may ride old Cadillacs instead of horses, and work in steel mills instead of cattle ranches. But the working-class characters in Bruce Springsteen songs – taciturn, damaged, searching — seemed to have a lot in common with cowboys.
Springsteen makes the connection explicit on his new album "Western Stars," which is not really a country album, but sweeping country-accented pop in the Jimmy Webb/Glen Campbell mode. Now comes a film, also called "Western Stars," that showcases the 13 songs on the album and the philosophical musings that propelled Springsteen to write them.
Part concert film and part documentary, "Western Stars" features Springsteen performing each of the songs in an old barn, converted into a warm and inviting performance space that looks not unlike the High Noon Saloon. One might assume Springsteen would go for a stripped-down sound in such an environment, but instead he's joined on stage not just by a band but by a full orchestra, filling the century-old barn with luscious strings and rich harmonies.
The arrangements are gorgeous, and really open up the songs on the album in a thrilling way, from the sweep of "Wayfarer Baby" to the exuberant cover of Campbell's "Rhinestone Cowboy" that closes the film. It goes without saying that the bigger a Springsteen fan you are, the more entranced you'll be by "Western Stars." But it's such an original and unexpected way of presenting the music that even non-fans have to respect.
There's a visual irony here that Springsteen (who co-directed with Thom Zinmy) is fully aware of. The space is authentic, but the orchestral sound is ambitious. The songs on "Western Stars" are about lonely old men – faded Western actors, retired stuntmen – but Springsteen tells their stories in a space full of other people.
Most notably, his longtime wife and collaborator Patti Scialfa is right by his side, her vocals providing a vital part of the songs' emotion and majesty. When she harmonizes with Springsteen on the bleak "Stones" ("You say those are the only lies you've told me"), it's like we're hearing one Springsteen – the taciturn loner who won't let people in – and seeing another – the family man who let others into his heart.
That very American tension – between rugged individualism and the need to be part of a community – is at the heart of "Western Stars," Springsteen says at the start of the film. In between each song are little interludes, like cinematic liner notes, in which Springsteen introduces each song while being photographed in the stark beauty of California's Joshua Tree National Park.
These interludes continue the introspection and self-examination that Springsteen has been undertaking over the last few years, making "Western Stars" a companion piece to his "Springsteen on Broadway" series and his biography "Born to Run." While still fairly guarded about his personal life, Springsteen alludes to the mistakes he's made and the doubts he's had on the road to 70. "For a long time, if I loved you, or if I felt a deep attachment to you, I would hurt you if I could," he says at one point. "But I've gotten better."
Springsteen sees Scialfa as his saving grace, and "Western Stars" can be read as a love letter to her. The film includes snippets of their personal home movies, some of it delightfully goofy in the way anybody's home movies can be, with the couple waving cheerfully at the camera.
"Western Stars" presents a musician who, a half-century into his career, is doing some of his most interesting work both creatively and personally. And, while he speaks with hard-won wisdom about what he's learned about life, he seems to have no intention of riding off into the sunset for some time yet.
Stay up-to-date on what's happening
Receive the latest in local entertainment news in your inbox weekly!