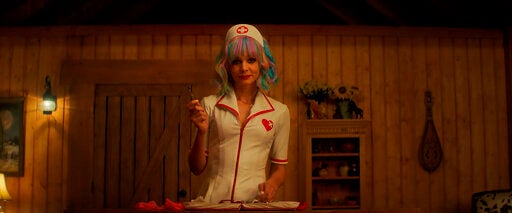 Note: "Promising Young Woman" is only playing in movie theaters, and was reviewed from a digital streaming link. The review is about the film itself, and a positive review is not intended to be encouragement or an endorsement to go see the film in theaters right now. People should make up their own minds whether they want to see a movie in theaters now or wait until it arrives on video-on-demand or DVD. And if you do decide to go the theater, please abide by all theater and public health rules to stay as safe as possible.
I would have enjoyed "Promising Young Woman" more, but admired it less, if it had been the straightforward feminist revenge thriller it promises to be. There would have been something darkly satisfying about watching an avenging angel exacting bloody retribution against sexual predators.
But "Promising Young Woman," the stylish, acid-dipped debut from writer-director Emerald Fennell ("Killing Eve") mostly denies us this catharsis, going for something more twisty and queasy. It features a ferocious lead performance by Carey Mulligan that could define the next phase of her career the way "An Education" did over a decade ago.
Cassie, played by Mulligan, first appears slumped on a couch in a seedy bar in a disheveled business suit, seemingly an appletini away from complete unconsciousness. A supposed "nice guy" (Adam Brody) comes over under the guise of being concerned and cajoles her into his car.
Before you know it he has her back in his apartment, unbuttoning her shirt against her feeble drunken protestations. Until, in a flash, she affixes him with an icy stare, and asks "What are you doing?" She's been sober the whole time, letting him think he's taking advantage of her before turning the tables.
Every weekend, Cassie goes out to the bars and lays herself out as bait for a potential date rapist. Fennell casts actors known for playing good guys, like Brody, Christopher Mintz-Plasse of "Superbad" and Sam Richardson of "Veep" in these roles to maximize our discomfort. We don't see what happens after Cassie has called them out, but she keeps a notebook under her bed full of blue and red hashmarks, one for each guy she's caught.
When she's not in bars trolling for social monsters, Cassie lives in a state of arrested adolescence, at home with her parents (Clancy Brown and Jennifer Coolidge) in a house that looks like an American Girl playset. She seems to really only come alive when she's on the hunt. The film drops hints of a troubled past — a promising stint in med school cut short, a best friend meeting a tragic end, a crime covered up.
That past gets stirred up when she runs into Ryan (Bo Burnham), a wry, charming pediatrician who Cassie knows from her med school days. Ryan is unflappable in the face of Cassie's hostile demeanor, and Cassie kind of respects him for that. They go out and have a good time, offering the possibility of a normal adult relationship for Cassie. But Ryan's presence also reawakens Cassie's memories of what happened in med school. She's determined to seek some kind of revenge against both the perpetrators and those who covered it up, from a mutual friend (Alison Brie) to a college administrator (Connie Britton).
Fennell bathes Cassie's world in teenage pinks and blues, the soundtrack a collection of squeaky, plastic pop songs. It's like she's seeking justice while living inside a Justice store at the mall. Mulligan is excellent at showing how effortlessly Cassie inhabits different roles to lull her victims and lower their guards, her anger barely concealed behind a friendly smile.
But there are lines that Cassie won't cross, and part of the suspense of the movie comes from trying to figure out how far she'll go. (Part of the frustration in watching "Promising Young Woman" comes from thinking she doesn't go far enough.) Mulligan shows us the broken core beneath her single-minded crusade, and her realization that finding justice for her dead friend won't quiet her self-destructive rage.
And that's if justice is even achievable. As devious and driven as Cassie is, she's up against a pervasive, misogynistic culture where people wonder what date rape victims were wearing or drinking that night, and whether a man should be punished for one "20-minute mistake," as the father of convicted rapist Brock Turner put it.
Cassie's idea of justice is simply to show these men, these self-proclaimed "nice guys," exactly who they are. It's not much — it's not nearly enough. But for Cassie, it will have to do.