Around mid-July, filmmakers Joe Shaffer and Adam DeSantes reacquainted themselves with an important part of summer in Madison.
The sun.
Up until that point, the friends had spent much of their summer break in a basement apartment all day shooting their first feature film, "Calliope."  
"I felt like a cave dweller," said Shaffer, who is studying film at NYU. "When the movie ended, I walked outside and realize I hadn't been outside during the day. My eyes are still adjusting to the light."
"It was definitely so all consuming," said DeSantes, who attends college at Wesleyan. "I felt like we were in a different world."
It takes a true love of film to give up nice weather in Wisconsin for your art, and DeSantes and Shaffer have that passion. They met in a youth improv class at the beginning of high school and started making short films together. Shaffer attended West while DeSantes went to Middleton.
"We were anxious kids looking for an identity," Shaffer said. "We just found that we liked working on films together more than anything else. We'd just hang out on Friday nights and edit. It became a shared obsession."
After making about a dozen short films, including "The Searcher," which won a Wisconsin Film Festival Golden Badger Award in 2015, the pair decided it was time to try their hand at a feature.
"I think we felt limited by shorts," DeSantes said. "We always wanted to tell this big story."
"That was a problem with our shorts," Shaffer added. "They would be these epic things that we didn't have the money to do. We had one where you're in the bordello of the Canaanite goddess of love. And we were juniors in high school."
The filmmakers raised $11,000 to make "Calliope," an independent science fiction film in the vein of "Primer" or "Sleep Dealer." Taking place in the near future, the film looks at a burned-out young couple who find a new way of making money: selling their dreams to the highest bidder.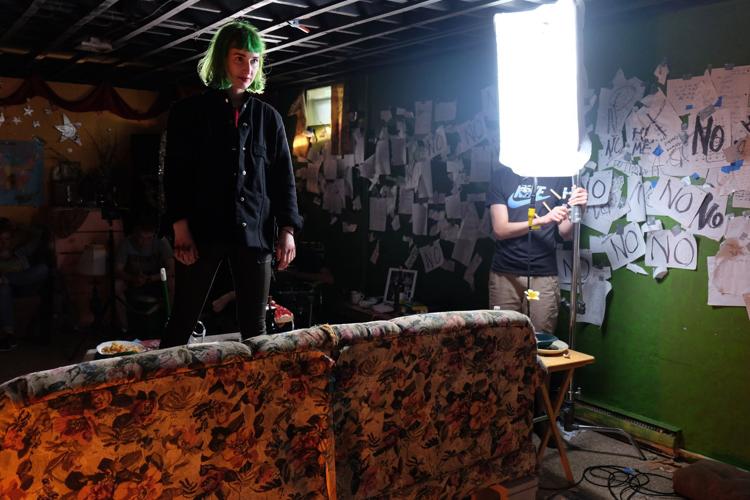 The film comments on how technology has changed ordinary life, from sharing your innermost thoughts on social media to being addicted to your screen. The irony, though, is that modern technology was essential to "Calliope" getting made, from cheap digital cameras to Skype pre-production meetings to online crowdfunding.
"This movie is about technology and how that can distract and isolate you," DeSantes said. "But this movie totally would not have been possible 10 years ago."
In order to make a film on a shoestring budget, the two filmmakers said extensive planning was essential to make sure they wasted as little time as possible. They talked by phone and Skype all spring with each other and with their crew, and drew up extensive, detailed schedules of which shots would be filmed on which days.
"There were no arguments left to have (when it was time to shoot)," Shaffer said. "We could work really efficiently."
Now the friends are spending the rest of the summer in the editing booth putting the film together, a process they both love.
"We love editing," Shaffer said. "I really think editing is the fundamental grammar of a film. Putting one image in front of another is how you create meaning in film."
After that, Shaffer said they will start submitting "Calliope" to film festivals. He said it's becoming more and more common for "micro-budget" films like theirs to become successes.
"There are good films being made on our budget. We think our film is good. We're waiting to hear if the world thinks it's good."