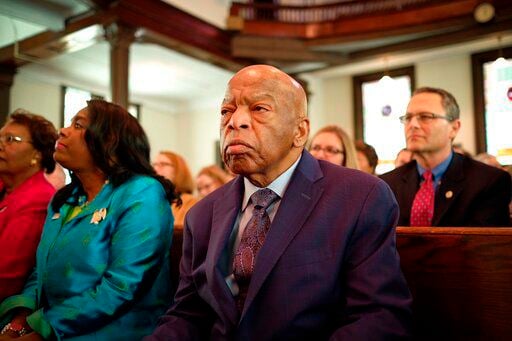 They wore blue construction hardhats instead of military-style protective gear, and brandished wooden clubs instead of pepper spray and rubber bullets.
But the footage of Alabama police, lined up to stop John Lewis and other civil rights protesters from crossing the Edmund Pettus Bridge in 1965, has a sickening familiarity to a viewer in 2020.
At 80, Congressman John Lewis is the last person alive to have spoken at the March on Washington, a civil rights icon who has fought the good fight from both outside and inside the system for over a half-century. Dawn Porter's documentary "John Lewis: Good Trouble" is sometimes frustratingly shallow in its look at his life and accomplishments. But that life, and those accomplishments, are so inspiring that they overcome the film's shortcomings.
"John Lewis: Good Trouble" is being released Friday on video-on-demand through iTunes, VUDU, Amazon Video and other sites.
In the film, Lewis literally looks backward on his life, as Porter films Lewis watching archival footage from the civil rights era. There's a young Lewis at a segregated lunch counter in Nashville, where activists were harassed and beaten. There he is at the National Mall at the March on Washington, telling the crowd of over 200,000, "How can we be patient? We want our freedom, and we want it now." And there he is, his head heavily bandaged, after the police assault on protesters on the Edmund Pettus Bridge.
The footage is fascinating, and Lewis seems transfixed watching it. I was particularly struck by the "non-violence training" that the Nashville protesters went through, role-playing sessions where they were taught to withstand racist taunts and abuse without reacting in kind. "When he strikes you on the cheek, you look him in the eye," they're instructed.
Lewis was arrested 40 times during the civil rights movement, and another five as a U.S. Congressman representing Georgia, a position he's held since he defeated his close friend Julian Bond for the seat in 1986. 
A half-century after the 1965 Voting Rights Act prevented states from disenfranchising voters with poll taxes, literacy tests and other shenanigans, "Good Trouble" documents how the right to vote is under assault by new voter suppression tactics like voter ID laws, voter roll purges and closed polling locations, all of which disproportionately disadvantage Black voters. Once in the streets, now in the corridors of power, Lewis remains in the thick of the fight.
Singing Lewis' praises in the documentary are Bill and Hillary Clinton, Rep. Alexandria Ocasio-Cortez and Rep. Ilhan Omar. There's also one Republican, Wisconsin's retiring Rep. Jim Sensenbrenner, who says he's proud of the bipartisan Voting Rights Amendment Act he co-sponsored with Lewis in 2019. (The bill passed in the Democratic-controlled U.S. House of Representatives, but has yet to be brought up for a vote in the Republican-controlled U.S. Senate.)
Porter declines, oddly and disappointingly, to draw a line between Lewis' protests in the 1960s and the Black Lives Matter movement. Certainly, "Good Trouble" was completed before the nationwide wave of protests this summer in the wake of the death of George Floyd (Lewis has spoken approvingly of the largely peaceful protests, exhorting activists to "give until you cannot give any more.")
But Black Lives Matter's fight against police brutality and systemic racism has been going on for several years now, and the omission of any mention of the movement is glaring. Instead, "Good Trouble" finds time for relatively routine scenes of Lewis being greeted by supporters at the airport, talking to his constituents in his Atlanta office, or even dancing to Pharrell Williams' "Happy."
Meanwhile, there is what Lewis calls "good trouble, necessary trouble" happening in the streets, inspired by Lewis' example. Even if the film can't see it, Lewis does, and so do we.
Stay up-to-date on what's happening
Receive the latest in local entertainment news in your inbox weekly!