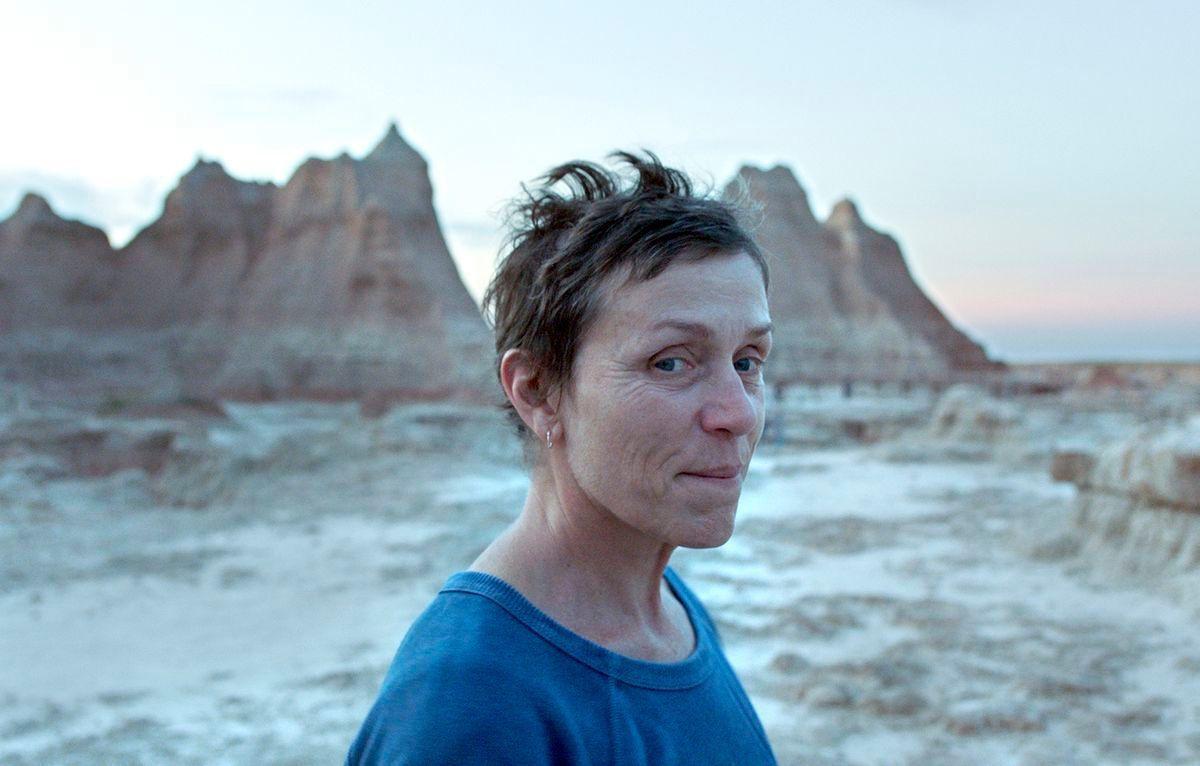 Sean Baker's "The Florida Project" featured a cast made up almost entirely of non-actors, the better to give a feeling of authenticity to a film about people living on society's margins. But then, smack dab in the mix was the very recognizable Willem Dafoe. But Dafoe's performance was so understated and lived-in that he blended right in.
I had the same uncanny feeling while watching Frances McDormand in Chloe Zhao's wonderful and heartbreaking "Nomadland." McDormand is a two-time Oscar winner who has appeared in movies since 1984's "Blood Simple." But I almost immediately forgot all that, and felt I was watching the life of a real, complex woman.
"Nomadland" will formally be released in theaters by Searchlight Pictures on Dec. 4, but it can be viewed online at 8 p.m. Saturday as part of the all-virtual New York Film Festival.
McDormand plays Fern, a woman whose home has vanished off of the face of the earth. She and her husband worked for a gypsum mine in the company town of Empire, Nevada. But her husband died, and the company went bankrupt, and Empire became a ghost town. The U.S. Post Office even discontinued its zip code. (This really happened in 2011.)
Fern packed up her van, hit the road and never stopped driving. "I'm not homeless, I'm just houseless," she tells a concerned old friend at one point. "Not the same thing, right?"
Living out of her van, Fern chases seasonal work across the Western half of the United States. During the holidays, she packs boxes at a cavernous Amazon processing facility; in the summer, she serves tourists at South Dakota's famous Wall Drug. McDormand reportedly spent months on the road trying to live as much like Fern as possible, working those jobs and sleeping in that van.
It turns out there are a lot of people like Fern, older Americans who live in a state of perpetual motion, moving from place to place, going where the work is. The film is based on a nonfiction book of the same name by Jessica Bruder.
Zhao uses non-actors, real American nomads living this life, and "Nomadland" feels like a drama that has been placed inside a documentary about their world. She accomplished the same trick with "The Rider," in which real people acted out a story that echoed their lives.
"Nomadland" portrays this wandering life as one of both freedom and desperation. Fern and her fellow travelers can go wherever they want to, but they're always one blown transmission or lost paycheck away from financial disaster. There's a camaraderie among them, such as at meet-ups at the desert that are sort of like weekend conferences for the houseless. But each is ultimately alone, traveling their own road.
McDormand embodies that sad contradiction so beautifully as Fern. She's a kind and caring woman, quick to help out a fellow nomad or give a warm hug. But if someone gets too close, like a nice man played by David Strathairn, she feels jumpy and hemmed-in. When we see her alone in her van, looking through old photographs of her husband and family, we see she's not running from her past. She's carrying it with her.
Zhao and cinematographer Joshua James Richards capture the beauty and brutality of this world, with gorgeous shots of the Western landscape combined with drearier shots of all-night laundromats, empty parking lots and sterile employee break rooms. Ludovico Einaudi's gorgeous piano-and-strings score follows Fern throughout her journey.
There's something so quintessentially American about this story of rootless people, both attracted to and trapped by their yearning for the open road. In 2020, when we all feel unmoored and alone to some extent, its power is even more deeply felt. "Nomadland" is an indelible experience and one of the best films of a very strange year.
Stay up-to-date on what's happening
Receive the latest in local entertainment news in your inbox weekly!