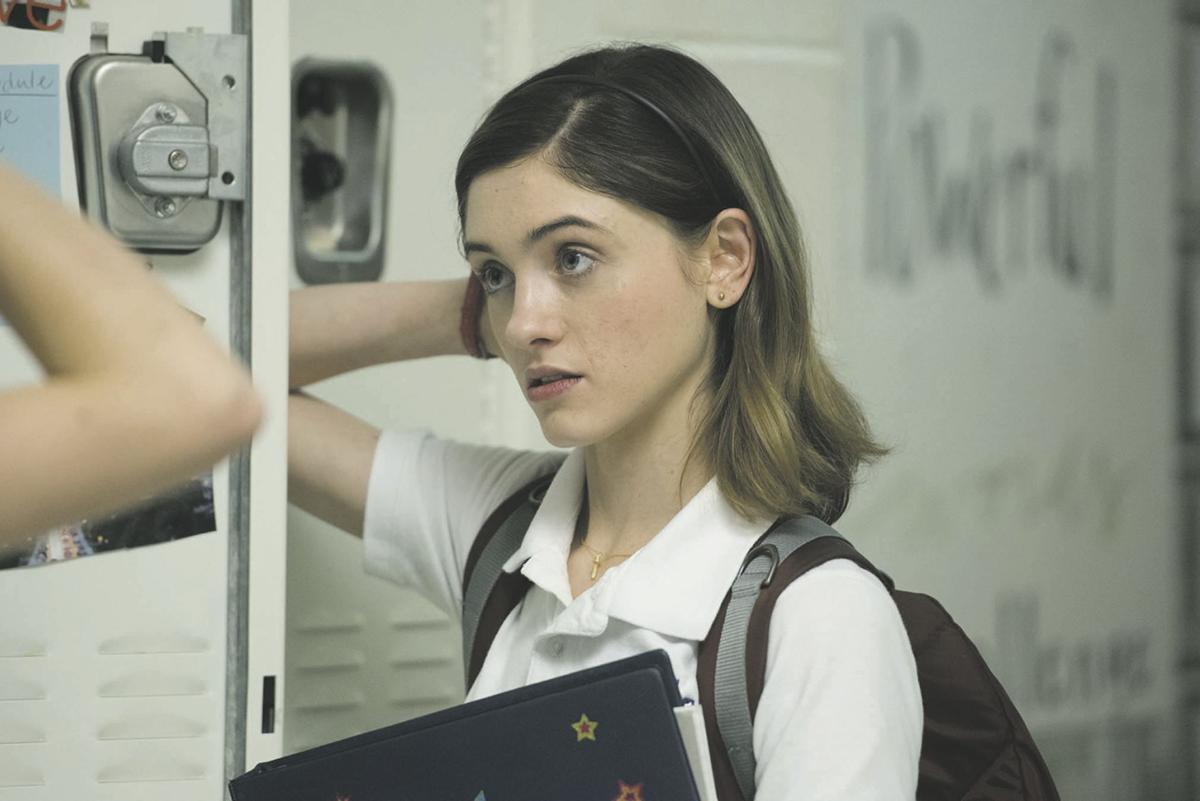 Will you go to Hell if you watch the sex scene in the car from "Titanic"? What if you rewind the videocassette to watch it a second time?
These theological questions and more are explored in writer-director Karen Maine's sensitive and funny "Yes, God, Yes." Based on Maine's own experiences growing up Catholic in the late 1990s, the movie finds laughs and poignancy in the absurd lengths a pious teenage girl goes to deny her hormonal urges. The film is now available on video-on-demand from VUDU, Amazon Prime, iTunes and other streaming sites.
Alice (Natalia Dyer of "Stranger Things") is a teen growing up in small-town America in the early 2000s, and the film is full of funny cultural signifiers of the era, from nuns reading copies of "The Pelican Brief" to Alice's prized "banana phone."
After that furtive repeat viewing of Jack and Rose in the car, Alice is terrified and ashamed at the sinful forces ranging inside her. One of the vivid recurring jokes of "Yes, God, Yes" is how restrained it is, because Alice is so self-repressed that almost anything can trigger impure thoughts, such as a peek at a pair of hairy forearms.
Her shame is heightened by the instruction she gets at her Catholic high school, where the girls are taught that they must resist temptation because the boys "just can't help themselves." In one of his many misguided "teen talks," Father Murphy (Timothy Simons of "Veep") likens the male sex drive to an instant microwave while the female sex drive is more like a slow-cooking oven.
The sexism extends from the classroom to the lunchroom, where Alice is the subject of a slut-shaming rumor by the other girls, which is even more embarrassing for her because she doesn't even understand the sex act she's accused of committing.
Much of "Yes, God, Yes" takes place at a weekend youth retreat which seems like part summer camp, part re-education camp. The students and pastors all wear matching sweatshirts ("Yes, God, Yes" captures the true horror of seeing your pastor in jeans and a sweatshirt) and indulge in a bizarre mix of touchy-feely exercises and humiliating public confessions. In one scene, the teens form a circle, swaying back and forth as Peter Gabriel's "In Your Eyes" plays on a boombox. ("I want you to imagine that the eyes in the song are Jesus' eyes," Father Murphy instructs.)
Alice struggles to walk the straight and narrow path laid out for her, although she's easily distracted by hunky counselor Chris (Wolfgang Novogratz) and his hairy arms. Dyer beautifully plays all the raging emotions that Alice has to keep under wraps — desire, shame, frustration, anger.
Eventually, Alice comes to an epiphany, but it's not the one that Father Murphy wants her to reach. Instead, she sees that the adults in her life are just as confused as the teenagers are, projecting a false certainty to hide the fact that they're just making it up as they go. But Maine delivers this verdict with empathy even for the most misguided souls in the film.
A traditional raunchy teen comedy would focus on whether or not Alice ends up with Chris or not, but "Yes, God, Yes" is more interested in Alice's personal emancipation, discovering there's more to life than sex-phobic lectures and small-town gossip.
"Yes, God, Yes" is rated R, despite the lack of any nudity, and very little sexuality or foul language. Did Father Murphy come up with the rating for this?
Stay up-to-date on what's happening
Receive the latest in local entertainment news in your inbox weekly!