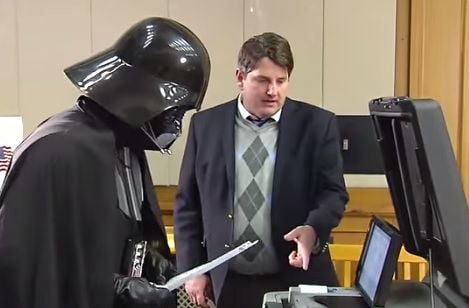 This November, every voter needs to have an ID — whether the Force is with them or not.
The Dane County Clerk's Office released a new video Friday explaining Wisconsin's new voter ID law and starring Chad Vader, star of the popular Madison-based web series. Dane County Clerk Scott McDonell had previously enlisted the brother of the Dark Lord to explain the county's new laser scanning systems.
In the video, Chad (played by Aaron Yonda, voiced by Matt Sloan) goes to the polls and learns that nobody is exempt from the law. "I made a rather large contribution to the Senate Imperial Reelection Committee. This puny law is not intended for a Lord of the Sith. It's for rebel scum like yourself."
But it does apply, and Chad has to head to the Department of Motor Vehicles to get an ID. McDonell said last month he hopes the video will reach younger voters who might not be tuned in to radio or TV ads.
"They take in content differently," McDonell said. "We want to have something that will get some attention."
Eventually Chad gets his ID and is able to vote, although he's less successful trying to woo poll worker Sarah (Madison comedian Sarah Connor).
"Looks like I've been exiled to the friend sector," Chad muses. "At least I don't need a voter ID for that."
Stay up-to-date on what's happening
Receive the latest in local entertainment news in your inbox weekly!