A new documentary about Wisconsin politics, "Can You Hear Us Now?" could be considered a riff on the Frank Capra classic, "Mr. Smith Goes to Washington."
But Susan Peters' and Jim Cricchi's film shows how extreme gerrymandering has warped state politics, so "Ms. Smith Doesn't Go to Madison" would be more apt.
The film follows four women getting involved in politics in the 2018 election, including two first-time candidates for state Assembly, Rebecca Clarke in District 26 and Jennifer Estrada in District 25, both Democrats running grassroots campaigns. Spoiler alert: They didn't win, and "Can You Hear Us Now?" shows the uphill climb that first-time candidates have in unseating well-funded incumbents in districts drawn to favor them.
"I think there was a point in filming where I was like, 'Of course they're going to win! These people are amazing!" Cricchi said in a phone interview. "And Susan was like, 'I'm not sure any of our characters are going to win.'"
"One of the things that was kind of hard to get my head around was that these people are running for things that they're not going to win, right?" Peters said. "Why? What makes someone do that? How do they believe they can win? All of those things are so interesting and, I think, really important."
"Can You Hear Us Now?" gets its Wisconsin premiere this week through the UW Cinematheque, which is doing all of its screenings virtually this fall due to the coronavirus. Email info@cinema.wisc.edu with "DEMOCRACY" in the subject line, and the Cinematheque will send out a free screening link Thursday afternoon to watch the film.
The film looks at the state of Wisconsin politics in 2020 from the inside and the outside. Cricchi and Peters spent three months and put 15,000 miles on their car shooting footage of the state, following not just Estrada and Clarke but voting rights advocate Molly McGrath as she went door to door helping residents through the state's arduous voter registration process (including voter ID), and Sheila Plotkin, a Madison activist whose website "We the Irrelevant" tracks legislators' actions (or, in the case of COVID-19 legislation, inaction).
But the film also pulls back to provide necessary context, showing how the GOP-controlled Legislature redrew the district maps in 2011 to heavily favor Republicans. In 2018, Democrats won every statewide office, getting 190,000 more votes statewide than Republicans. Yet Republicans kept 63 of 99 Assembly seats.
That inside-outside perspective reflects Peters' and Cricchi's points of view. Peters grew up in Fond du Lac, and the couple frequently return home to visit family. Having both perspectives is valuable in seeing how Wisconsin has changed over the last decade.
"Being there with Jim, it's been a little eye-opening," Peters said. "You come from a place and you go back and see things you're familiar with, and you're like, 'We're like this.' But then someone else comes along and points out, 'You say that, but it doesn't look like that anymore.' It helps you change your perspective."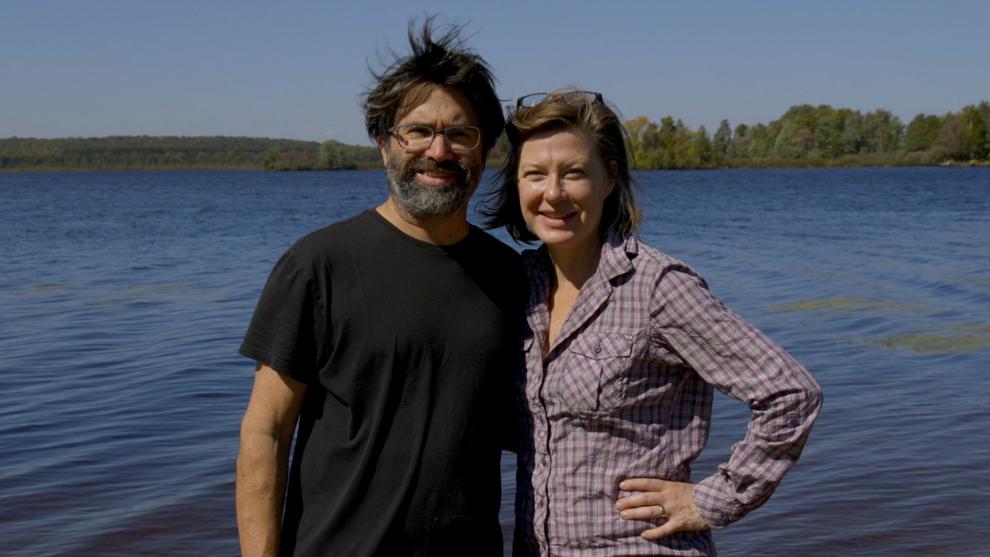 The filmmakers' first film about Wisconsin was a 2017 short, "Los Lecheros," about immigrant dairy workers in Wisconsin, made in partnership with the Wisconsin Center for Investigative Journalism. It was while shooting that film that they met Estrada, a volunteer for the immigrant rights group Voces de la Frontera.
Originally, the film was much more expansive, also covering Gov. Tony Evers' campaign and the Foxconn deal, but decided it would be best to focus on the four women and their overlapping goals to improve politics in Wisconsin.
Cricchi and Peters said it wasn't a challenge to get the women to agree to let the filmmakers follow them around. What was a challenge was keeping up with them.
"They were really hard to follow around just because of their lives," Peters said. "I mean, Molly McGrath probably slept like four hours a night. Jenni, you couldn't get an appointment. Rebecca, you couldn't get an appointment. You never knew what day or what time you were going to go somewhere. They were just running 24/7."
Getting any time with their incumbent Republican opponents was very difficult, Peters said. Their absence on screen ends up being a metaphor for how disconnected they are from their districts, she said.
"That seems to be the experience of a lot of people in the film: 'We never see these people,'" Peters said. "They're not a part of our community. They don't seem to be out here. They're not paying attention to us. And so then we were like, 'Well, I guess it's appropriate.'"
Cricchi and Peters said they pushed to make the film available before the Nov. 3 election. While the filmmakers are excited for "Can You Hear Us Now?" to play in Wisconsin, in many ways the film seems to be have the biggest effect on audiences in other states. Wisconsin already knows this story.
"It's people outside of Wisconsin in many ways who have come away with it with the most fire in their belly," Peters said. "There are certain states where they're coming up against some of the stuff now that Wisconsin was going through years ago."